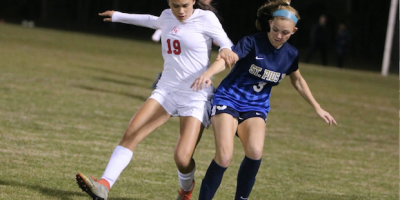 Photo by Gena Churchwell
When you combine boys, girls, and the ever-expanding classifications of both, there have been 242 GHSA soccer state titles handed out over the years. Only one, however, has ever been handed out to a South Georgia public school and that was the Thomasville boys in 2010 (one of the state's 20 single-school city districts).
Statistically speaking, the sport undoubtedly blossomed much earlier, and far quicker, in the northern regions of the state. South Georgia soccer has been playing catchup from the start, but after decades of getting bullied around by the Metro Atlanta and North Georgia giants, the long-standing goal of building championship-caliber soccer in South Georgia is becoming a reality. Questions like "Will this be the year?" or "Could this be the team?" might be answered much sooner than later, as one South Georgia school is proving this season.
RED TERRORS
The Glynn Academy girls soccer team is off to a perfect 10-0 start that includes in-region dominance and signature victories outside of conference play. In five region contests, the Red Terrors have piled up a 27-1 advantage in goals, and in this month's Tournament of Champions, they defeated Columbus 4-2 before topping five-time defending state champion St. Pius 2-0.
"Seeing the girls react and play at a high and competitive level and the fight they showed for 80 minutes in each game was what really stuck out to me," said head coach Tom Lemmon. "They did not give up for a single minute of either of the games. They were just fighting to the end and just working and playing together as a team."
The win over the Golden Lions, and the complete body of work 10 games into the season, have had a dramatic effect on Glynn Academy's rankings in the Maxpreps computer poll; Glynn Academy is currently positioned No. 1 in the state and is the No. 2-ranked team nationally.
"The rankings and stuff, it was brought to me the other day by one of our girls, our captain saw it," admitted Lemmon. "But I try to keep that stuff out of the girls heads just so they don't lose focus."
There is validity to Lemmon and his team wanting to focus on their own goals for the season, rather than a computerized ranking system midway through it. Nonetheless, their current position is still a blaring example of how much progress the sport of soccer is making in Georgia's Golden Isles and southeastern coast.
"We've got as good of a chance as anyone this year," said Lemmon. "Our first goal is to win the region so we get placed at home as long as we can. Then obviously the next goal is to go deep in the state playoffs and hopefully play for a state championship."
TAKING CHARGE
Lemmon arrived at the Brunswick school in 2014 and took over for legendary coach and lifetime soccer advocate Gary Larkins. A member of The Glynn County Sports Hall of Fame, Larkins' accomplishments during his 12-year tenure as Glynn Academy girls head coach included a 189-52 record, five region championships (2005, 2006, 2009, 2010 and 2013) and four quarterfinals appearances in the state playoffs.
"We had some really good teams at Glynn Academy," Larkins told the Brunswick News following his induction. "If we could've just gotten past those Atlanta powerhouses."
The same challenge awaited Lemmon and the roster that was having to replace double-digit seniors his first year on the job.
"It took time trying to get the girls to buy into the system and the formations," admitted Lemmon. "But once they laid the foundation, then the girls coming through at the club level were playing the same style and everything makes it a smooth transition."
Soccer has been a passion of Lemmon his entire life and he's seen incredible success as both a player and coach. He finished his high school career in Ohio with 142 career goals 87 assists and and was an All-American his senior year. He took his talents to Saint Bonaventure University, where he hat-tricked the school past Dayton University to advance the Bonnies into the Atlantic-10 Tournament for the first time in their history.
His first coaching stop was the boys team at Florida's Pembroke Pines in 2002, and he spent the next dozen years in the Sunshine State. A visit to the gorgeous Golden Isles, however, drew him and his wife to Glynn Academy where he has been soldiering the girls soccer program toward its ultimate goal for the past five seasons.
Glynn Academy's next match isn't until March 27, and a rainout brought about the week-long hiatus that Lemmon and his undefeated Red Terrors are hoping to use to their advantage.
"It is sort of like the halfway point to the season," said Lemmon. "We had to reschedule our game Tuesday night, which gave us this week with no games. So we've been lighter at practice. But we don't like to alter things too much. We like to keep them on a routine and keep them focused."
A look at Glynn Academy's remaining schedule:
3/27 at Brunswick*
3/29 at Effingham County*
4/6 at Hilton Head (SC)
4/10 at May River (SC)
4/13 at St. Vincent's
4/17 Richmond Hill *
4/18 Camden County
4/20 Lowndes
*Region 2-AAAAAA