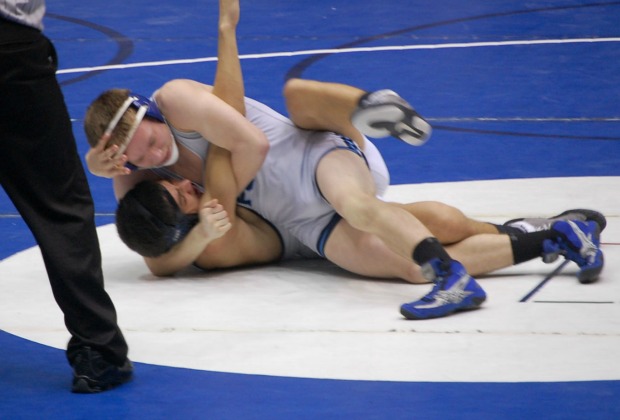 Charles Posey
Gordon Lee came close to winning the GHSA Class A traditional wrestling championship last year, but an 0-5 record in consolation round semifinals led to Gordon Lee racking up just 138.5 points to finish 15.5 points out of first place as Bremen won a fourth straight Class A title. With Bremen now in AA, the road to a title has opened up for Brent Raby's team and he thinks senior leadership will be the difference this weekend in Macon.
"We had no seniors last season and a large group of juniors," said Raby. "This season, we have seven seniors in the lineup and they have provided great leadership for the team."
Raby has placed an emphasis over the last few weeks of finishing tournaments strong. The team has responded, winning the Class A duals title for the second straight year and following up a shaky area meet with a dominating performance in the sectionals.
"In the Area 3-A meet we struggled, winning eight of 12 finals matches and going 0-2 in the consolation finals," said Raby. "At the sectionals we responded, going 8-for-10 in the finals and 3-for-3 in the consolation finals."
Gordon Lee qualified 13 wrestlers for this weekend's traditional wrestling state tournament. Raby feels all 13 of his wrestlers are capable of placing at the state tournament, with 11 potential finalists on his squad. According to Raby, some of the players to watch include: Stihl Lance (106 pounds); Jonathan Ragsdale (113); Blake Clayton (120); Mika Clark (126); Dylan Skipper (132); Alex Spires (138); Will Jacks (145); Clayton Reeves (170); Shane Farmer (182); Corey Jewell (195); and Dallas Goodlet (220).
Raby is hoping his team's bitter defeat last year and subsequent duals title will help spur this team on to a traditional state title.
"We have to be good in every weight class, every match," said Raby. "We have to wrestle our match and give 110 percent. Bonus points will be huge this weekend."
Raby admitted that as his team has approached the traditional tournament, it hasn't changed all that much of its practice routine and mindset of how it approached the duals tournament.
"This group is ready and they are hungry for a traditional title to go along with the two dual state champions that we have won," said Raby.
And the engraver is ready to put a name other than Bremen and Jefferson on the Class A trophy as one of those two teams has claimed the crown each year since 2001.