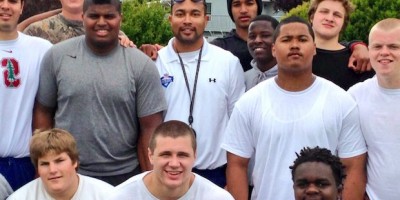 Chuck Smith has become football's leading pass-rush instructor.
The offseason's first Georgia Elite Classic Showcase will take place this Saturday, April 21, at Grady High School. Players from the Class of 2019 through the Class of 2022 are eligible to attend and can take advantage of this early opportunity to compete, get better, and showcase their abilities. Leading the camp evaluations will be showcase coordinator, Georgia Elite Classic Director of Player Personnel and 247Sports analyst Rusty Mansell, along with the Classic's selection and review committee. In addition, The Passing Academy founder Chris Hixson and Master Pass Rush specialist Chuck Smith will headline the camp's expert instructors.
"The evaluation process is an essential part of recruiting and there are only so many camps to go to each offseason," explained Mansell. "So this really is a golden opportunity for us. Holding this showcase allows the Georgia Elite Classic selection committee, recruiting services and players from the next four recruiting classes to dive into this process before the summer and really hit the ground running. You could drop a pin at Grady High School and go around a 30-mile radius and find DI and FBS players packed in everywhere."
Hixson, a 4-year starter and Hall of Famer at the University of Rhode Island and former AFL starter is an expert on throwing mechanics and coaches the position with more than 30 years of personal success and experience.
Smith, a Clarke Central standout, former Tennessee Vol and All-Pro defensive end with the Falcons has become the game's leading pass rush specialist. Since 2002 Smith's VGHH (Vision, Get Off, Hands, Hips) System has specialized in skill training for defensive lineman, outside linebackers and hybrids (DL/OLB). It has been used by 44 College All-Americans and 29 NFL Pro Bowlers and Smith's reputation for developing the skills of pass rushers even enticed Falcons head coach Dan Quinn to get a first-hand look himself.
"I went to see him and hear him teach and came away with a general good feeling of all the unique stuff and passion he has for pass rushing," said Quinn. "He gave instant feedback right away. You could see him watch the drill and immediately give feedback. He didn't need the film. The best coaches can do that. He has real value. Some of those guys he's worked with have already taken their games from a good level to an excellent level."
The athletes will be put through a dynamic warm-up before they are divided into groups and rotated through the following testing stations for measurements: 40-yard dash, agility shuttle and broad jump (players will get two attempts at each station). After all the measurable tests are completed, players will be divided once again and evaluated on their performance in position specific drills, 1-on-1s and 2-on-2s.
"When I look at these camps, I see it as a fun and entertaining thing," said Smith. "There's no pressure or coaches breathing on their backs, so this is really just an opportunity to have fun while we work to get better."
Following the showcase, the results of each player's performance will go out to more than 250 colleges and their coaches.
"It's important in our game to get started early and maximize the available time to develop in the offseason," explained Hixson. "I believe the earlier you can start getting into the camp environment and immersing yourself in the competitiveness, the better. We can breakdown the mechanics and make sure we are throwing with a sturdy base and using the tools that a quarterback needs, but at the end of the day what I really love about camps is that aspect of competition. Having young guys out there pushing themselves and competing, because making sure no one out works you is a choice, not a statistic."
The Showcase check-in time is 9 a.m., and registration is available online HERE. For walk-ups the day of, the price to register is $85. And to top it off, Waffle House will be providing lunch.