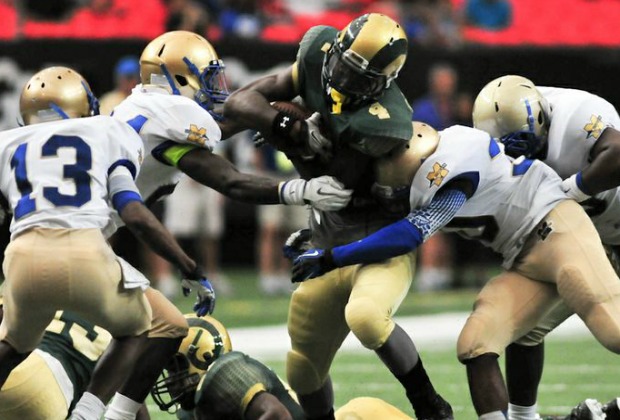 Terance Johnson
Hyperbole aside, Grayson is the best one-loss team in the nation. Earlier this year, ESPN.com and USA Today had Mickey Conn's Rams ranked as the top team in the nation, so it shouldn't be that unheard of for the Rams to be the best "beaten" team in America. Since Parkview, currently 5-0 and ranked No. 9 in Class AAAAAA, stunned the Rams 22-7 back on Sept. 14, Grayson has rattled off five straight wins, never scoring less than 41 points. The Rams have jumped right back into the Region 8-AAAAAA race, currently sitting in second place and would host a playoff game if the season ended today. The most amazing part of the recent run has been the play of the defense. While it should not be a surprise that a team loaded with six or seven BCS commitments would be dominating, the fact that the defense has done so well while the nation's No. 1 recruit Robert Nkemdiche has been held relatively in check is the surprising thing. The Rams have shut out their last three opponents by a combined score of 155-0, including two potent offenses in Central Gwinnett and South Gwinnett.
Westside-Macon picked up a crucial victory over Baldwin as Noah Grayer gave the Seminoles a standout performance. Grayer passed for 163 yards and two scores while rushing for 171 yards and another touchdown to help Sheddrick Risper pick up the win over the Braves. Daniel Hall also accounted for 152 rushing yards and three scores in the 44-26 victory.
Eyes all across AAA will be on the House of Pain as No. 4 Thomson and No. 2 Washington County will face off this Friday. Thomson avoided the potential trap game by edging past Dodge County 21-14. The Bulldogs managed the victory despite playing the first half without running back Chris Jordan, who was nursing an injured ankle. Jordan, however, would make his presence felt with a 43-yard go-ahead score to help Thomson to the victory. Meanwhile, Washington County tagged Swainsboro to set up the matchup of unbeatens.