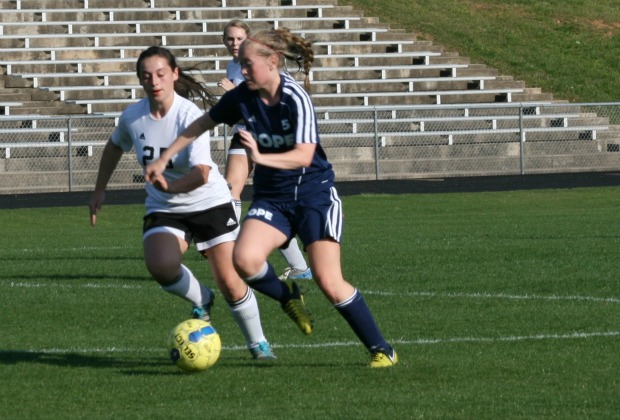 Photo by John Salvadore
The Greater Atlanta Christian girls are ranked No. 1 in Class AA and they are arguably one of the best teams in the nation. At least on paper, the stars have aligned for the Spartans to send head coach Troy Bendickson out with a state championship. Last week, Bendickson announced his resignation as coach and dean of students, effective at the end the school year. He is moving to Davenport, Iowa to continue a Christian ministry started by his late father.
"He has certainly been an outstanding role model for his players in his years in the GAC girls soccer program," school athletic director Tim Vick said in a press release. "We are currently involved in an extensive search for the next great leader."
Bendickson led Greater Atlanta Christian to a state title in 2012 and he is looking to go one step further than last year with his team after it finished runner-up in 2013. The Spartans look poised to do just that after wrapping up the regular season on a nine-game winning streak by beating third-ranked Westminster 2-0 last Tuesday. They have gone unblemished since March 4 at Lovett, a loss that was avenged with a 2-0 win on April 17. Greater Atlanta Christian will host Social Circle in the first round of the playoffs. Region 6 rivals Lovett and Westminster are on the other side of the bracket and could face each other in the semifinals for the possible right to battle the Spartans for the championship.
In Class AAAAA, top-ranked McIntosh is heading into the postseason on a surprising two-game losing streak after previously being undefeated. The Chiefs followed up a setback at Marist by getting shut out 2-0 last Tuesday at Starr's Mill. They will kick off their playoff campaign against Greenbrier and could go up against Region 4 rival and fourth-ranked Northgate in the semis.
Class AAAAAA's loaded Region 8 finally got sorted out last Wednesday. Grayson had already clinched the title, but Brookwood battled Parkview for second place and with it home-field advantage in a first-round state tournament game. Visiting Brookwood prevailed 2-1 thanks to goals by Michelle Allen and Shannon Maloney. The Broncos will host Chattahoochee in the opening round. Parkview is visiting South Forsyth for its opener on Wednesday.
The first round in Class AAA features two intriguing matchups between top 10 teams. No. 4 Oconee County is hosting No. 5 Woodward Academy and No. 8 North Oconee is hosting No. 9 Decatur.