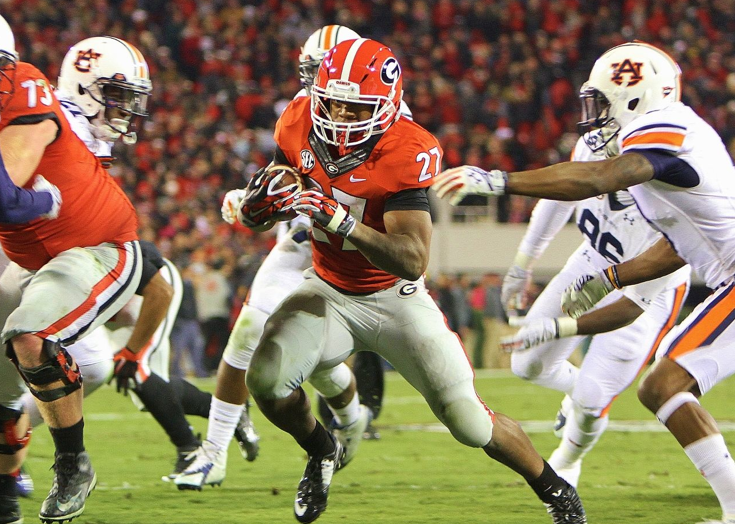 Photo by Rob Saye
Georgia answered Auburn's only touchdown with 34 unanswered points and defeated the defending SEC champs 34-7. Georgia's victory also avenged 2013′s "Prayer at Jordan-Hare," in which the Tigers scored on a 73-yard, deflected touchdown pass with 25 seconds left to score a 43-38 win.
Cameron Artis-Payne took Auburn's opening drive in for a 26-yard touchdown and gave the Tigers a 7-0 lead with 10:52 left in the opening quarter. Hutson Mason got Georgia on the board late in the first quarter when he found Malcolm Mitchell for a 7-yard touchdown pass. Georgia running back Todd Gurley was making his first start since the NCAA's ruling sidelined the Heisman hopeful and he turned in a 138-yard rushing performance and found the endzone in the third quarter to put the Bulldogs up 24-7. True Freshman Nick Chubb has carried the load since Gurley's absence and with Gurley back in the backfield, the former Cedartown star continued to lead the way with 19 carries for 144 yards and two touchdowns.
The win moved Georgia to 8-2 overall but the Bulldogs will have to finish the year without Gurley, who injured his knee in the final quarter. With Georgia leading 27-7, Gurley went down with a left knee injury with 5:21 left in the game. Gurley was carted off the field and MRI's revealed Sunday afternoon that All-SEC back tore his ACL and will miss the remainder of the season. Georgia plays Charleston Southern on Saturday in Athens and will host Georgia Tech in the regular season finale on Nov. 29.