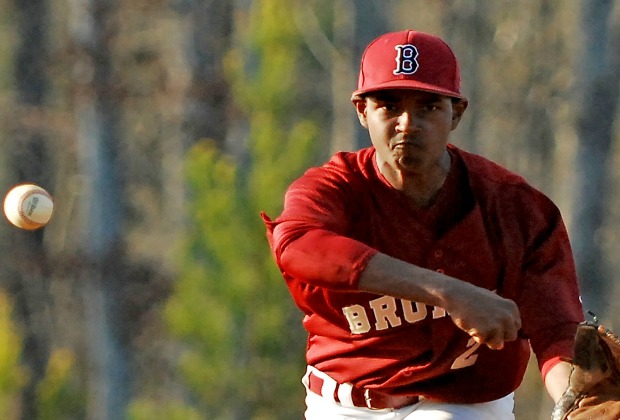 Sonny Kennedy
While many baseball playoff series were not completed over the weekend due to the rain, there were some notable results. In Class AAAAAA, for example, Norcross sweeping a Johns Creek team that had been ranked highly all season came as a surprise to many around the state.
In Game 1 between the teams, visiting Norcross edged the No. 5 Gladiators 5-4 in 11 innings as Jess Ramsey drilled a double to left field that scored pinch runner Jacob Gassert all the way from first base. Blue Devils pitcher Brooks Buckler got the win after tossing 5.2 innings of relief while giving up just one earned run. Johns Creek was led by Skye Overton, who went 2-for-6 with two RBIs, and hurler Matt Gorst, who pitched nine innings and gave up just two earned runs while striking out seven.
Norcross won another tight one in Game 2 to clinch the three-game series with a 3-2 victory. The Blue Devils this time scored twice in the sixth inning to take a lead they would not relinquish on a two-run single by Matt Perez. Senior Joseph Wilber, also the starting QB on the Blue Devils' state championship football team, threw six innings, struck out six and gave up just two earned runs. Will Shirah came on in the seventh to earn the save.
Norcross will face the winner of Game 3 between Walton and South Gwinnett.
Lambert swept North Gwinnett 9-1 and 5-3 also in first round Class AAAAAA action. Brock Maxwell had a triple and three RBIs in Game 1 while senior pitcher Joe Vonderschmidt tossed a complete game in the blowout win.
Freshman Tucker Maxwell, Brock's brother, homered along with Eric Furphy in the Game 2 clincher. Maxwell's solo homer broke a 3-3 tie in the eighth inning.
In Valdosta, Lowndes swept its series with Hillgrove 1-0 and 5-3. Junior pitcher Henry Hoff had the game-winning RBI single in the ninth inning of the Game 1 win. Starting pitcher Cory Pope gave up just two hits for Lowndes. Hoff struck again in Game 2, giving Lowndes a 4-3 lead in the ninth inning on an RBI single.
Riverwood sent shockwaves throughout the Class AAAAA baseball world with its sweep over No. 4 Dunwoody. In Game 1, Riverwood won 3-1 after three Dunwoody errors helped the Raiders. Pitcher David Peljovich tossed a complete game with six hits.
In Game 2, Kyle Carruthers have two doubles and two RBIs as Riverwood won in the bottom of the seventh 5-4. Adam Hornstra got the win on the mound for the Raiders.
In other action, Troup upset Class AAAA No. 3 Eastside in two games. … Mary Persons won in three games over No. 10 Wayne County. … Class AA No. 2 Lovett swept No. 10 Calhoun 11-0 and 3-1.