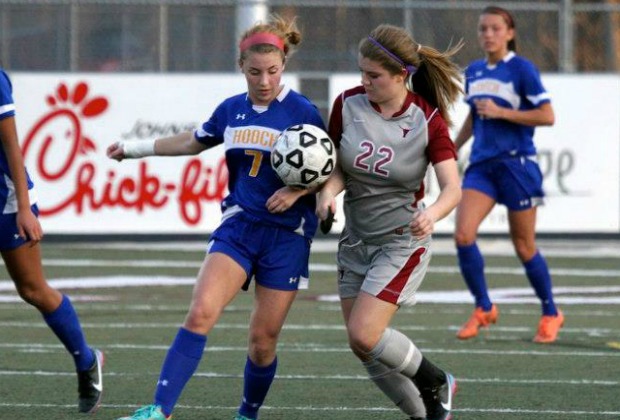 Lambert High School
Class AAAAAA No. 4 South Forsyth knocked off previous No. 3 Lambert to climb up one spot in the latest poll. Grayson's move to No. 3 gives Gwinnett County the top three spots in this week's rankings. Parkview is up to No. 6 while previous No. 6 Brookwood dropped to No. 10 after falling to Class AA No. 1 Greater Atlanta Christian.
In Class AAAAA, Whitewater jumped up from No. 6 to No. 3 after beating former No. 4 McIntosh. Starr's Mill moved up to No. 4 following a victory over previous No. 3 Union Grove. Lakeside-DeKalb climbed up to No. 5 following a tie with No. 2 Heritage-Conyers and a victory over Dunwoody, ranked No. 10 at the time. Cambridge also fell out of the poll after a pair of losses. No. 8 Houston County, No. 9 Glynn Academy and No. 10 North Paulding are all new to the rankings.
Carrollton entered the AAAA rankings at No. 9 after a 2-0 week and a victory over Alexander two weeks ago. Grady fell to No. 10 after a non-region loss to Flowery Branch. Meanwhile, No. 4 Cairo knocked Westover out of the rankings with a 4-0 victory last Tuesday.
In Class AA, Westminster held on to the No. 2 spot with a victory over Lovett. Calhoun and Oglethorpe County sit right behind Westminster with No. 1 Greater Atlanta Christian leading the AA poll.
In Class A, Paideia joins the poll at No. 9 after Mount Pisgah fell out of the rankings.
Class AAAAAA
1. Collins Hill
2. Mill Creek
3. Grayson
4. South Forsyth
5. Lassiter
6. Parkview
7. Harrison
8. Lambert
9. Johns Creek
10. Brookwood
Class AAAAA
1. Northview
2. Heritage-Conyers
3. Whitewater
4. Starr's Mill
5. Lakeside-DeKalb
6. McIntosh
7. Gainesville
8. Houston Co
9. Glynn Academy
10. North Paulding
Class AAAA
1. Marist
2. Heritage-Catoosa
3. Locust Grove
4. Cairo
5. Spalding
6. Alexander
7. Columbus
8. Chestatee
9. Carrollton
10. Grady
Class AAA
1. Blessed Trinity
2. St. Pius
3. Buford
4. Dawson County
5. Woodward Academy
6. Jackson County
7. White County
8. North Hall
9. Callaway
10. Chapel Hill
Class AA
1. Greater Atlanta Christian
2. Westminster
3. Calhoun
4. Oglethorpe County
5. Temple
6. St. Vincent's Academy
7. Vidalia
8. Bremen
9. Westside-Augusta
10. Dublin
Class A
1. First Presbyterian Day
2. Holy Innocents'
3. Hebron Christian
4. Mount Paran
5. Savannah Country Day
6. Strong Rock Christian
7. Providence Christian
8. Calvary Day
9. Paideia
10. Eagle's Landing Christian