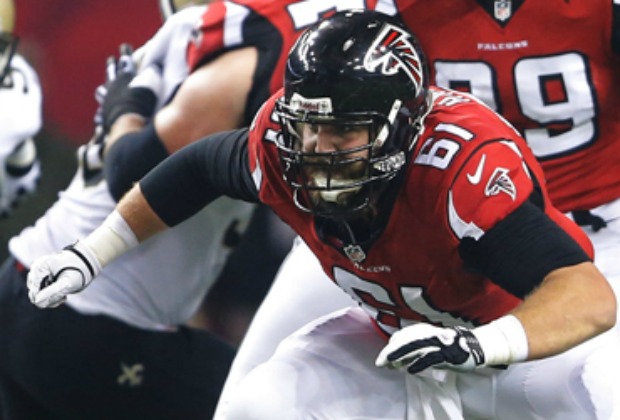 Men, women and children shopping at a local Publix supermarket late Tuesday afternoon received a huge surprise, literally, when they were met with a large, friendly presence in the form of Atlanta Falcons offensive lineman Joe Hawley. The fifth-year NFL veteran made a special appearance alongside Freddie Falcon as part of the Atlanta Falcons Tailgate Team Tour, giving shoppers the opportunity to interact with the star lineman and the chance to get autographs and pictures taken with Hawley, as well as his feathery friend, along with obtaining exclusive Falcons merchandise. Children flocked in excitement to the sight of the Atlanta mascot eerily similar to how the adult men gathered to where the 300-pound center sat with marker in-hand, ready to sign pictures, footballs and any sort of item that fans could place in front of the Falcon. Tuesday's stop was the second of a scheduled 90 stops at Publix supermarkets across the Southeast during the 2014 season, to give fans the opportunity to interact with some of their favorite Falcons players along with the chance to get team gear.
For Hawley, he considers the Tailgate Tour a great experience that every Atlanta player enjoys being a part of.
"(Interacting with the fans) is one of the biggest parts of what Mr. (Arthur) Blank stands for," he said. "All the guys love getting involved in the community on a regular basis and it is a real (big) part of the culture of our team."
Fans interested in seeing where the next Publix stop will be for the Atlanta Falcons Tailgate Team can follow the Twitter handle @TailgateTeam for the latest updates, as well as scheduled player appearances, as they continue their trek across the Southeast.