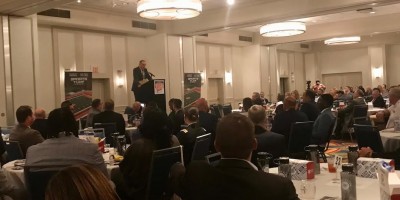 The Corky Kell Classic celebrated the return of high school football at the Atlanta Marriott Northwest on Tuesday where attendees of the annual kickoff luncheon geared up for the historic 30th anniversary of the Corky Kell Classic that will be played Wednesday, Aug. 18-21 with an incredible 11-game lineup. Corky Kell founder Dave Hunter addressed the crowd and recognized all the partners and sponsors that have helped make this event possible—like the National Guard, GeorgiaConstructionCareers.com, Sportsturf, Mercedes-Benz Stadium, CBS46, DawgNation and many others. GHSA Executive Director Dr. Robin Hines, and a collection of county athletics directors, administrators and school principals were also present and shared lunch, courtesy of Zaxby's, with representatives from all 22 schools participating in this year's star-powered Corky Kell lineup.
Five players from this year's AJC Super 11—the esteemed distinction that recognizes the 11 top players in the state before each season—were separately honored as 247sports Recruiting Analyst Rusty Mansell spoke about each of their impressive resumes. This group included the No. 1 player in the country—Collins Hill's Travis Hunter and his quarterback Sam Horn, who is committed to Missouri. Hardaway's Mykel Williams, Lowndes' Jacurri Brown and River Ridge's Amehre Morrison were also there to represent the Super 11.
Play-by-play veteran Matt Stewart took over the mic and hosted the most exciting part of the luncheon as he spoke to all 22 head coaches about their upcoming matchups. This informative and friendly press conference of sorts went table-to-table, beginning with Wednesday's double-header of Cherokee vs. Mays and West Forsyth vs. Carver-Atlanta and closing with all five of Saturday's matchups. Saturday's fourth game—which is North Gwinnett vs. Hoover (AL) was an exciting highlight as Corky Kell welcomed in the first out-of-state program to ever appear in the classic. When the luncheon ended, Stewart reminded the audience that the football season was less than 28 hours away from kicking off at West Forsyth High School. Check out this year's full schedule below and be sure to tune in to PeachtreeTV to watch all the matchups.
 2021 Corky Kell Classic Schedule
Wednesday, Aug. 18 at West Forsyth
5:30 p.m.: Cherokee vs. Mays
8:30 p.m.: West Forsyth vs. Carver-Atlanta
Thursday, Aug. 19 at Dacula
5:30 p.m.: Westlake vs. Archer
8:30 p.m.: Dacula vs. Tucker
Friday, Aug. 20 at Gainesville
5:30 p.m.: Gainesville vs. Johns Creek
Friday, Aug. 20 at North Cobb
8:30 p.m.: North Cobb vs. Buford
Saturday, Aug. 21 at Mercedes-Benz Stadium
9:00 a.m.: McEachern vs. Kell
11:45 a.m.: Parkview vs. Mill Creek
2:45 p.m.: Lowndes vs. Walton
5:45 p.m.: North Gwinnett vs. Hoover (AL.)
8:45 p.m.: Brookwood vs. Collins Hill
* Home Teams are on the left-hand side