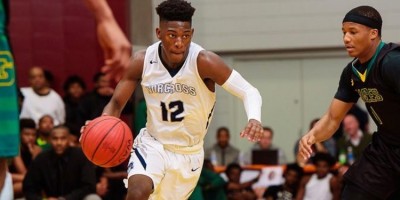 Here is a look at the results from Thursday's holiday basketball tournaments around the state with updates from schools competing in national events.
Peach State Holiday Classic at Clayton State: On the boys' side of the tournament, Jonesboro survived an overtime scare against North Clayton to win 61-59. North Clayton led 15-10 after the first quarter but Jonesboro rallied to take a 29-27 lead at the break. At the end of three quarters, Jonesboro held a 40-39 lead and with 12.2 seconds left in regulation, the game was tied at 50 where it would remain. North Clayton secured a one-point lead (56-55) with 1:21 left in overtime. With 22.9 seconds left, the teams were deadlocked at 59 before Jonesboro's game-winning free throws.
Westlake enjoyed a 20-9 lead after the first quarter in its 70-52 victory over Morrow. The Lions pushed the lead to 42-32 at the half and, by the end of three quarters, Westlake led by 13-points, 54-41, before a 16-point fourth quarter.
FayetteCounty defeated Eagles Landing Christian 64-55. FayetteCounty led 14-8 after the first quarter and 32-29 at the half. By the end of three quarters, Fayette held a 46-40 margin before its run in the fourth quarter.
For the girls, Whitewater defeated Drew after a 21-13 run in the fourth quarter. The Wildcats enjoyed an 18-10 lead after the first quarter, but Drew fought back with a 20-15 run in the second to make it a 33-30 lead for Whitewater at the half. Whitewater was nursing a 50-48 lead entering the final quarter before it took control.
Westlake defeated Mt.Zion-Jonesboro 67-34 after taking a 17-6 lead at the end of the first quarter and a lead at the 37-18 at the half. DouglasCounty beat North Clayton 68-32 after leading 45-25 entering the fourth quarter.
War Lodge Classic at Sequoyah: On the boys; side, host Sequoyah defeated The King's Academy 74-54 after taking a 20-13 lead after the first quarter. Sequoyah pulled away with a 23-10 third quarter which put the game away.
Cleveland Stroud Tournament at Rockdale High School: The Friday schedule for the Cleveland Stroud Tournament is set with a marquee matchup with undefeated Upson-Lee taking on the hosting Rockdale boys at 8:45 p.m. McNair with face Stone Mountain to start the evening at 4:15 p.m. Lakeside-DeKalb, which lost to Upson-Lee (72-33) on Thursday, will face Clarkston at 5:45 p.m. Discover and Eagles Landing will square off at 7:15 p.m. before the Upson-Lee/Rockdale game.
On Wednesday, Rockdale's boys defeated Clarkston 67-32 to earn the berth against Upson-Lee. Jordan Rome scored 22 points with four assists to lead Rockdale on Wednesday. Jalen Horton added 11 points, four assists and three steals. Kevin Sassberry had eight points and Cam Wilson scored seven points, had six assists and made two steals.
Bear Brawl at Houston County: The Warner Robins boys defeated Perry 84-52 behind Lance Franklin's 17 points. Trevon Williams had 15 points and Ty Carr scored 11 points. Bleckley County defeated Jeff Davis 72-70 behind Nykeem Farrow's 34 points. On the girls side, West Laurens defeated Wheeler County 54-50 behind Jakerra Wilbur's 16 points and five assists. Calmela Mack added 16 points, seven rebounds and four steals. Makayla Murray scored 11 points with six rebounds. Warner Robins defeated PeachCounty 67-48. Perry defeated Jeff Davis 51-31 behind Asjah Perry's 21 points, six rebounds and four steals.
In other events for boys: In the Mistletoe Madness Tournament at North Murray, MurrayCounty defeated McMinn County (TN) 73-54. Athan Hicks led all scorers with 23 points. Haden Newport added 22 points. In the other game, North Murray defeated Fannin County 46-24 … At the City of Palms Classic in Fory Myers (FL), La Crosse Central defeated Brunswick 70-57 after taking a 20-5 lead after the first quarter … At the Pittman Smoky Mountain Classic in Gatlinburg (TN), North Forsyth beat Buckhorn (KY) 63-43 … At the Savannah River Shootout in North Augusta (SC), Lakeside-Evans defeated South Aiken (SC) 64-58.
In other events for girls:Campbell outlasted Springfield (OR) 46-43 in the Nike Tournament of Champions in Phoenix, Arizona. Campbell took a 12-9 lead after the first quarter. Campbell led 22-21 and following its 13-9 run in the third quarter, it led 35-30 entering the final frame. Springfield scored 13 points in the fourth quarter, but Campbell added 11 to secure the victory … Flowery Branch fell to Upperman (TN) in the Nike Tournament of Champions on Wednesday, 45-42 …Carver-Columbus defeated Orangeburg-Wilkinson in the Beach Ball Classic led by Olivia Cochran's 35 points and 16 rebounds … In the CresCom Bank Invitational in Myrtle Beach, S.C., the St. Francis lost to Bishop McNamara 74-43. In another game at the CresCom Bank Invitational, HarrisCounty defeated Marion 63-36 … In the Storm Classic at Providence Christian, LakeviewAcademy defeated Paideia 47-45 behind a 20-point performance by Eliza Snyder. Jackie Allen added 10 points and four assists and Sadie Thrailkill scored four point with 10 rebounds. In another game at the Storm Classic, Chapel Hill defeated Providence Christian, 38-23 … Class AAA's Johnson-Savannah defeated Effingham County 68-31 in the Savannah Holiday Classic after taking a 25-5 lead in the first quarter. The Lady Atomsmashers led 42-13 at the half, putting the game out of reach.