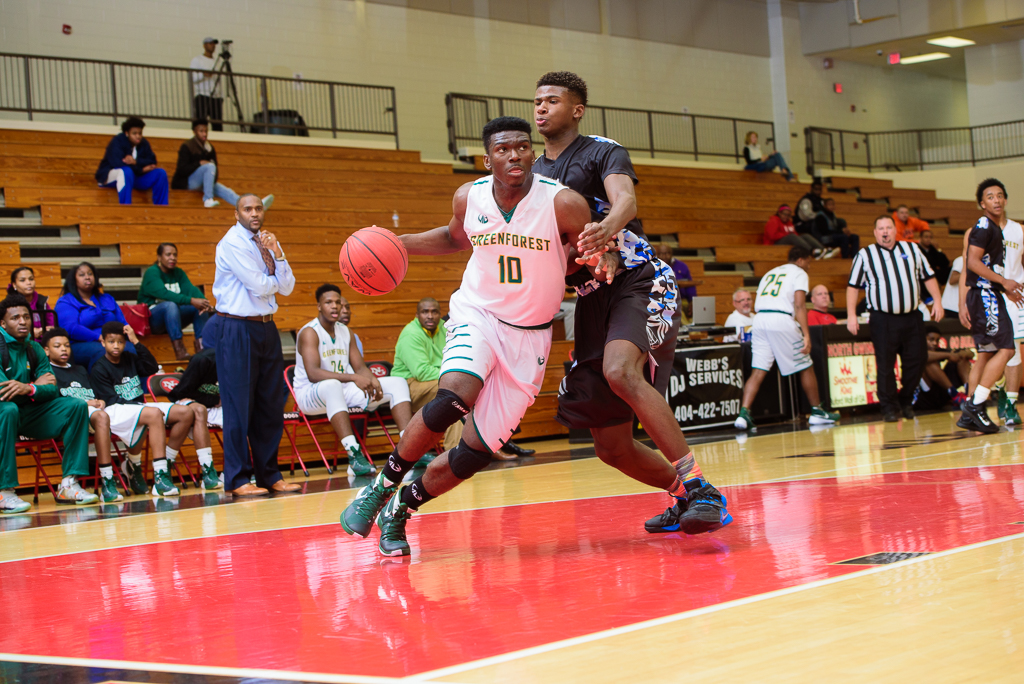 Photo By Ty Freeman
By Kyle Sandy
1ANo. 1 Greenforest 77, 6ANo. 2 Norcross 48
No. 1 Greenforest put together one of the most impressive two days out of any team in the entire nation at Holiday Hoopsgiving as the Eagles pounded No. 2 Norcross, 77-48. The game was never in question. Greenforest raced out to an 18-5 lead after the first period while Norcross could find zero offense outside of Jordan Goldwire, who scored all five points in the opening frame and finished with 11 points all coming in the first half.
The size of Greenforest troubled the Blue Devils all game. Norcross would attack inside with forwards Rayshaun Hammonds and Lance Thomas but the interior defense of Ikey Obiagu (five blocks) and the rest of the Eagles would swallow their shots up. At one point in the first half the foul count was 7-0 in favor of the Eagles which had Norcross Head Coach Jesse McMillan steamed and rightfully so.
In the second quarter Norcross showed some fight and cut the lead to 29-16 using a full court press and some half court traps to temporarily slowdown the Eagles. McMillan finally got tagged with a technical foul after numerous drives to the basket ended with a shot being blocked or altered and no foul being called. When the half rolled around Greenforest held a 37-21 advantage while the majority of the half Coach McMillan was seen pacing back and forth on the sidelines trying to keep his composure and think of a way to help his team back into the game.
Hammonds finally scored his first bucket of the game in the third quarter off a free throw and finished with a season-low five points and eight rebounds. His partner down low, 6-foot-7 Lance Thomas, was shutout, not scoring a single point. With Norcross' best two players and largest post presences being a non-factor, it turned into a rout for the Eagles. Greenforest out-rebounded Norcross 44-to-17 and bullied their way to second chance points while limiting Norcross' opportunities at offensive rebounds.
Justin Forrest scored a game-high 21 for Greenforest and added four assists while New Hampshire-commit John Ogwuche pitched in 12 points, six rebounds and eight assists.
Top Performers:
Greenforest
Justin Forrest – 21 points, 4 assists
Abayomi Iyiola – 13 points, 5 rebounds, 1 block
John Ogwuche – 12 points, 6 rebounds, 8 assists, 2 steals
Mohammed Abdulsalem – 9 points
Victor Enoh – 7 points, 10 rebounds, 1 block
Ikey Obiagu – 6 points, 13 rebounds, 5 blocks
Precious Ayah – 3 points, 6 rebounds, 1 block
Norcross
Jordan Goldwire – 11 points
Kyle Sturdivant – 11 points, 2 assists
Chris Curlett – 8 points, 3 steals
Robert Sims – 7 points, 3 blocks
Rayshaun Hammonds – 5 points, 8 rebounds