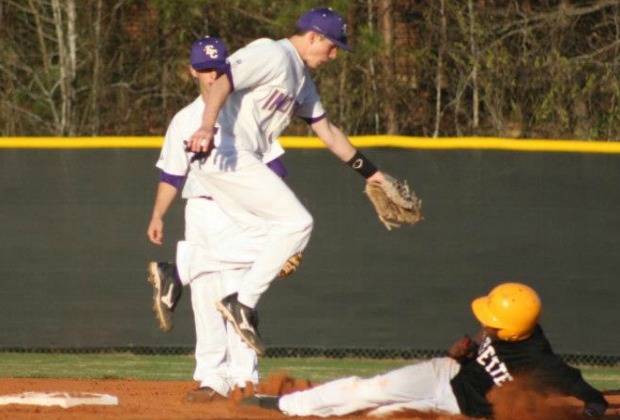 In rankings that debuted Tuesday on AJC.com, Johns Creek, winners of 10 of its last 12 games, took over the No. 1 spot in Class AAAAAA. The Gladiators knocked off former No. 1 Lambert last week. Speaking of the Longhorns, Lambert had lost four of five games as of Tuesday morning and tumbled to No. 5. Marietta suffered an upset loss to Lakeside-DeKalb and fell to No. 3 while Walton lost to Roswell and dropped to No. 8.
Class AAAAA also sports a new top-ranked team as Gainesville ascended to No. 1 after a 2-game sweep of Loganville. Meanwhile, Pope and East Paulding entered the poll after long win streaks against competitive region competition.
Griffin entered the Class AAAA rankings after Carrollton, losers of two games last week, dropped out.
In Class AAA, North Oconee and Chapel Hill each dove into the top 10 as a result of recent winning streaks.
Pepperell entered the Class AA top five after beating Bremen 5-0 to put an exclamation on the Dragons' 14-game winning streak. Calhoun re-entered the top 10 and Lamar County debuted in the poll riding a 5-game winning streak.
Holy Innocents' debuted in Class A-Private as the Golden Bears have not lost a game to anyone not named ELCA in Class A this season. HIES replaced Darlington, which was upset by Trion. In the Class-Public rankings, Gordon Lee jumped to No. 1 as both Charlton County and ECI took losses last week.
Class AAAAAA
1. Johns Creek
2. McEachern
3. Marietta
4. Parkview
5. Lambert
6. Milton
7. South Gwinnett
8. Walton
9. East Coweta
10. Mill Creek
Class AAAAA
1. Gainesville
2. Greenbrier
3. Loganville
4. Whitewater
5. Winder-Barrow
6. Starr's Mill
7. McIntosh
8. Dunwoody
9. East Paulding
10. Pope
Class AAAA
1. Crisp County
2. Columbus
3. Alexander
4. Marist
5. Eastside
6. Redan
7. Veterans
8. Stephens County
9. Lanier
10. Griffin
Class AAA
1. Blessed Trinity
2. North Hall
3. Pierce County
4. Buford
5. Cartersville
6. St. Pius X
7. Woodward Academy
8. North Oconee
9. Chapel Hill
10. Tattnall County
Class AA
1. Jefferson
2. Lovett
3. Westminster
4. Berrien
5. Pepperell
6. Bremen
7. Benedictine
8 .Wesleyan
9 .Calhoun
10. Lamar County
Class A- Private
1. Eagle's Landing Christian
2. George Walton Aca.
3. First Presbyterian
4. Mount Paran
5. Holy Innocents'
Class A- Public
1. Gordon Lee
2. Emanuel County Institute
3. Charlton County
4. Baconton Charter
5. Johnson County