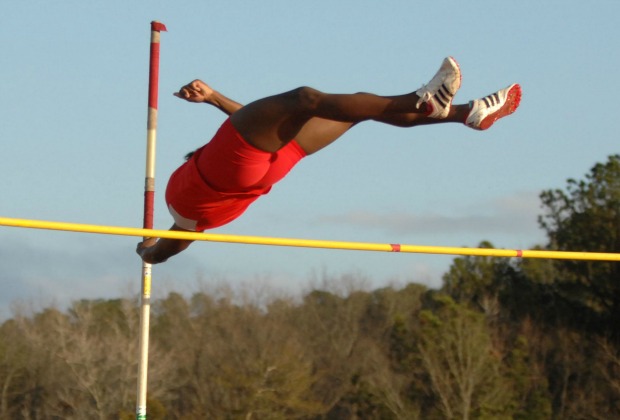 Photo by Sonny Kennedy
Westlake had a strong weekend on its home track as both boys and girls won the Westlake Relays. The girls scored 122 points, which was double the amount of points second place Woodward Academy scored which was 58. Alpharetta came in third with 57 points.
The Wesltake girls dominated the 100 meter dash as Kevia Gonzales, Treshunda Robinson and Mia Phillips came in first third and fourth place, respectively. Ariel Terrell won the 300 meter hurdles and the girls also won the 4×100 meter relay. They also won the 4×200 meter relay, the 4×400 meter relay and 4×800 meter relay.
The Westlake boys finished with 81 points. The Lions finished 12 points ahead of second place Newton and 15 points ahead of third place Woodward Academy.
Westlake's Rashaad Pollard and Nigel Warrior finished first and second place in 100 meter dash. The boys also won the 4×100 meter relays as well as the 4×400 meter relays. Joseph Woodbury won the high jump to round out the top finishers for the Lions.
Over at Galloway, 11 teams took part in the Galloway Invitational this past Saturday. For the girls, Atlanta International came in first place followed by Cross Keys and Walton. For the boys Cross Keys came in first place followed by Walton and Galloway.
Atlanta International's Elena Mean and Isabella John came in first and second in the 100 meter hurdles. Helen Williams won the 1,600 meter run, Julia Schmidt won the 300 meter hurdles and the girls won the 4×100 meter relays.
For the Cross Keys boys, Samuel McDade won 400 meter relays and the boys team won the 4×100 and 4×400 meter relays. Dominique Wilson won the discus throw and the shot put while McDade won the long jump. Cross Keys finished with 152 points which was 74 points more than Walton.