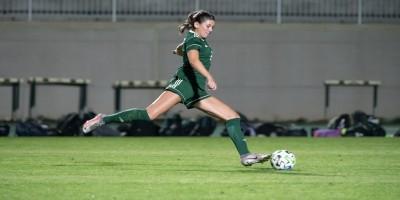 With the spring season in motion and the flowers blooming, the blades of grass are being groomed for the GHSA soccer postseason. Newcomers attempt to claim a spot at the top and win their first championship while past champions look to replicate their previous success.
Soccer is one of the last high school sports to end before students get out of school for summer break and many eyes should be on the elite teams in the most competitive regions. With the region tournament on the horizon, this is the chance for teams who struggled during the regular season to make a miraculous run into the state playoffs.
On the other hand, the regular season winners of their region look to ride their momentum high headed into high school soccer's grandest stage. With that being said, here's a look at a few former state champions and where they currently stand.
Boys
South Forsyth
The defending 7A champions finished the regular season with a 10-6-1 record and a 3-3 region record to land the third seed headed into region playoffs. The season has definitely been an up and down season for South Forsyth, they've struggled to win at home with a 2-4 record. They've displayed their fearlessness with an 8-2-1 record in away games. They've won four of their games in shutouts but have also been shutout in half of their losses including their regular season finale against Lambert.
McIntosh
Technically the back to back champions in 5A with championships in both 2019 and 2021, as they were unable to defend their title in 2020 due to the COVID–induced cancellation of the spring sports season. They look to return to the championship after a solid regular season where they went undefeated in region play with a 6-0 record. They ended the sason with an overall record of 12-4-2 with a well mixed balance of attackers to score and defenders to prevent goals from beign scored. They've scored 55 goals on the season while only allowing 20 scored against them.
Westminster
Westminster is a soccer powerhouse in the state of Georgia with the ever so sought after three peat they had from 2017-2019 in the 3A class. COVID may have slowed down this soccer dynasty as their regular season has been marred with inconsistency. Although they finished second in their region with a 6-1 record, they're 2-5-3 outside of their region. They haven't established dominance at home with a 4-3 record but hopefully they can ride their momentum into the postseason winning two of their last three regular season games in 10-0 shutouts.
Girls
Johns Creek
The defending champs in the 6A region are head-hunting this season, they're looking to dominate each and every opponent they face to reclaim their spot at the top. They finished the regular season with  14-2-1 record overall. Although they finished third in their region with a 6-2 record, they've ran through most of the teams they've played against as they average nearly four goals a game and less than one goal a game scored against them. They've won 13 of their 14 games in shutouts and are marching into the postseason riding high.
Westminster
An amazing run of excellence sums up the past six seasons for this factory that produces some of the most elite teams the state of Georgia has ever seen. Westminster has been the epitome of success in the 3A class as they've won six, yes SIX straight state championships. They're currently on a seven-game win streak and a 12-1 record overall. They're also undefeated in the region, averaging seven goals a game and winning nine of their contests in shutouts.
St. Vincent's
After three-peating from 2017-19 in the 2A class, St. Vincents was moved down to 1A private in 2021 where they made it to the elite eight but lost to Holy Innocents'.  This season, they are on the brink of not making the playoffs as they're fourth in the A Private Area 1 region. They're 5-2 in the region and 9-6 overall. They've won five games where they didn't allow a single goal but failed to capture and utilized enough momentum to return to their old dominant ways.