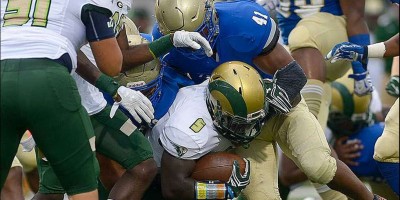 Class AAAAAAA
Grayson 49, Colquitt County 21:
Grayson took its 11-game winning streak down to Moultrie, Ga. where the Rams exploded to a 49-7 lead and dethroned two-time defending champion Colquitt County 49-21. Kurt Taylor rushed for a touchdown in each of the first three quarters and Jamyest Williams finished with the other two of Grayson's five rushing scores. Grayson junior Darius Martin found the endzone on a pick-six and the Rams' other touchdown came on a second quarter touchdown pass from quarterback Chase Brice to Elijah Barnes. Jay Saunders scored Colquitt's first touchdown two minutes into the second quarter and with a running clock in the final frame, the Packers added a long passing touchdown and a punt return touchdown. Grayson stopped Colquitt's County state-record trips to the semifinals in the highest classification at seven. After the game, however, Grayson head coach Jeff Herron was not ready to say that his Rams are the favorite for the state crown quite yet, as his focus shifted towards semifinal opponent Mill Creek.
"I'm not ready to say that yet," admitted Herron following the victory. "Mill Creek is a great team. They also beat Colquitt this year and we are certainly the underdog. All we did was win a third round game."
R2 #1 Westlake 24, R1 #1 Lowndes 21
R4 #1 Roswell 42, R3 #2 North Cobb 21
R6 #1 Mill Creek 31, R3 #1 McEachern 28
Class AAAAAA
Dalton 30, Coffee 28
How the game was won: Maddox Houghton intercepted a pass with 14 seconds left to preserve a Dalton victory after the Catamounts held a 30-7 lead heading into the fourth quarter. Dalton chose to attempt a 44-yard field goal with 47 seconds left, but Ivan Mora missed, giving Coffee one last opportunity to win the game after a 2-point conversion was battled down by Nathan Moore with 2:50 remaining. The Trojans got to the Dalton 49 with 14 seconds left before Houghton sealed the game with the interception.
Top Performers: Ahmaad Tanner scored on touchdown runs of 13, 15 and 15 yards. Off a blocked punt, Matthew Howell returned the ball 27 yards for a touchdown. Ivan Mora sank a 21-yard field goal. Coffee's comeback was caffeinated by a blocked field goal returned 75 yards for a touchdown.
Northside-Warner Robins 42, Glynn Academy 20:
Northside-Warner Robins quarterback Tobias Oliver ran in a pair of first quarter touchdowns to give the Eagles a 14-0 edge. Glynn Academy's Deejay Dallas scrambled for an 88-yard touchdown to make it 14-7, but Marcus Jolly answered with a Northside touchdown to push the lead back to two scores (21-7). Oliver closed the half with a touchdown pass to Trayvon Willis that gave the Eagles a 28-7 lead. After a Glynn Academy touchdown to open the second half, Oliver ran in his third touchdown of the night to make it a 35-13 game. Glynn Academy chipped away at the lead with another touchdown with just five minutes left, but Tae Daley returned the ensuing onside kick for a touchdown to ice the game with a 42-20 Northside-Warner Robins lead.
Valdosta 31, Stephenson 21
How the game was won: Valdosta held on for the home win at Bazemore-Hyder Stadium after going up 31-14 three minutes into the third quarter, as Stephenson could only manage a fourth-quarter touchdown with 8:20 to play.
Top performers: Valdosta quarterback Josh Belton found J.R. Ingram for a 35-yard touchdown pass in the first quarter to take an early 7-0 lead. Valdosta also scored on two trick plays, a double-reverse pass to Wesley Veal in the second quarter and a pass to Damarrias Morrow from Jayce Rogers on a toss behind the line from Belton. The Wildcats recovered a fumble and returned it for a touchdown late in the first half.
R4 #1 Tucker 28, R5 #1 Mays 21
Class AAAAA
Rome 42, Ware County 13
Friday's quarterfinals matchup at Barron Stadium ended with a 42-13 blowout victory for the host Rome Wolves. Last November, the roles were reversed as Ware County travelled to Rome in the second round of the playoffs and scored a 35-24 win. Rome cruised to a 21-6 lead at the half and poured onto the lead by outscoring the Gators 21-7 in the second half. The 11-2 Wolves sit a win away from matching the school record for most wins in a season.
Stockbridge 42, Griffin 34
How the game was won: Stockbridge got off to a quick start with a 21-0 lead, but the Bears surged back making the score 28-14 heading into halftime. Stockbridge scored twice in the third quarter to build upon their lead, but Griffin continued to score to make it a game in the fourth quarter and brought it within a touchdown before attempting an onside kick with 1:09 left.
Top performers: Marques Ezzard caught a 40-yard touchdown pass and ran in a 40-yard touchdown to lead Stockbridge.
Kell 52, Woodland-Stockbridge 29
How the game was won: Kell rushed for five first-half touchdowns on its way to a 31-7 halftime lead at Woodland-Stockbridge.
Top performers: Longhorns quarterback John Lampley rushed for four touchdowns and threw for one. Lampley had scoring runs of 35 and 25 yards in the first quarter and one 2-yard touchdown each in the third and fourth. He found Josh Blancato for a 40-yard TD pass in the third quarter. Kell also got rushing scores from Josiah Futral (50 yds) and Dre Houston (25 yds) in the second quarter. Noah Woghiren returned an interception 65 yards for a touchdown in the final quarter for Kell.
R8 #1 Buford 34, R7 #2 Carrollton 27
Class AAAA
Thomson 30, Spalding 7
How the game was won: Host Thomson opened up a 7-0 lead with a Mike Thomas touchdown run and finished off the first quarter with a 28-yard touchdown pass from Mills Ridings to Trey Parker to increase the lead to 13-0. Thomas added his second rushing touchdown with 5:12 left in the half from 13 yards out, and then Ridings found Parker again for a Thomson touchdown (27 yards) to increase the lead to 27-0. A.J. Moses put Spalding on the board with a 6-yard touchdown run in the third quarter to make it 27-6. Thomson's Dakota Gergen kicked a 34-yard field goal on the first play of the fourth quarter to tally the final score 30-7. With the victory, five-time state champion Thomson moves to 13-0 for the first time since 2002.
Top performers: Thomson running back Mike Thomas rushed for 141 yards and two touchdowns in the first half to fuel the Bulldogs' 27-0 lead. Thomson quarterback Mills Ridings connected with Trey Parker for two first-half touchdowns.
Mary Persons 28, Blessed Trinity 27:
Quen Wilson gave Mary Persons its first lead of the game (14-10) with a 9-yard touchdown run with 4:30 left in the half. Blessed Trinity kicker Brooks Hosea cut the deficit to 14-13 with his second field goal of the game as the teams entered the half. A Josh Smith to Ryan Davis touchdown gave the Titans a 7-0 lead before Mary Persons' Zach Harvey tied the game with an early second quarter touchdown. Blessed Trinity reclaimed the lead in the third quarter with a 50-yard touchdown pass from Jake Smith to Will Carlton and Steele Chambers ran in the 2-point conversion to make it 21-14. The Bulldogs answered with a 80-yard drive to tie the game at 21-21 with 4:19 left. Hosea added his third field goal in the fourth quarter to give Blessed Trinity a brief 24-21 lead before Caleb Speir connected with Roger Akins from 69 yards out to put Mary Persons up 28-24 with 10:44 left. Hosea was successful on his fourth field goal of the game to cut the deficit to 28-27. After a series of defensive stops, Mary Persons shanked a punt and gifted the Titans with prime field position. The Titans quickly drove down to the 11-yard line with seven second left, but Hosea's game-winning attempt went wide right.
Jefferson 17, Cairo 13:
Cairo took a 7-0 lead with 7:20 left in the opening quarter on a halfback pass form Walter Grant. The two teams went scoreless until Jefferson's Hayden Kilgore connected on a 25-yard field goal with 10:38 left in the half to make it 7-3. Cairo's Cole Phillips answered Jefferson's kick with a monster 56-yard field goal to give the Syrupmakers a 10-3 edge at the half. Jefferson netted just 28 yards of offense in the first half, but freshman quarterback Colby Clark hit Garmin Randolph for a 26-yard touchdown late in the third quarter to tie the game 10-10. Phillips hit a 30-yard field goal to open the fourth quarter and give Cairo a 13-10 lead. Jefferson drove down the field but threw an interception in the endzone and gave Cairo the ball back with 7:15 left. After a series of stalled drives, the Dragons capitalized on a Cairo fake punt and tookover at the Syrupmakers' 41-yard line with 3:42 left. A couple of first down pickups and a pass interference eventual set up the game-winning touchdown as Colby Wood ran in a 3-yard touchdown with 17 seconds left.
R5 #1 Cartersville 26, R4 #1 Woodward Academy 15
Class AAA
Cedar Grove 47, Calhoun 21
How the game was won: For just the second time in nine years, Calhoun will not be making an appearance in the state semifinals. Jelani Woods, an Oklahoma State signee, was too much to handle at quarterback accounting for five touchdowns, four in the first half.
Top Performers: Jelani Woods tossed a 34-yard touchdown pass to Dennis Bell to ignite the scoring and hooked up again from 61 yards away to take an early 14-0 lead. Calhoun's Gavin Gray found Bryson Davis for a 61-yard score of their own to enter the second quarter down 14-7. Woods responded with a 17-yard touchdown run and a 24-yard pass to Jadon Haselwood to boost the Saints' lead to 28-7 at the half. Woods added on a 2-yard rush and Baylon Spector punched in a 3-yard score for Calhoun. Grant Walker and Demetrius Tharpe both scored touchdowns on the ground in the fourth quarter for Cedar Grove while Gray hit Luke Moseley for a 22-yard touchdown but were unable to recover the onside kick.
Greater Atlanta Christian 44, Liberty County 38
How the game was won: Greater Atlanta Christian survived a triple-overtime thriller to scrape past host Liberty County. The Spartans trailed 24-21 after Liberty County kicked a field goal with 3:42 remaining in the game, but they engineered a final drive to force overtime. After a potential winning touchdown pass was dropped, Greater Atlanta Christian kicker Brooks Buce nailed a 25-yarder to tie the score as time expired in regulation. Spartans' quarterback Davis Mills threw touchdown passes on all three of his team's possessions during extra time, including a 20-yarder to Harrison Sloan to force a second OT and another from 23 yards out to Trent Fowler that ended it.
Top performers: Mills, a Stanford commit, finished with five touchdown passes and he also rushed for a score. Sloan hauled in three scoring strikes, including a 36-yarder that opened the night's scoring. For Liberty County, Jaalon Frazier racked up 152 yards and touchdown through the air while also rushing for 66 yards and a score on 19 carries. Richard LeCounte accounted for three touchdowns–one receiving, one rushing, and one passing. He finished with 61 receiving yards on three catches and 40 rushing yards on nine attempts.
Crisp County 56, Pierce County 21:
Host Crisp County scored a season-high 56 points to advance past the quarterfinals for the first time since 1995. The now 13-0 Cougars have set a new school-record for wins in a single season after shocking Lovett 30-29 last round. Crisp County exploded to a 28-0 lead with 4:35 left in the second quarter and took the lead to 49-14 at the end of the third frame. Crisp County's next round matchup is with Cedar Grove, which blew out Calhoun 47-21 in the quarterfinals.
R4 #1 Peach County 27, R5 #1 Westminster 17
Class AA
Fitzgerald 35, Rabun County 16
How the game was won: The Purple Hurricanes are going back to the semifinals, trailing for only 13 seconds in game where they handed the Wildcats their only loss of the season. Rabun County opened the scoring on the fourth play of the game when quarterback Bailey Fisher hit Noah Cannon for a 73-yard scoring strike. But Fitzgerald came back quickly, scoring on their first play from scrimmage on James Graham's 58-yard touchdown pass to J.D. King. Graham then gave the Hurricanes a 14-7 lead at the half on a 38-yard run for the only score of the second quarter. Fitzgerald pushed the lead to 14 points in the third quarter on a Graham 23-yard scoring strike to King on a fourth-and-11 play. Rabun was able to cut it to 21-10 on a 32-yard field goal by Andrew Barnes but the Hurricanes went up 28-10 on a 5-yard run by Ethan Gordon, the big play on the drive coming on a 44-yard pass from Graham to Damien Devine. Again, the Wildcats answered, this time on a Fisher's 5-yard pass to Austin Jones but the kicked failed. Fitzgerald closed out the scoring on Graham's third TD pass of the game, a 27-yarder to Gordon.
Top performers: The Hurricanes, now 12-1, had 498 yards of total offense, 245 on the ground. At home this season, Fitzgerald has trailed for just a total of one minute and 49 seconds. Graham ran for 128 yards on 17 carries and was 6-of-12 passing for 253 yards and the three scores. King had two catches for 81 yards and ran the ball 18 times for 86 yards. Montreil Harris had two catches for 101 yards. For Rabun County, the Wildcats finished with 368 yards of offense but the 150 on the ground came on 46 carries. Fisher was 13-for-24 for 218 yards and rushed for 101 yards on 32 carries. Cannon had five catches for 128 yards. Rabun finishes the season 12-1.
Benedictine 51, Pepperell 13
How the game was won: Tylik Collins put on a show, scoring four touchdowns to slay the Dragons.
Top Performers: Tylik Collins scored on a 1-yard run and an 83-yarder, but also did damage in the return game, bringing back a kickoff 80 yards and a punt 65 yards, both for scores. John Kennedy scored from 10 yards out and as did Terrick Smalls. Jake Karesh booted home a 32-yard field goal in the first quarter. Pepperell scored on a Trevor Thomas 30-yard pass to Tae Hammond before Hammond scooped up a 5-yard fumble for a touchdown in the fourth quarter.
Callaway 35, Screven County 34:
Dylan Johnson found Braylon Sanders for a 47-yard touchdown pass with 17 seconds left to give undefeated Callaway (13-0) a dramatic quarterfinals victory. Before the dramatic finish, Screven County took control early and gained a 7-0 lead on a 30-yard touchdown run by CJ Wright. Noah Stephens put Callaway on the board with a 26-yard field goal, but Screven County closed out the quarter with another touchdown and a scoreless second quarter preserved the Indians' 14-3 advantage entering the second half. Sanders began his heroic second half by taking the opening kickoff back for a Callaway touchdown to make it 14-10. Screven County padded the lead back to 21-10, but Jibrell Jackson quickly answered with a 4-yard touchdown run with 4:47 left in the third. Screven County added a 56-yard touchdown with 1:06 left in the third quarter to make it 28-16, but the Cavaliers once again closed the gap before the final quarter with a 63-yard touchdown pass from Johnson to DQ Wilkerson that made it 28-23. Screven County put Callaway down by two possessions again with 5:54 left in the game, but Johnson and Sanders connected for a 36-yard touchdown to bring it within 34-29. After finally getting the timely stop it needed, Callaway took over at its own 2-yard line with 2:26 left to play. After converting on a pair of crucial fourth downs, Callaway completed the stunning victory with the game-winning touchdown toss from Johnson to Sanders.
Hapeville Charter 30, Chattooga 21
How the game was won: This game proved worthy of a third round match up as both teams responded blow for blow throughout. Chattooga came out first scoring a touchdown run from Corey Curtis. Three plays later, Hapeville quickly responded to tie it at 7-7. Hapeville took 21-14 lead into the half. Chattoga tied the game 21-21 at the start of the third quarter, but Hapeville kicked a field goal and scored another touchdown to seal the game in the fourth quarter.
Top performers: Chattooga's Isaiah Foster (quarterback), kept for a 41-yard touchdown run.
Class A-Public
Emanuel County Institute 44, Irwin County 25
How the game was won: ECI took an early 14-0 lead and never looked back. The Bulldogs fell to the Indians in last year's semifinals 19-15 and atoned for the defeat by using a balanced offensive attack.
Top Performers: Emanuel County Institute racked up 426 yards of total offense and rode the arm of Rhett Gay, who threw for 197 yards and three touchdowns on 12-of-17 passing. On the ground the Bulldogs chewed up 229 yards on 36 rushes. Jamoni Kelly led the rushing attack with 161 yards on 19 carries.
Clinch County 44, Commerce 0
How the game was won: Defending Class A-Public state champion Clinch County controlled the game from opening kickoff. A 23-yard fumble return touchdown and scores from 15 and 72 yards out produced a comfortable 22-0 lead for the Panthers. Clinch County would score three more touchdowns before the end of this quarterfinal match up to hand the Tigers' their largest margin of defeat since 1987 (54-0 Lincoln County)
Top performers: Colten Manac and Octavius Morris returned fumbles for touchdowns. Trezman Marshall and Dexter Mcneil both scored on 15 yard runs. Charles Mcclelland had a 72-yard touchdown run.
McIntosh County Academy 39, Greene County 22
How the game was won: McIntosh County Academy held Greene County star running back Devin Wynn to just 99 yards and flipped the script on the Tigers by rushing for 390 yards in the win.
Top Performers: JP Palmer rushed 14 times for 232 yards and four touchdowns as he stole the show from Devin Wynn. Ahmaud Jackson and Jonathan Jason scored touchdowns in the win.
Macon County 28, Manchester 14:
Macon County scored a 55-13 win over Manchester in its season finale three weeks ago, and once again dominated in the quarterfinals, taking a 28-7 lead into the fourth quarter. The Bulldogs opened the game with a 5-play, 71-yard drive and got on the board with just 90 seconds off the clock. K'Hari Lane eluded the Manchester pass rush and connected with Trey Brown for a 59-yard touchdown minutes later to grow the lead to 14-0. Manchester got on the board with 3:16 left in the first quarter on a 15-yard touchdown run by Deenizeo Gamble. Lane and Brown connected again for a 6-yard touchdown to give Macon County a 21-7 lead at the half and Aukeeveous McLendon made it a 28-7 advantage with a 22-yard touchdown run in the closing minutes of the third quarter.
Class A-Private
Fellowship Christian 45, Mt. Paran 13
How the game was won: Fellowship beat Mt. Paran for the second time this season, getting five touchdown passes and a defensive score and expanding on just a 17-7 halftime lead with three scores in the fourth.
Top performers: Paladins quarterback Jack Hardin was a very efficient 8-of-12 passing for 217 yards, with three touchdown passes to Ryan Reid (25, 14, 16) and two to Merrick Haigler (28, 52), his only catches. Hardin also finished with 17 rushes for 126 yards to lead the Paladins. Reid finished with six receptions for 135 yards, and Andrew Minkert had 12 carries for 85 yards. Garret Depew hit a 33-yard field goal as time expired in the first half. Fellowship's defensive TD came on a 45-yard interception return from Cameron Gill for the last Paladins score.
Prince Avenue Christian 27, Landmark Christian 10
How the game was won: Prince Avenue Christian dominated the second half to the tune of a 20-0 margin to overcome visiting Landmark Christian. The War Eagles scored the game's first touchdown before Landmark Christian made its push late in the first quarter. A surge of 10 unanswered points by the Wolverines gave them a 10-7 lead heading into the second quarter and it stood through halftime. Prince Avenue Christian, however, used three second-half rushing touchdowns to run away with a victory.
Top performers: Noah Campbell scored both of his rushing touchdowns in the third quarter to help the War Eagles take control. Thomas Huff's five-yard scoring run with 8:59 remaining in the contest gave Prince Avenue Christian a 17-point cushion. Sam Wessinger set up Huff's touchdown with a 54-yard run and his 15-yard scamper help put the War Eagles in position for Campbell's first of two touchdowns. Lofton Tidwell had a two-yard scoring plunge for Landmark Christian, which also got a 38-yard field goal off the foot of Tom Austin.
Tattnall Square 28, Calvary Day 14
How the game was won: With the game tied 14-14 heading into the fourth quarter, Tattnall Square scored twice inside of six minutes to play to seal the road win.
Top performers: Ahmad Barron scored two of the Trojans' four touchdowns. He had a 25-yard rushing score on the first possession of the second half, capping a drive that also featured a Barron 35-yard run. Barron iced the victory with an 81-yard TD run with 2:07 left to play. The Trojans' Vasco Sanders blocked a Calvary Day field-goal attempt with the game scoreless in the first quarter, then TSA got a 56-yard touchdown pass from Miles Morris to Antoine Davis to get on the board. Destin Mack scored the 17-yard go-ahead touchdown with 5:43 left to play.
#1 ELCA 35, #8 Wesleyan 13