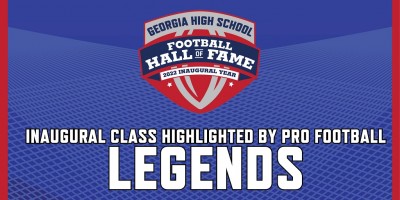 Georgia high schools have been a launchpad for some of football's most accomplished professionals and the most recent example of the state's impact on theNFL was this past April when the state saw 30 former prep stars get selected in the NFL Draft. As impressive as it is to have Georgia representing nearly one out of every eight players taken in a respective draft, this has been a consistent theme over the years as more and more Peach State products populate NFL rosters. Georgia's proud tradition of high school football prepares countless stars to continue their careers after high school and even reach football's ultimate stage. Among this group of inductees are the nine former Georgia high school football players that have achieved the pinnacle of gridiron success and become members of the Pro Football Hall of Fame.
The board held multiple meetings to discuss whether or not Hall of Famers should get an automatic bid for the inaugural class. In the case of Pro Football Hall of Famer and Fairmont High School grad Rayfield Wright, his incredible football career did not take off until college and that was debated amongst the board. Ultimately, it was decided the best way to handle the nine Pro Football Hall of Famers was to bring them all in together as a group and to celebrate their landmark achievements together.
Wright, Calvin Johnson—the most recent NFL Hall of Famer, Champ Bailey, Mel Blount, Richard Dent, Jim Parker, Shannon Sharpe, Fran Tarkenton and Ray Guy make up this elite group of Georgia legends and the list of gridiron accomplishments stacks up to any great to ever play the game.
"An example I always like to use when talking about the depth of Georgia football is the fact that currently there are nine NFL Hall of Famers that played at Georgia High Schools and that is certainly going to continue to grow in the coming years," said Executive Director of the Georgia High School Football Hall of Fame I.J. Rosenberg. "Ray Guy, the only punter in the Hall of Fame, played at Thomson High School where in 1968 he quarterbacked the Bulldogs to a state championship and was named Back of theYear by the Atlanta Journal-Constitution. He was one of the best high school athletes to come through the state. He was always way more than just the greatest punter of all time."
Johnson began his stardom at Sandy Creek High School as a three-year starter for the Fighting Patriots–becoming the highest-rated prospect in the state for the Class of 2004 before his record-breaking Georgia Tech and NFL career. Bailey's days as a three-sport star at Charlton County led to an unforgettable college career and an NFL career that produced 12 Pro Bowl selections—the most for a defensive back in NFL history. Blount's "County Football Style" at Lyons Industrial High School laid the foundation for the four Super Bowl championships he won over the course of his legendary career. Dent was a Murphy High School standout before he earned MVP in Super Bowl XX with the Bears. Parker played three years at Ballard-Hudson High School before leading the Ohio State Buckeyes to a National Championshipand becoming one of the best offensive linemen to compete in the NFL. Sharpe's time playing running back, quarterback and linebacker at Glennville prepared him for a record-setting NFL career as a tight end. Tarkenton's days as a three-sport star at Athens High School led to an 18-year pro career that includes nine pro bowls, a league MVP (1975) and nearly every career passing record before the modern day.
Hall of Fame Game is Friday at 8 PM on Peachtree TV. Here is the link to watch.