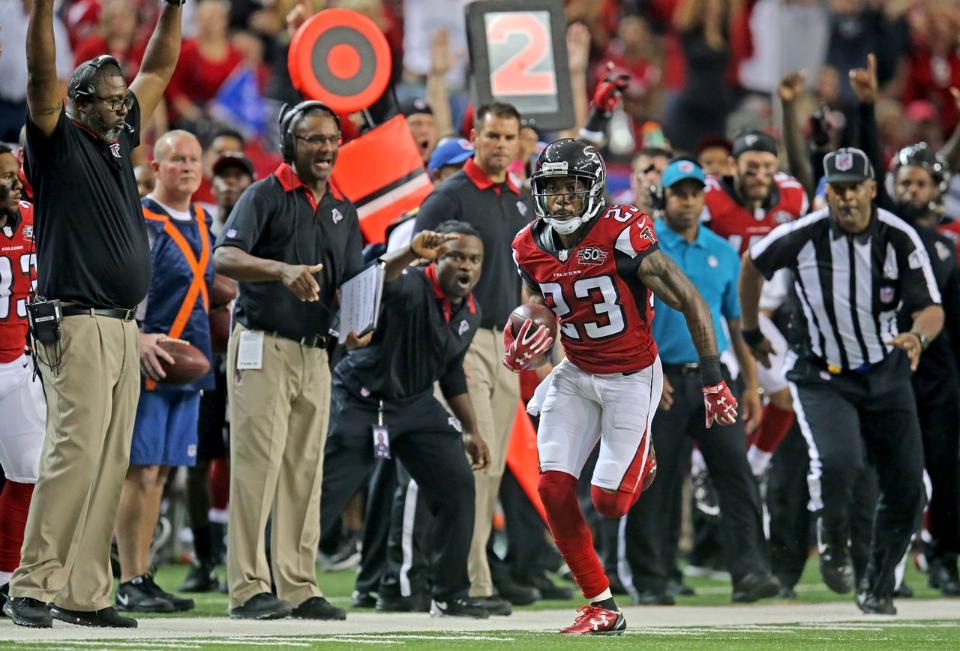 AtlantaFalcons.com
ATLANTA, Ga.— Four out of five times this season, the Falcons have needed comeback efforts to win those games. When it came to their 25-19 overtime win on the 59 yard interception return by cornerback Robert Alford against the Washington Redskins, we really shouldn't have been surprised that they found a way to win.
It also wasn't one of the Falcons best games this season, with quarterback Matt Ryan getting sacked three times and throwing two interceptions. It also wasn't until under 10 minutes left to go in the fourth quarter that they were able to even take the lead. They got that lead on a fumble nonetheless, when running back DeVonta Freeman coughed it up in the end zone to be recovered by wide receiver Julio Jones.
When it comes to the win column, there are no style points in the NFL. This is also a team that isn't doubting themselves in the final 15 minutes of the game according to Alford.
"We never had any doubt.," Alford said. "We kept talking to each other and we knew the game wasn't over. We just went out there, grinded and believed in each other and believed in the coaches and we pulled it out."
Alford pulled in two interceptions in the win.
On the offensive side of the ball, running back DeVonta Freeman had another great performance with 27 carries for 153 yards and one touchdown. He scored that touchdown on a six yard run, that left 24 seconds on the clock.
On a team full of confident players at 5-0 in 2015, Freeman says he's extremely confident when he gets the ball in his hands.
"I never get a ball thinking I'm going to loss this play or get negative yards," Freeman said. "I'm thinking touchdown every play. Whenever I get the ball, seize the moment."
Over the last three games, Freeman is averaging about five yards per carry. He has also scored seven touchdowns and run for 362 in those wins.
The Falcons started 5-0 in 2012 and ended up going to the NFC Championship. Wide receiver Roddy White was part of that team and says this season is feeling a lot like that campaign.
"We haven't been on a roll like this in a couple of years," White said. "It feels like that year we went 13-3 (2012) and everybody just thought we were going to win every game no matter what it was. That's the feeling in this locker room, we don't ever feel like we're going to get beat. Even times when we put ourselves in a difficult situations, we always feel like we're going to win the game."
This team is one of six teams in the NFL that are still undefeated in 2015. This list also includes the Carolina Panthers, who are 4-0 on the season. The Panthers had a bye.
When you are undefeated in the NFL, you are sending a message to the league about what type of team you are. Veteran safety thinks that message is pretty loud and clear.
"When you take notice of our team we play fast/physical and we're prepared," Moore said. "We don't overthink. We come out there and play no matter who we play.We just come out there with the same mindset."
The Falcons will try to make it a 6-0 record on Thursday night when they head to New Orleans to battle the Saints. Their division rivals fell to 1-4 on the season, with a 39-17 loss to the Philadelphia Eagles.