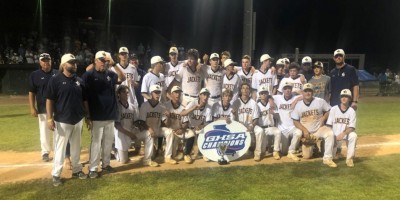 After a sweep of Lovett in the Class 2A championship series – 5-2, 8-3 — Jeff Davis successfully defended the program's 2019 title while capturing the third 2A championship in four seasons — 2017, 2019 and this season.
In the first game, Jeff Davis trailed 2-1 early before scoring four runs in the sixth inning to secure the 5-2 victory. The Yellowjackets had seven hits and one error. Lovett had eight hits but failed to plate runners while three errors gave Jeff Davis the advantage.
The second game was a more lopsided effort and after leading 2-1 the Yellowjackets took control with a six-run third inning and kept control, winning 8-3. Sophomore Cason Clance fueled the scoring in the third inning with a three RBI laser triple down the right field line which put the Yellowjackets up 6-1. Jeff Davis led 8-2 entering the sixth inning and kept Lovett at bay.
Lovett was trying for the program's tenth title. Most recently, Lovett won the 3A title in 2018 and captured 2A championships in 2013 and 2016. The Lions reclassed from 3A to 2A last season.