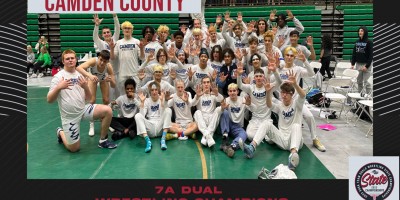 Camden County's 39-22 victory over Buford in the Class 7A team duals state championships at Buford marked the team's 18th overall wrestling state championship and ninth-straight GHSA team duals title.
Camden won the 2012 Class 5A (state's highest class at the time) team duals championship to win the program's first wrestling title and since 2015, the Wildcats have not lost. Camden County has won every single traditional and team duals championship to make up the other 17 wrestling championships.
Against Buford, the Wildcats got wins from Waylon Rozier (138 pounds), Konlin Weaver (165), Ryder Wilder (175), Jesse Batten (285), Bradley Patterson (106), Hunter Prosen (120) and Brock Weaver (126) to secure the victory.
On the way to the championship, Camden beat North Gwinnett, Mill Creek and Buford. The Wolves defeated Brookwood and West Forsyth to earn the championship berth. Mill Creek defeated West Forsyth 50-27 to take third place.
Jefferson, which recently reclassed from Class 4A to Class 5A, defeated Cass 37-33 in the Class 5A championship to win the team's 43rd overall wrestling title and 19th team duals championship. Jefferson famously won every team duals title from its inception in 2002 until 2020 when North Hall took the championship. The Dragons won again in 2021 (4A) but lost out in last year's championship.
In Class 6A, South Effingham won its first-ever overall wrestling title after its 36-28 victory over North Forsyth. In Class 4A, Central-Carroll captured the program's first-ever title after a 34-33 victory over 2A defending-champion Lovett.
Columbus beat Gilmer 34-33 in the Class 3A championship to win the program's second title and first since 2006. In Class 2A Rockmart won the program's 12th title after beating Fannin County 47-22. Rockmart entered Class 2A this season after winning the 3A title last year.
In Class A Mount Pisgah beat Trion 33-32 to win the program's third title after capturing the 2021 Class A team duals and 2021 Class A traditional championships.
See the inaugural girls team duals results from Friday by following the link or see the entire breakdown of each event via the TrackWrestling website.
See the top 4 results below
Class 7A
1. Camden County
2. Buford
3. Mill Creek
4. West Forsyth
Class 6A
1. South Effingham
2. North Forsyth
3. Woodward Academy
4. Glynn Academy
Class 5A
1. Jefferson
2. Cass
3. Ola
4. Harris County
Class 4A
1. Central-Carroll
2. Lovett
3. Chestatee
4. North Oconee
Class 3A
1. Columbus
2. Gilmer
3. Ringgold
4. Franklin County
Class 2A
1. Rockmart
2. Fannin County
3. Toombs County
4. Landmark Christian
Class A
1. Mount Pisgah
2. Trion
3. Social Circle
4. Oglethorpe County