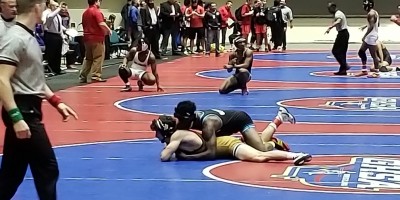 By Seth Ellerbee
Macon – Seven state champions were crowned at the GHSA Team Dual Wrestling Championships  at the Macon Centreplex on Saturday afternoon.  The day also included an unprecedented 18th straight duals championship for national power Jefferson.
In the state's highest classification at Class AAAAAAA, Camden County won its sixth wrestling duals title with a 60-6 victory over Mountain View. The victory marked the fifth-straight duals title for the Wildcats. The rings are piling up for the Camden seniors, a fact that wasn't lost on Camden's 126-pound star Nicholas Krug.
"I believe that we have the best coaches in the southeast, definitely," Krug said. "Our coaches help motivate us. We prepare the best and we win like the best and we practice the best. I am a senior and this is my fourth one. Anything less than a ring is a disappointment. For my birthday I got a watch case and there's a ring holder in there where I am going to put all four rings."
Krug defeated Mountain View's Daviel Abreu by fall at 3:49 in the 126-pound class to lead a star-studded Camden senior class whose experience over the past four years has culminated in one of the most powerful Wildcat programs in recent history, according to coach Jess Wilder.
"We have a lot of seniors," said Wilder. "Not to sound arrogant, but anything less than a championship would have been a disappointment. This is probably the strongest class we've ever had, in terms of accolades."
Camden County earned its berth in the championship with wins over Walton 63-12, McEachern 75-0 and Collins Hill 40-13. Mountain View's path to the title match was highlighted by victories over North Paulding 53-12, Cherokee 51-21 and Brookwood in a closely contested semifinal match (37-33).
Class AAAAAA: Valdosta won its first-ever title with a 34-28 victory over Alexander. The Wildcats earned the championship berth with victories over Stephenson 58-20, South Paulding 45-24 and Creekview 30-27. Alexander defeated Evans 63-18, Cambridge 46-24 and Richmond Hill 29-28 in the semifinals to earn the title berth.
Class AAAAA: Woodland-Cartersville won its third title with a 36-30 victory over Buford. The Wildcats defeated Arabia Mountain 82-0, Ware County 70-6 and Veterans 45-15 in their  flawless path to the championship. Buford, which was trying for its third-straight title, opened earned its championship berth with a 64-18 victory over Statesboro and then defeated HenryCounty 56-15. In the semis, Buford handled Cass 50-24 to earn the title bid.
Class AAAA: Woodward Academy won its first-ever dual title with a 37-33 victory over Gilmer. The Eagles defeated Madison County 59-15, Cartersville 56-18 and West Laurens 39-25 to earn its championship berth. Gilmer earned its trip to the championship with victories over Cairo 64-17, Perry 44-22 and Central-Carrollton 32-28.
Class AAA: Jefferson's 18th straight dual title may have been their toughest one, winning by just one point (30-29) over North Hall. The 18 titles started in 2002 with seven titles in Class A, then six championships in Class AA, two in Class AAA, two in Class AAAA and the one Saturday back at Class AAA. The Dragons earned the title berth with a bye in the first round and then victories over Central-Macon 72-6 and Sonoraville 33-24. Including individual titles, Jefferson has won 40 dual and traditional team wrestling championships. North Hall's path was highlighted by victories over Islands 67-3 and Jackson County 43-18 following its first round bye.
Class AA:Social Circle won its fifth-straight duals title with a 42-26 victory over Elbert County. The Redskins' path the title match was earned with victories over Vidalia 63-15 and Pepperell 62-17 following a first-round bye. Elbert County, which also enjoyed a bye in the opening round, defeated Dade County 59-6 and Toombs County 38-34 in the semifinals to earn its berth in the championship match.
Class A: Commerce won its sixth-straight duals title with a 56-15 victory over Trion. The Tigers earned the championship berth with victories over Mount Zion 72-6 and Turner County 65-12 following its first-round bye. Trion's path to the title match included victories over Irwin County 55-24 and Wesleyan 44-24 following its bye in the opening round.
GHSA Dual State Wrestling Championships final results
Class AAAAAAA
1. Camden County
2. Mountain View
3. Collins Hill
4. Brookwood
Class AAAAAA
1. Valdosta
2. Alexander
3. Richmond Hill
4. Creekview
Class AAAAA
1. Woodland-Cartersville
2. Buford
3. Ola
4. Veterans
Class AAAA
1. Woodward Academy
2. Gilmer
3. Central-Carroll
4. West Laurens
Class AAA
1. Jefferson
2. North Hall
3. Sonoraville
4. Jackson County
Class AA
1. Social Circle
2. Elbert County
3. Toombs County
4. Dade County
Class A
1. Commerce
2. Trion
3. Turner County
4. Mount Pisgah