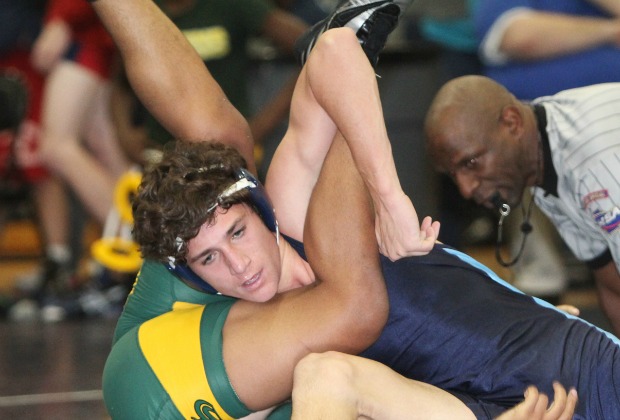 Perry McIntyre
Some would argue that Class AA is the most competitive classification in all of GHSA wrestling. Jefferson has won 12 straight traditional titles, but with GHSA reclassification, defending Class A-champion Bremen, which won the last four Class A traditional titles, moved into AA and could snap Jefferson's impressive streak.
Jefferson qualified 12 wrestlers for individual titles, including eight who claimed East Sectional titles last week in Dublin. Chase Tipperato (106), Josh Harris (126), Tyler Marinelli (138), Jack Dollar (145), Jake Sherman (152), Zach Rhymer (160), Jace McColski (182) and Aaron Anderson (220) all won individual crowns with three more finishing second.
Bremen will bid for a fifth straight overall title with eight wrestlers headed to Macon. Brock Cooper (132), Kannon Madden (152) and Joe Bexley (heavyweight) will help the Blue Devils attempt to take down Jefferson after capturing sectional titles last week. Bexley won the Class A 285-pound division last year.
Greater Atlanta Christian is another squad that could make some serious noise at the championships. GAC finished second in the Area 4-AA tournament behind Jefferson, but last season, GAC was right there at the finish line behind Jefferson in Class AA. GAC will have six wrestlers looking to push the Spartans to a team title, led by AA East Sectional-champion Carter Clinebell (132).
Elsewhere in Class AA, Armuchee's Braylen Scoggins finished fifth last year in the 106-pound class, but has jumped up to 113 and could walk away with the title. Scoggins won the Area 113-pound title then won the West Sectional last week.
FRESH BLOOD 
In Class A, Gordon Lee has had to sit and watch Jefferson and Bremen claim title after title, but with Jefferson moving up to AA in 2009 and Bremen, the four-time defending Class A champion now also in AA, Gordon Lee has a shot to earn the program's first traditional crown. Last season, Gordon Lee finished second to Bremen, which won five weight classes en route to the title. The Gordon Lee program has won at least one share of the last two Class A Duals titles and Brent Raby saw 13 of 14 wrestlers qualify for Macon.
"This season we have seven seniors in the lineup and they have provided great leadership," said Raby.
Holy Innocents' is another program on the brink of crashing through for a first traditional title. The Bears claimed a share of the 2012 duals title before finishing runners-up this year. Mt. Zion-Carroll would also be a major player after qualifying a school-record 10 grapplers for the state tournament. Javier Martinez (132) and Will Sizemore (heavyweight) led the Eagles as each won an individual sectional crown.
Darlington will be without Spencer Jones, who graduated following a fourth-straight GHSA traditional championship last year, but Darlington will have two sectional champions, Jule Peek (126) and Jordan Beck (152), as the Tigers attempt to improve upon last year's ninth-place finish.
Other interesting stories in Class A include Walker and Mount Paran, which made school history last week at the West Sectionals. After the program sent four senior grapplers to Darlington in just Mount Paran's second varsity season, Cole Spain (160), Matt McKenzie (170) and Scotty Valiani (285) all advanced to Macon. Walker, meanwhile, qualified all four of its wrestlers in last week's sectionals including runners-up Williams Schubert (132) and Jason Schubert (138).