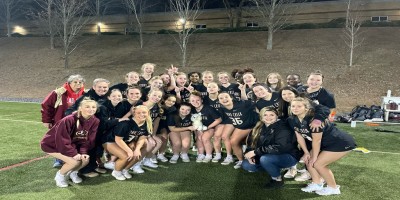 Photo by Johns Creek Girls LAX
Who is the 2023 Johns Creek Girls Lacrosse Team? The fundamental characteristic to describe the Gladiators is that they are a team that prides itself on one motto.  "Our motto this year is zero egos and all heart. That is the exact definition of this team," said head girls coach Stephanie Mathewson.
The Lady Gladiators already have an impressive array of wins this season including Blessed Trinity, Lambert, and Alpharetta. All three teams are ranked in the top 10 in the AJC and Score Atlanta polls this season. Johns Creek is 11-2 this season and has gone undefeated against their out-of-state schedule with wins against Cannon (NC), Charlotte Latin (NC), and Baylor (TN).
"I am super proud of our start. I believe it is the best start we've had as a program. This team is special," said Mathewson. "They are all heart and hustle. They control what we can control, which is attitude and effort. They definitely play for each other. When you see us out on the field, we have really created a team with good chemistry. When we play our game, there is nobody we can't beat."
Their attack has been vital to the success of the team this season. It has allowed the Lady Gladiators to score in double digits in 11 of their last 13 games played. A key to their scoring output is their unselfishness. Sometimes you will see the ball kind of stick with a star player and not move around a lot. The ball is in constant motion in the Johns Creek offense and looking for an open man.
"The majority of our goals are through assists, which I think is a sign of an excellent offense. We have put in a lot of different sets and we continually tweak what we are doing based on whom we are going up against," said Mathewson. "It is finding a group of girls that can work together for one common goal. These girls move the ball quickly and they know what they are doing. Everyone is on the same page to score goals and maintain possession when we need to."
The marquee win of the Lady Gladiators season was against the aforementioned Blessed Trinity, which handed them their first loss of the season. Blessed Trinity has won five of the last six lacrosse state championships. Blessed Trinity is seeking to win their third consecutive title this year. Year in and year out their roster is filled with some of the best talent in the state including D1 signees each year.
"The Blessed Trinity win was huge. That was a big win for our girls. They are a historically fantastic team and state champions year after year. They also have a lot of players going to D1 programs," said Mathewson. "For my players, they are looking at them thinking she is going here and she is going there, and it was important to normalize it for them. Before the game started I had them look at them and say they are a bunch of girls wearing white jerseys and we are a bunch of girls wearing black jerseys. We have to play our game and that is what we went out there and did."
Despite losing four All-Americans last year, the senior leadership has been an integral part of the team's success. Underclassmen have also stepped up big for Johns Creek taking on new roles and stepping up when called upon.
"Last year we graduated four All-Americans, one being a goalie and the other being our top leading attacker. Those were roles that had to be filled and our underclassmen are killing it," said Mathewson. "We have a sophomore goalie who is playing the games of her life. We have eight seniors and the senior class has great leadership. They are humble leaders and have a quiet confidence. They certainly empower everyone."
Johns Creek plays in a tough region that includes Blessed Trinity, Roswell, Centennial, and Cambridge. It will be a push to the end to get a top 4 seed and clinch a playoff berth in a loaded region. Coach Mathewson has her eyes set on accomplishing the team goals and steady improvement for the rest of the season.
"With every game, it's that little bit of improvement, so we keep trying to see a little bit of improvement. The goals that we set for that game is what we are looking to achieve," said Mathewson. "If one area is lacking in the game by the next game, you will see that increase tenfold. We are always working to try and improve and get better at our game and within our team chemistry."
Johns Creek is having their best start in program history and will look to clinch a playoff berth next month and make some noise in the playoffs this season. It certainly won't be easy but the unselfishness of the team and core leadership will continue to be a vital element of the success of the Lady Gladiators.
JOHNS CREEK'S REMAINING SCHEDULE
3/23 @ Creekview (Region)
3/27 Centennial (Region)
3/30 Chamblee (Region)
4/19 Mill Creek (Non-Region)
4/21 @ Walton  (Non-Region)