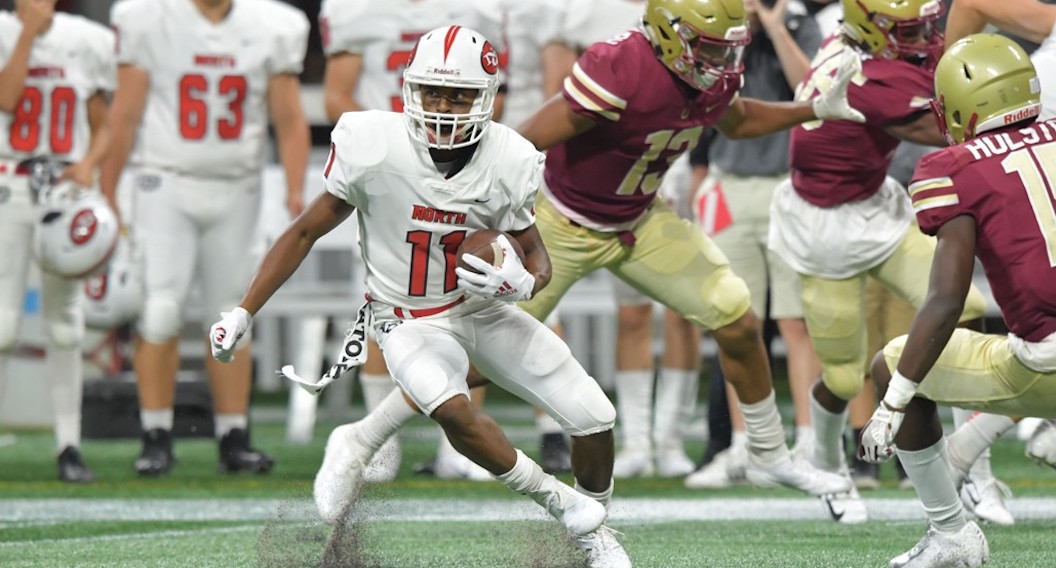 Following the first two days of football in the 28th annual Metro by T-Mobile Corky Kell Classic, North Gwinnett will seek reprisal against Colquitt County on Saturday, August 24, the first game for the Bulldogs since their 45-0 loss served to them by the Packers in the 2018 quarterfinals of the Class AAAAAAA playoffs.
A key part to the Bulldogs' sought-after offense in 2018 was the team's leading rusher in Ty Goodson. During his senior year, he rushed for over 1,000 yards and 25 touchdowns to cap off his high school career. Goodson's offensive production was a crucial part of North Gwinnett's success, and his departure to the University of Iowa means that a new go-to option is in need.
The search for such a player won't take too long, in fact, there is already one stand-out player ready to take on as big a role as he can get. Senior wide receiver Josh Downs, a North Carolina commit, who has been nothing short of electric for North Gwinnett.
"He wants the ball in the biggest moment," says Georgia recruiting expert Rusty Mansell of 247Sports. "His route running and short area quickness makes him a problem to face." Downs has made a name for himself by getting open and being near impossible to catch in the open field, showing off his next-level speed that earned him a 4.47 second 40 time.
While Downs has no problem flashing his speed downfield, his ability to receive the ball near the line of scrimmage and traverse the field displays his top-notch acceleration. With quick cuts and shifty moves, he's almost guaranteed to break one or two tackles before being taken down. His first step is usually just one of many that beats whoever has the troublesome task of lining up opposite of him. One of the most dangerous aspects of Downs is he doesn't need to rely on his speed to make a play. His impressive 41.9-inch vertical gives the 5-10 receiver an edge on any jump ball thrown his way, making him a constant threat on corner routes with one-on-one coverage.
Downs ended his 2018 season with 37 receptions for 624 yards and nine trips to the endzone, the same number of touchdowns he produced during his Sophomore season. While his overall yardage took a slight dip from his 1,000 plus yard Sophomore campaign, it shouldn't skew the perception of his output. With an average of 16.9 yards per catch, Downs proved to be the most reliable aerial option for quarterback JR Martin whether it was a short pass to move the chains or a deep shot downfield. Of Martin's 121 completions in 2018, Downs caught a commanding 31% of these completed passes.
Though Downs was receiving interest from schools like Georgia Tech, Michigan, NC State, Ohio State, Penn State and more, his decision to ultimately play for the Tar Heels may have come as a surprise to some. However, Downs' uncle Dre Bly, a former NFL cornerback and second-round pick in 1999 for the St. Louis Rams, also attended college at the University of North Carolina and is the current cornerbacks coach for the program. Bly is not the only family member of Downs' to have an NFL background. His father Gary Downs Jr. is a former running back for the New York Giants, Denver Broncos and Atlanta Falcons, and currently serves as the running backs coach at East Tennessee State University.