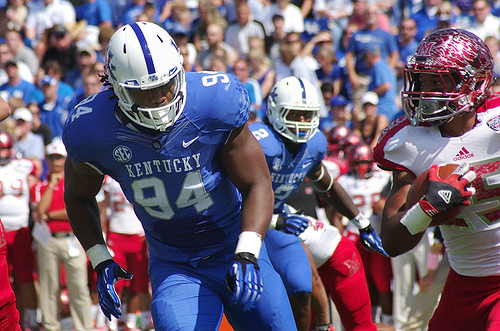 WildcatBlueNation.com
The North team has wrapped up practice on the first day of work down in Mobile. The North squad is mostly comprised of players from Big Ten, Big 12, and Pac 12 schools.
Players had their chance to show the Tennessee Titans coaching staff and their head coach Ken Whisenhunt what they can do when the NFL is watching them. In the almost two hour practice, the defense seemed to have a better performance than the offense.
Two of the players that seemed to show very good things, were Kentucky defensive end Za'Darius Smith and Iowa defensive tackle Carl Davis. Both players showed up well during pass rush drills and in 11 on 11 practice. A certain team in Atlanta could use players who can get to the quarterback. When you talk to Smith, that's what he says he lives to do on the field.
"Pass rush," Smith said. "Pull, slide, (and) rip."
The 6-foot-6, 263 pound defensive end picked up 60 tackles in 2014, with four and a half sacks for the Wildcats. He has played in both the 3-4 and 4-3 defenses while at Kentucky. He says that he can play both, but a 4-3 defense is what suits his game better.
The Falcons are in the need for some pass rush help early and often in this upcoming draft. A guy like Za'Darius Smith could be very attractive to this team. If the team drafts him, he told me what the fans in Atlanta could expect from a player like him.
"A guy that will never give up," Smith said. "Go every rep, never take any plays off, and be the best defensive player that I can be."
The Kentucky product was a late edition to this week's Senior Bowl, after a very impressive performance in Tampa at the East-West Shrine Game.
I would say also look out for Carl Davis, because of the fact he could fit right into a 4-3 scheme that will likely come with the soon to be rumored hiring of current Seattle Seahawks defensive coordinator Dan Quinn as their head coach. Also, the fact he could fit right into what they want to be on both sides of the ball. That would be to be larger and more dominant.
The Iowa defensive tackle could maybe a pick in the third round of the draft. The 6-foot-4, 315 pound defensive tackle played in a 4-3 defense while playing for Kirk Ferentz in Iowa City.
However, if a team wanted him to be a nose tackle in the 3-4 defense, Davis thinks he could make the move.
"I played the three and the one (technique) in college," Davis said. "The one is not the much different from a zero technique. I'm sure I can play it, I have no problem with it."
The South and North teams will work out tomorrow and Thursday, before teeing the ball up on Saturday at Ladd-Peebles Stadium for the game. Who else could show out for a team like the Falcons to add to their roster in 2015 and beyond?