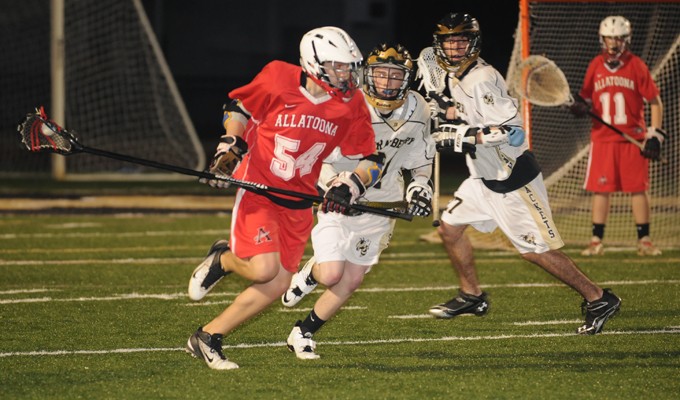 AHS lacrosse
Boys
Class AAAAAA
1. Milton
2. Harrison
3. Lambert
4. Walton
5. Centennial
6. Roswell
7. North Gwinnett
8. Peachtree Ridge
9. Hillgrove
10. John's Creek
No. 1 Milton cruised to a 14-6 victory over Jupiter (Fla.) on Monday. Jupiter owns a 12-4 record and had previously beaten No. 5 Centennial 9-7 two days prior to the loss to Milton. Centennial rebounded from its loss to the out-of-state Warriors with a 12-5 win over Lake Brantley (Fla.) on Tuesday and jumped one spot into this week's top 5. North Gwinnett dropped out of the top 3 and down to No. 7 after getting handled by McCallie (Tenn.) 12-6 on Tuesday, its first loss of the season. Lambert moved up two places to No. 3 and rolled past West Forsyth 16-5 on Thursday. Walton remains at No. 4 after suffering a tough 7-6 overtime road loss to Westminster (Class A-AAAAA No. 2) on Thursday. Westminster has now tallied one-goal victories over Class AAAAAA's Walton and Centennial this season. John's Creek lost to Etowah in double-overtime on Saturday 14-13, but remains at the No. 10 spot. Lassiter was able to beat Etowah 13-10 on Wednesday, but John's Creek's 11-5 win over Lassiter earlier in the season (March 11) gives the Gladiators the edge over the Trojans in the rankings.
Class A-AAAAAA
1. Northview
2. Westminster
3. Lovett
4. Greater Atlanta Christian
5. Blessed Trinity
6, Decatur
7. Marist
8. St. Pius
9. Cambridge
10. Allatoona
In Class A-AAAAA, No. 1 Northview remains perfect (13-0) after a 20-11 win over Nease (Fla.) on Monday. No. 2 Westminster rallied to beat Walton in overtime 7-6 and No. 3 Lovett stifled Class AAAAAA Lassiter for an 8-2 win on Friday. No. 4 GAC, No. 5 Blessed Trinity, No. 8 St. Pius and No. 9 Cambridge all enjoyed the week off. Marist enters this week's poll at No. 7 with its 7-4 win over Holy Innocents' and Allatoona comes in at No. 10 after topping Pope 14-12 on Friday. Pope has proven to be able to play with any team in the state, however, the Greyhounds are just 2-8 against teams with winning records this season and drop out of this week's poll.
Girls
Class AAAAAA
1. Milton
2. Lassiter
3. Walton
4. Chattahoochee
5. Mill Creek
6.Centennial
7. West Forsyth
8. Etowah
9. John's Creek
10. Lambert
No. 1 Milton, No. 4 Chattahoochee, No. 5 Mill Creek, No. 6 Centennial and No. 9 John's Creek were off this past week. No. 2 Lassiter scored an impressive 13-6 win over previously unbeaten Kell on Friday and No. 3 Walton saw an offensive explosion this past week with a 27-9 victory over Etowah and 24-0 win over North Cobb. Etowah's blowout loss to Walton dropped the Eagles to No. 8. West Forsyth moved up a spot to No. 7 with a solid 16-9 win over Kennesaw Mountain on Wednesday. No. 10 Lambert topped Forsyth Central 20-2 on Thursday.
Class A-AAAAA
1. Kell
2. Westminster
3. Northview
4. Pope
5. Cambridge
6. St. Pius X
7. Blessed Trinity
8. McIntosh
9. Starr's Mill
10. Marist
Only three of the top 10 teams were in action this past week and standings remain the same as Northview, Cambridge, St. Pius, Blessed Trinity, McIntosh, Starr's Mill and Marist had the week off. No. 1 Kell suffered its first loss of the season on Friday 13-6 to neighboring Lassiter (No. 2 in Class AAAAAA) but rebounded from the loss with a 23-3 win over River Ridge (6-3) on Saturday. Kell is 0-9 all-time against Lassiter and this was the closest margin of victory for Lassiter since its seven-goal (14-8) win over Kell in 2006. No. 2 Westminster beat Woodward Academy 21-8 on Thursday before falling to Pennsylvania's Radnor (8-1) by the score of 15-6 on Saturday. No. 4 Pope beat Darlington 20-2 on Thursday