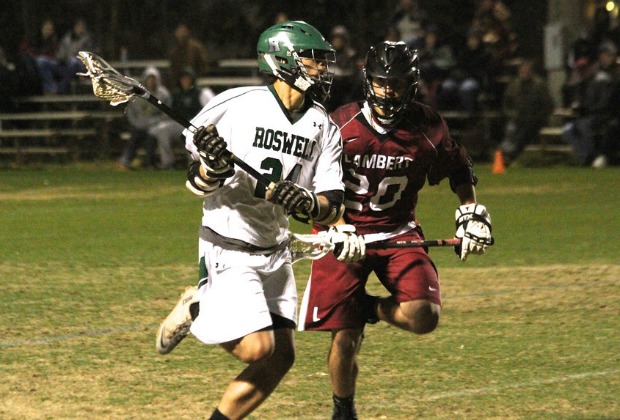 Photo by David Weaver
In crowded Class AAAAAA, the Lambert boys make their debut at No. 1 in this week's poll. With no undefeated teams left in the state's highest classification, the Longhorns took the top spot based on quality of losses this season and overall body of work. Lambert served McCallie (TN) an  11-6 defeat over the weekend after Centennial (15-13) and Johns Creek (16-6) both lost to the Blue Tornado. Lambert's only losses this year are 12-11 to No. 4 Roswell and 13-10 to No. 2 Centennial. Centennial has the two-goal loss to McCallie on its resume as well as a 16-6 blowout defeat to Johns Creek. Johns Creek has been No. 1 for most of the year but losses to Lovett (12-11), Pope (12-10) and now McCallie (16-6) give Lambert a slight edge in overall resume.
The Lassiter boys lost their third straight game and Etowah replaced the Trojans in the poll at No. 9. In Class A-5A, St. Pius jumped into the top 5 and Marist slid to No. 10 after a 14-8 loss to Lovett and a 6-4 defeat to Decatur last week.
The Chattahoochee girls jumped Lassiter for No. 3 in Class AAAAAA and Harrison and West Forsyth improved one position to No. 8 and No. 9, respectively. Kell took No. 3 in Class A-AAAAA and McIntosh replaced Wesleyan for No. 9.
BOYS
AAAAAA
1. Lambert
2. Centennial
3. Johns Creek
4. Roswell
5. Pope
6. Mill Creek
7. North Gwinnett
8. Harrison
9. Etowah
10. Northview
A-AAAAA
1. Westminster
2. Lovett
3. Allatoona
4. Cambridge
5. St. Pius
6. McIntosh
7. Greater Atlanta Christian
8. Benedictine
9. Wesleyan
10. Marist
GIRLS
AAAAAA
1. Milton
2. Walton
3. Chattahoochee
4. Lassiter
5. North Gwinnett
6. Northview
7. Pope
8. Harrison
9. West Forsyth
10. Mill Creek
A-AAAAA
1. Cambridge
2. Westminster
3. Kell
4. Blessed Trinity
5. Creekview
6. St. Pius
7. River Ridge
8. Sprayberry
9. McIntosh
10. Lakeside-Evans