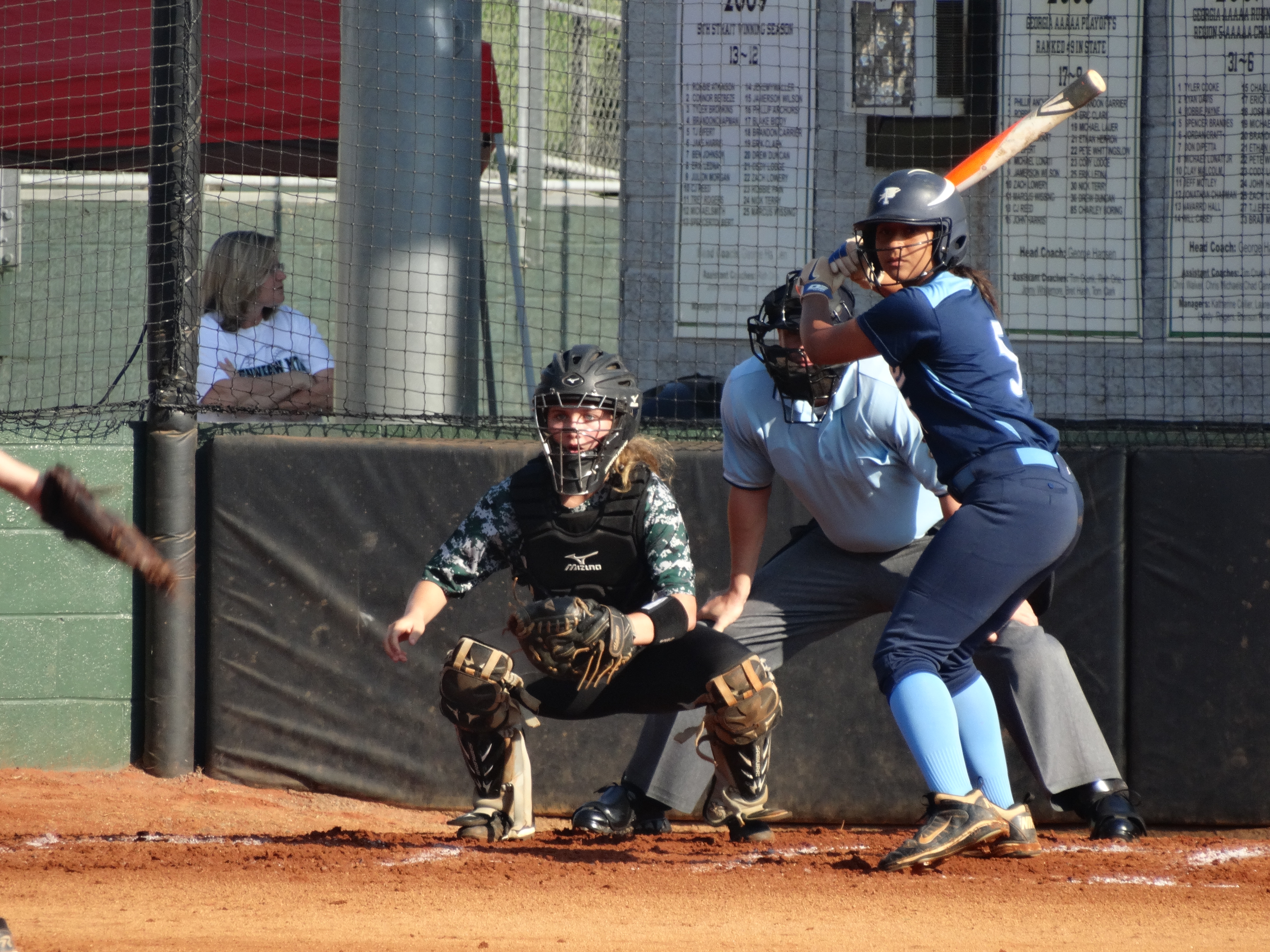 Photo By Pope Fastpitch
North Gwinnett takes over the No. 1 spot in Class AAAAAA after defending champ Pope has stumbled out of the gates to a 2-2 record. The undefeated Bulldogs (5-0) have impressive wins over Archer (1-0) and Buford (4-3). Kylee Smith pitched a complete game shutout against Archer to open the season. Against Class AAAA's top-ranked team Buford on Saturday, the Bulldogs rallied for three runs in the bottom of the sixth to win a time-shortened game 4-3. Smith struck out seven while Haley Griffith doubled home the go-ahead runs with Emily Dennis and Erin Wilbur crossing the plate.
Elsewhere in AAAAAA, Woodstock debuts in the polls at No. 8 after going a perfect 5-0 at the Rumble at the Ridge tournament.
Defending Class AAAAA state champs Greenbrier picked up where they left off last season as they have begun 5-0 and have outscored their opponents 56-3. No. 2 Cambridge (3-0) rolled lucky eights this past week, picking up a trio of 8-0 wins. No. 3 Chapel Hill's Ashley Morgan hurled a no-hitter on Saturday against Worth County as she struck out 13 batters in five innings of work. The Panthers are 6-0. No. 5 Northgate (1-0) pounded out 19 hits in a 20-6 rout over Stockbridge. A trio of seniors powered the Vikings. Alyssa Allen went deep and finished with three hits on the day. Sadie Proctor finished 4-for-4 with three RBIs while Jessica Houk knocked home two runs and scored three times on a 4-for-6 day at the plate.
No. 1 Buford (3-1) remains the top team at AAAA. Samantha Thomas blasted a two-run homer in the bottom of the eighth to walk-off the Wolves 4-3 over Effingham County last Friday. She finished 2-for-4 on the day while Kennedy Kotula went 2-for-3. The Wolves have a huge Tuesday night tilt with undefeated Cambridge.
Powerhouse Calhoun is 3-0 and holds a tight grip on the No. 1 spot in AAA. The Yellowjackets have come out blistering, outscoring opponents 40-1. Jana Johns has yet to make an out. She is 8-for-8 with 11 RBIs. Ashlyn Barnes and Emily Weatherman have hit .889 and .875 respectively and have a combined 15 runs batted in. Kinsey Liscio is 2-0 on the mound and already has a no-hitter. No. 2 Ringgold (2-0), who fell to the Jackets in the state championship last year, has also come out hot outscoring their opponents 25-0.
Heard County (2-0) is No. 1 in AA and has allowed just one run thus far this year. No. 5 Bryan County makes its first appearance in the polls after starting 6-0. Vidalia has shot up to No. 4 after being unranked last week. The Indians are 7-0.
Eagle's Landing Christian Academy remains atop Class A-Private after a 4-1 start. The Chargers' only loss came against Class AAAAAA's No. 2 Archer, 5-2. ELCA knocked off host No. 4 Stratford Academy 12-4 earlier in the season. The Chargers will meet defending Public-A champion Georgia Military College (0-1) this Tuesday. Aforementioned Stratford Academy (8-2) has been led by Alyssa Orona and Hannah Rae Griffin. The two have combined for 22 RBIs. Orona has hit .448 while Griffin has mashed at a .517 clip. Mary Wilson Avant is 7-1 on the bump with a 1.70 ERA.
Johnson County takes over the No. 1 spot in Class A-Public. The Trojans are 6-0 and powered by Kaitlyn Powell (.625) and Rachel Hortman (.611). Powell is also 6-0 with a 1.46 ERA and 38 strikeouts in 24 innings pitched.
AAAAAA
1. North Gwinnett
2. Archer
3. South Forsyth
4. Brookwood
5. Lassiter
6. Pope
7. Lambert
8. Woodstock
9. Collins Hill
10. Shiloh
AAAAA
1. Greenbrier
2. Cambridge
3. Chapel Hill
4. South Effingham
5. Northgate
6. Harris County
7. Creekview
8. Ola
9. Effingham County
10. River Ridge
AAAA
1. Buford
2. Marist
3. Walnut Grove
4. Thomas County Central
5. Madison County
6. Whitewater
7. Heritage, Catoosa
8. Wayne County
9. North Hall
10. Carrollton
AAA
1. Calhoun
2. Ringgold
3. Pierce County
4. Dodge County
5. Rockmart
6. Morgan County
7.  Central, Carrollton
8. Jackson County
9. Pepperell
10. Franklin County
AA
1. Heard County
2. Gordon Lee
3. Bremen Berrien
4. Vidalia
5. Bryan County
6. Wesleyan
7. Union County
8. Bacon County
9. Seminole County
10. Social Circle
A-Private
1. ELCA
2. Prince Avenue Christian
3. Brookstone
4. Stratford Academy
5. First Presbyterian Day
6. Tattnall Square Academy
7. Calvary Day
8. Strong Rock Christian
9. Savannah Country Day
10. Athens Christian
A-Public
1. Johnson County
2. Wilcox County
3. Georgia Military
4. Echols County Schley County
5. Charlton County
6. Baconton Charter
7. Trion
8. Treutlen
9. Telfair County
10. Atkinson County