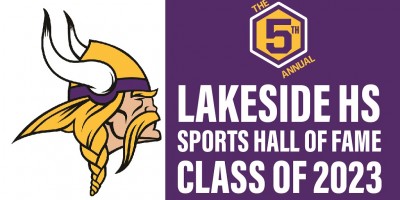 The fifth annual class of the Lakeside High School Sports Hall of Fame is led by former Atlanta United goalie Alec Kann, who was a star for the Vikings on the pitch and for the last 10 years has played in Major League Soccer (MLS). Kann was United's first goalkeeper and tended net in their first-ever game in 2017. He graduated from Lakeside in 2010 and is now the goalkeeper for FC Cincinnati. The induction ceremony for the fifth class will take place Saturday, March 18 at the school beginning at noon. Lunch is included and tickets can be bought by clicking here!
The class is made up of 30 inductees including football star John Hayworth, who was voted in two years ago but has not been able to attend the ceremony until this year. Hayworth, a center who would go on to play for Auburn University, was Lakeside's first-ever All-State football player in 1966.
The class also includes Lakeside's first-ever football coach in Norm Olsen, who came to the school in 1966. Olsen left after the 1969 season but turned over a team that won the state championship in 1970 under Wayman Creel. The Beth Cooley Cheerleading Award will be given to Julie Hickman-Penter, who graduated in 1973. In addition to cheerleading, Julie was very popular and involved in many activities. Her husband, Mark Hickman, is a member of the Hall and was voted in as a football player in 2021. The John Kicklighter Service Award will go to I.J. Rosenberg, who played three different sports during his five years at Lakeside and founded the school's Hall of Fame in 2019.
The full 2023 Class includes:
Football
Steve Ivie (1967), Frank Vardeman (1971), Bob Brien (1975), Rusty Moore (1975), Steve McKenna (1975), David Glover (1975), Raji Gordon (1987), Rico Clark (1987) and Coach Norm Olson (1966-69)
Soccer
Rick Culberson (1972), Alec Kann (2010), Pamela Roberts (1985) and Tom Fisher (1974)
Tennis
Rick Bodin (1972)
Basketball
David Whittemore (1975)
Cross County/Track
Joe Laboon (1971), Coach Alvin Sharpe (1965-71), Kristi Hanna (1979), Carol Seavey-Ashmore (1974), Rebecca Mullen (2001) and Susan Seavey (1976)
Wrestling
Mike Nelson (1977)
Swimming
Libba Newman (1981)
Gymnastics
Jerry Morrison (1974), Mary Lou Watson-Collins (1977), Sydney McCallister (1984) and Rachel Mann (2000)
Beth Cooley Cheerleading Award
Julie Penter-Hickman (1973)
John Kicklighter Service Award
I.J. Rosenberg (1981)
Here are the four previous classes.
Class of 2022:
Football
James Wurst (1979), Kevin Whitley (1988), Steve Campbell (1981), Jimmy Blankenship (1969), Willie Smith (1992) and Scott Gold (1988).
Soccer
Alan Smith (1974), Steve Dunbar (1984) and Lori Willis-White (1988)
Tennis
Chuck Sobers (1982), Jim Duckworth (1982), Jody Reedy-Andrade (1984) and Betsy Reedy-Sawyer (1986)
Basketball
Mary Wilbanks (1982)
Cross County/Track
James Timmerman (1971) and Scott Stewart (1971)
Baseball
Mike Cash (1970)
Wrestling
Jeff Garrett (1971) and David Dalbo (1972)
Coaches
Bubba Wilson (1990-2003) and Dan Key (1972-2007)
Gymnastics
Bonnie Bridges-Harris (1973) and Kathleen Kelly-Shaffer (1976)
Beth Cooley Cheerleading Award
Claire Hubbard (1982)
John Kicklighter Service Award
Tom Beuglas (1980-99)
Class of 2021:
Football
John Schaefer (1979), Chip Creel (1978), Walter Smith (1979), Kevin Anthony (1982), Ladd Fletcher (1982), Mark Hickman (1972), Jim McCoun (1976), Tommy Harris (1971), Chris McCoun (1970), John Hayworth (1967), Greg Lester (1987), Jim Kroll (1972), Mike Bartik (1970), Bob Butler (1974) and Tobin Sexton (1973)
Soccer
Casey Campbell (1975), Dave Blanks (1978), David Ball (1974), Chris Garner (1978), Shawn Cartmill (1981), Roy Day (1972) and Mike Balsamides (1984)
Cross County
Robbie Burns (1974) and Scott Griffith (1979)
Swimming
Maria Thrash (1979) and Katie Heyburn (1984)
Baseball
Brent McGuire (1979), Alan O'Neal (1974) and Billy Walker (1971)
Gymnastics
Susan Cantrell (1975), Laura Deadwyler (1978) and Diane Cantrell (1977)
Girls Basketball/Track
Stacy Shelton (1984)
Beth Cooley Cheerleading Award
Joni Maulden (1980)
John Kicklighter Service Award
Chris Chilton (1982) and mother Nini Chilton
Class of 2020:
Football
David Henderson (1976), John O'Neal (1975), Melvin Dorsey (1979), Mark Fleetwood (1979), Huey Richardson (1986), Nick Carmichael (1969), Rocky Kurland (1973), David Elder (1973), Charlie Garnham (1977) and Tommy Bowen (1974)
Basketball
Britt Franks (1979), Larry Sale (1973) and Tori Stewart (1976)
Baseball
Coach Marvin Pruitt (1978-86) and Doug Gilcrease (1978)
Soccer
John Creviston (1976), Merck Smith (1978), Ronnie Roberts (1980), Peter Pak (1986) and Carol Chilton (1986)
Cross County
Tony Dipaola (1975) and Mark Thompson (1976)
Tennis
Kelly Thurman (1976) and Paul Groth (1976)
Swimming
Margaret Shine (1971) and Jan Michaelis-Bilthouse (1975)
Track and Field
Rick Elder (1970) and Stephen Ott (1973)
Gymnastics
Coach Shirley McDaniel (1972-86) and Laura Church (1977)
Wrestling
John Kalvelage (1972) and Coach Nick Janoulis
Beth Cooley Cheerleading Award
Beth Cooley (1982)
John Kicklighter Service Award
Joe Willingham
Inaugural Class of 2019:
Football
Wayman Creel (1970-82), Dick Conn (1969), Jack Jones (1969), Ed Butler (1972), Jack Fuqua (1971), Mike Johnson (1973), Jack Bowen (1973), Coach Dave Redford (1970-93), Spencer Nelms (1981), Greg Davis (1983) and Coach Phil Lindsey (1976-97)
Basketball
Pete Fusi (1973)
Baseball
Gene Ammann (1967) and Ron Cash (1967)
Soccer
Coach Jim Mitchell (1973-2003), Tom Manget (1971), John Manget (1975) and Lane Kenworthy (1982)
Cross Country
Coach Eddie Roberts (1971-2005) and Joe Thorne (2002)
Tennis
Lianna Bebeau (1984)
Swimming
Coach Avalee Spinks (1977-2007) and Renee Loisel (1972)
Track and Field
Robbie Horton (1975)
Gymnastics
Coach Lucia Norwood (1970-75), Jeff Morrison (1974), Barbara Hall (1976) and Karen Loewen (1981)
Wrestling
Bryan Carlisle (1983)
John Kicklighter Service Award
John Kicklighter (1971-84)