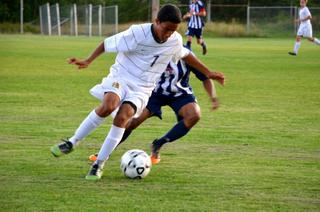 Aquinas
In the Class AAAA boys state championship game, Lambert beat Greenbrier (21-2) 5-0 after four goals by junior Bakawsu Kinteh. The Longhorns (23-0) captured their first state championship in just the third year of program history.
Host Lambert got started early, as Kinteh scored 10 minutes into the match. Then, 11 minutes before the half, Kinteh struck again after a scramble for the ball in front of the Wolf Pack goal to give the Longhorns a 2-0 halftime lead.
In the second half sophomore Cooper Coughlin headed in a corner by Nick Cafferrata with 32 minutes left, and the rout was on.
Senior goalkeeper Michael Zambetti kept a clean sheet in his final high school match, while Kinteh completed his junior season with 44 goals.
Class A
Aquinas 3, Atlanta International School 2: The visiting Fighting Irish (17-2-1) exploded for a 3-0 lead in the first half only to watch Atlanta International (15-4-2) close to within a goal midway through the second.
Matt Moser led the way for Aquinas with two goals, while Marcus Wade scored on a laser of a shot from outside the box.
The Eagles got on the board with four minutes left in the first half on a goal by Killian Fischer and climbed to within a goal on a penalty kick by Rogier ten Lohuis with 12 minutes left in the game.
The finals appearance represents the best finish in school history for AIS.
Collins Hill 3, Centennial 1: Perennial-power Collins Hill (18-4) was overshadowed all year by talented Centennial (20-2-1), but dispatched the visiting Knights 3-1 Friday night in Gwinnett County. It is the third state championship in four years for the Eagles.
Westminster 1, Blessed Trinity 1 (4-2 PKs): The Wildcats took a early 1-0 lead on a 40-yard blast by Josh Bennett. But the visiting Titans scored late in the second half to send it to overtime. After a scoreless overtime period, the game went to penalty kicks where Andrew Freschi won the game for the Wildcats with two key saves.
It is the second straight state title for Westminster and the program's 10th title in boys soccer.