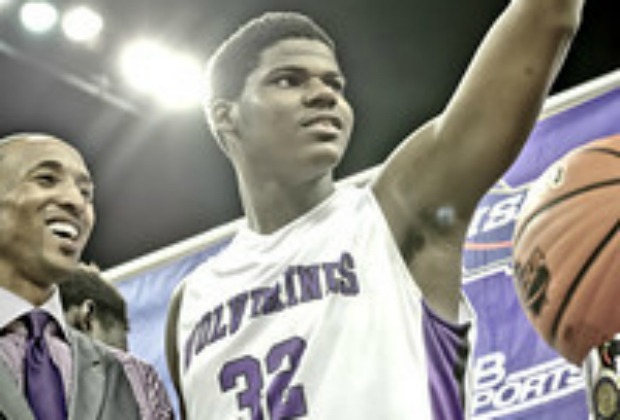 Ty Freeman
The Georgia Bulldogs had a successful basketball season compared to most years in recent history. They won 12 games in the SEC, one of the highest conference win totals in program history, and made a postseason tournament for just the fifth time since 2002, albeit the lightly-regarded NIT.
However, in games against the SEC's three NCAA Tournament teams – Florida, Kentucky and Tennessee – the Dawgs were 0-4 and dropped each game by double-digits. What is Georgia missing that championship contenders have? The likely answer is talent and recruiting, two sources of frustration for Bulldogs fans who look around the Peach State and see some of the top prospects in the nation leaving for out-of-state college programs every year.
Like the Bulldogs, Georgia Tech, Georgia State and Kennesaw State weren't invited to the NCAA Tournament while, in an AJC.com article by Todd Holcomb, more than 20 players from Georgia high schools will be playing in the Big Dance. While four of them play for Macon's Mercer University, most will suit up for out-of-state programs.
WHY NOT US? …
The mass exodus of blue-chip basketball recruits begs the question: why do they leave the state while the in-state programs suffer in mediocrity?
"With Georgia being so phenomenal at football, a lot of kids don't see Georgia being a 'basketball school'," explained Miller Grove coach Sharman White, whose program is fresh off winning a state-record sixth consecutive state title. "But I don't think it's just a football thing, I think it's a recruiting thing. What do you have to offer the kids? From a standpoint of what the program can offer them, that'll convince them that they need to be here in their home state instead of leaving. Recruiting is the bottom line."
Tech and Georgia have won at times throughout their lengthy major college histories, but neither has been able to sustain it and neither has ever won a national championship. While so-called football schools like Florida, Ohio State and Michigan have taken home national titles, Tech and Georgia have fallen short. But it isn't due to a lack of talent nearby. It is largely because local players choose far away programs over the in-state schools.
"I just think that some of those players feel that they may have a better chance of maybe playing at the next level (the NBA) or getting a little more appreciation at some of the out-of-state schools," said David Boyd, who coached Berkmar and Milton to two state championships each. "But I don't agree with that. I believe that Georgia and Georgia Tech can be very good at basketball. If you look at Florida, which has been very successful traditionally at football, they've done a great job in basketball. So I do think it can be done."
LOSING BATTLES …
While programs like Duke, Kentucky and North Carolina can generally pick and choose recruits from all over the country, other programs not known for their basketball pedigrees have come into the Peach State and taken players that were coveted by both Tech and Georgia.
Virginia, which just won its first ACC Tournament championship since 1976, used metro Atlanta products Malcolm Brogdon (GAC) and Evan Nolte (Milton) to help snag a No. 1 seed in the Big Dance. The Cavaliers have also signed current GAC Spartan Isaiah Wilkins, who happens to be ex-Georgia Bulldog Dominique Wilkins' stepson. Marquette, a good, but not great program located in cold and distant Milwaukee, signed Aquinas' Ahmed Hill, arguably the top player in the Peach State's 2014 class. Effingham County's JaKeenan Gant signed with Missouri, a school hundreds of miles away that has never made a Final Four and which Georgia beat twice this past season.
"When kids make that kind of move and they have 15-20 offers, it's strictly a relationship thing," said Walton coach Joe Goydish. "It's a relationship and a 'how quick can I play' thing."
While relationships are important in recruiting, other factors also play a part in it.
"I'd like to think it's always an academic decision," said Boyd. "Or what the major is going to be but, to be honest, I do think that most high school players are going to base their decisions on how they feel about the head coach, their relationship, style of play, facilities, those kinds of things are kind of at the top of the list and tradition is also up there."
Coach Markus Hood of Allatoona suggested a more questionable way certain colleges sign players, one that may violate NCAA rules.
"It may be some kind of AAU connection that helps funnel kids to those places," he said. "I don't know if there's anything financial or if there's some type of AAU connection where maybe some AAU programs are getting kickbacks."
While in-state programs seem to be striking out on many top Georgia prospects, each coach acknowledged that it wasn't for lack of trying.
"I don't think they're not recruiting these kids," said Goydish of the in-state programs' recruiting efforts. "I'm sure they'd love to get (Wheeler's) Jaylen Brown or one of those guys, but I just don't know if those kids feel that connection."
Despite missing on some recent big-time recruits, all four local college programs are stacked with in-state kids. Metro Atlanta products like Charles Mann and Donte' Williams played huge roles at Georgia this year while Tech was led by Daniel Miller of Loganville and Marques Georges-Hunt of College Park.
OWLS AND PANTHERS …
Georgia State and Kennesaw State each confront a different set of challenges than do the SEC and ACC representatives from the state. While the Panthers have made the Big Dance and even won a tournament game in 2001, Kennesaw State is relatively new to Division I athletics and has floundered in the Atlantic Sun. However, Goydish thinks each program could win if each approached recruiting with an emphasis on local players.
"Georgia State's going to be good," Goydish said. "They're going to succeed more so on the level they did this year with transfers. I think Kennesaw State can be a good basketball program with the talent here in Georgia with the secondary guys, the guys that were going to the mid-major programs."
Georgia State dominated its return season in the Sun Belt Conference (GSU was a member of the conference previously from 1976-1981) with a 17-1 conference record on the backs of transfers. Kennesaw State, however, suffered another atrocious season with a 6-25 record overall.
While Mercer will be the lone in-state program to play in the men's NCAA Tournament this season, college programs in the state of Georgia have bright futures – if they can begin signing the top players from the Peach State.