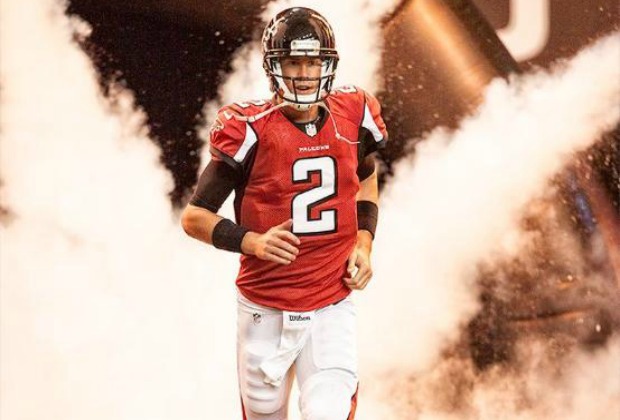 Atlantafalcons.com
Let's face it, football is king in Atlanta and we are already counting down the days until the 2013 season kicks off for NFL, college and even high school. Fortunately, there is always news surrounding football, and the month of March is a very important month for the NFL as well as the college game.
On Tuesday, the free-agency period for the NFL begins and Falcons fans are anxious to see what moves the Birds make especially with the team releasing Dunta Robinson, John Abraham and Michael Turner. The reason the Falcons released the three key veterans is they had to free up cap space. Will that mean they pick up a big free-agent name like Rams running back Stephen Jackson, Colts defensive end Dwight Freeney or even Jet cornerback Darrelle Revis?
There is no telling who the Falcons will bring in, but the first thing they have to focus on is keeping their own players in Flowery Branch.
With this season being the final year of Matt Ryan's six-year contract, the negotiation talks for his next deal are starting to heat up. Forecasters say Ryan could be in line for a deal worth around $100 million. Some people may argue that Ryan may not be worth that much money, but that's not the point. It's all about the market value and if Ryan is a top quarterback in the league (which he is), he's going to make near top-dollar for his position.
But then there's the other veteran players that are becoming free agents that the Falcons need to keep on their roster. William Moore and Sam Baker will be available to any team this Tuesday and they were big contributors in the Falcons' success last year. Now by the time you read this, one or both of these players could be re-signed by the Falcons. But if they are not, the Falcons have to make sure they get Baker and Moore back into the mix, especially if they want to be a Super Bowl contender.
Then there's Brent Grimes, who missed most of last year with an Achilles injury. And there's also the Tony Gonzalez situation, where he is still deciding if he wants to play one more season. The Falcons want to bring all of these players back, but it's all going to come down to how much they pay Ryan. It should be a very interesting free agency period to say the least.
SPRING DAWGS
The Georgia Bulldogs opened spring practice last week and are looking to build on what they did in 2012 which was win 12 games and come five yards away from reaching the BCS National Championship Game. The main priority that Mark Richt's team has to accomplish this spring is rebuilding the defense, which lost 12 starters from last year.
Believe it or not, the the Bulldogs defense should be better this upcoming season.
A lot of the players coming in will have a chip on their shoulders because they were highly recruited in high school and have not had to a chance to prove themselves. This will be the season where Ray Drew, Ramik Wilson, Jonathan Taylor, Corey Moore and Devin Bowman show what they are capable of. Fans will have a chance to see the new look defense as well as the rest of the team during the G-Day game on April 6.
KSU FOOTBALL 
With Kennesaw State starting a football program, it means a new head coach will be hired soon. KSU AD Vaughn Williams has narrowed his list of who he wants to interview for the head coaching position and he wants somebody that is from Georgia or has done good work in the state.
Some of the names that have been mentioned that could be interviewed are former Falcons and Georgia defensive coordinator Brian VanGorder, current Georgia Tech defensive line coach Andy McCollum, current Valdosta State head coach David Dean and former Buffalo Bills defensive line coach Giff Smith.
Whoever takes the position will have some major challenges ahead of them. But the new head coach will also be a part of history and a chance to be part of a very successful program if everything goes according to plan.