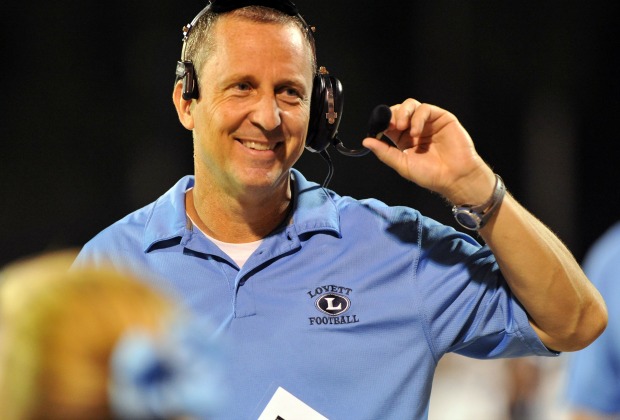 Perry McIntyre
Below are some matchups that pit one ranked team against an underdog worthy of pulling off an upset. Follow these games tonight on our scoreboard on AJC.com and ScoreATL.com and see if one of the underdogs can come through like Newton did two weeks ago at Lowndes.
No. 2 (AAA) St. Pius at No. 5 (AA) Lovett (Underdog)
For the fourth week in a row, Lovett will face an Atlanta-area private school from a higher classification. That may appear to be good news to the undefeated Lions, but St. Pius X could be the toughest opponent they have faced. Does Mike Muschamp's bunch have one more surprise left? We will see as the 2012 Class AAA finalists come to Buckhead to face Muschamp's Lions.
Pick – St. Pius X 17, Lovett 13
A-Public unranked Wilkinson County (Underdog) at A-Public No. 1 Irwin County
The Wilkinson County Warriors come into this affair 0-2, but don't overlook coach James Hagins' bunch. The Warriors have lost to highly-ranked Class A powers Wilcox and Landmark Christian, but both games were relatively competitive. Last season in this matchup, Wilkinson County lost to Irwin by just a touchdown, 41-34.
Pick – Irwin County 38, Wilkinson County 27
Class AAAAA No. 7 Warner Robins at unranked Class AAAAAA Douglas County (Underdog)
Coach Jason Respert's Tigers have shown improvement is his second year in Douglasville, but tis week's opponent is probably their toughest thus far in 2013. However, Warner Robins is playing on the road at a Class 6A team that is lying in wait the week after a competitive loss to a good Chattahoochee team. The visiting Demons are coming off a big win over Peach County, which appears to be down this season. Don't be surprised if Douglas County is in this game late.
Pick – Warner Robins 27, Douglas County 17
Unranked East Coweta (Underdog) at Class AAAAAA No. 10 Lovejoy
Lovejoy made a nice run to the finals last year before losing a heartbreaker to Norcross. The Wildcats, however, lot quite a few stars off that team although they have played well this season. Coach Al Hughes' squad survived a trip to Alpharetta last week after losing at Colquitt County. East Coweta has a proud tradition but comes into this matchup 1-2. The Indians narrowly lost to Archer, a rising Gwinnett program, but were overwhelmed last week by Sandy Creek. I thnk East Coweta gives Lovejoy a scare, and maybe more.
Pick – Lovejoy 38, East Coweta 34
Newton (Underdog) at Class AAAAAA No. 6 Valdosta
Two weeks ago, Newton shocked the state by traveling to Lowndes and beating the highly-ranked Vikings in the Concrete Palace. After a week of rest, the Rams will take I-75 south back to Valdosta, but this time to play the Wildcats. While Lowndes prefers to run the ball almost every down, Valdosta will spread it out and throw it. Newton's rushing defense is outstanding, which was why the Rams were able to slow Lowndes's attack. We would be remiss if we didn't include Newton, but we think they take a loss this week. Valdosta will not overlook them after the Lowndes upset.
Pick – Valdosta 34, Newton 14