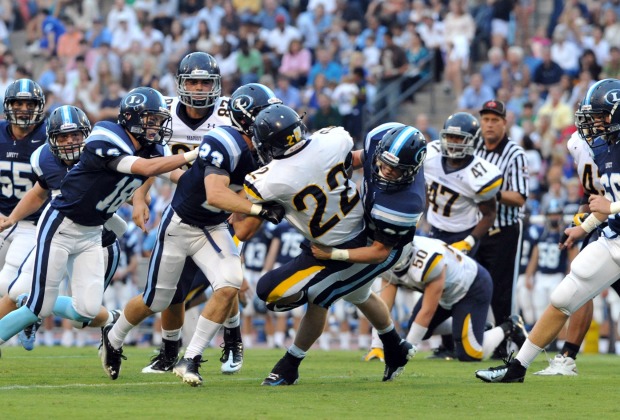 Perry McIntyre/ The Lovett School
Class AA is as diverse as any region in the state. Programs in the classification include elite private schools, like Lovett and Westminster, and rural publics, such as Berrien and Rabun County. While Thomasville sits near the Florida border, Dade County borders both Tennessee and Alabama in the northwest corner of our state.
Diversity like that presents a challenge when analyzing the top football schedules in the state while also displaying just how interesting Class AA is to follow.
Here is our best guess at the toughest football schedules in Class AA:
5. Calhoun – The Yellow Jackets didn't become a traditional power in the state by ducking the competition. And this season will be no different for coach Hal Lamb's bunch, which faces three Class 4A powers in non-region action. Calhoun, our preseason No. 1, opens with 2012 state finalist Ridgeland before facing perennial-power Dalton after a week off. The Jackets will then take on preseason No. 3 Carrollton, also from Class 4A.
4. Brooks County – The preseason No. 2 Trojans open with road games at Class A-power Clinch County, Monroe-Albany, a 2012 4A playoff team, and Valdosta, which is four classifications about them. In addition to that rough trio of trips, Brooks County also plays No. 4 Fitzgerald and No. 7 Cook from Region 1.
3. Thomasville – The Bulldogs are not ranked in the preseason top 10, but their schedule is. Formerly one of the more successful programs in GHSA football with five state championships to its name (according to GHSFHA.org), Thomasville has fallen on hard times of late (3-7 last year). But under new coach Leroy Ryals, Thomasville will face Class 5A giant Thomas County Central (ranked No. 3 in 5A), 4A-power Cairo (ranked No. 4) and talented Jefferson County from Class 3A. All that in addition to the toughest region in AA, which features ranked opponents Brooks Co., Fitzgerald and Cook.
2. Westminster – Coach Gerry Romberg's Wildcats would really benefit if there were RPI ratings for Georgia high school football. The Cats finished 5-7 last season partially due to a quality list of opponents, but were probably one of the better teams in Class AA (they were eliminated by eventual state champ Jefferson in the second round). This year, Westminster faces a similarly challenging slate with games against ranked opponents Blessed Trinity, St. Pius X, Thomson (No. 3 in 3A), and Region 6 opponents Lovett and GAC (both ranked). Games against Thomasville and Woodward Academy are also scheduled.
1. Lovett – The Lions will face the toughest schedule in Class AA this season. Coach Mike Muschamp's squad will play Woodward Academy, Blessed Trinity (No. 9 in 3A), Marist (No. 5 in 4A) and St. Pius X (No. 5 in AAA) in the first four games of the season, then travel to Ft. Payne, Ala. to play a team that has won its region five times since 2006. After that epic road trip to Alabama, the Lions host Washington County (No. 8 in AAA) before hitting the region slate, which includes No. 3 GAC.