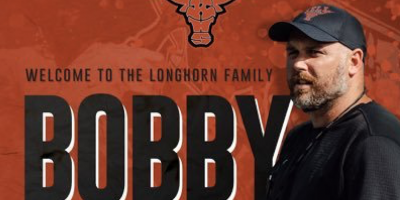 It's been just over a month since the high school football season came to a close and a cascade of coaching vacancies have impacted some of the most prominent gigs in the state. Football in the south is a prominent commodity—especially with the stronghold the SEC has on college football—and the University of Georgia's long-awaited national championship. During the hiring process, schools are searching for coaches that can motivate players, emphasize hard work, build a winning tradition and cultivate the talent that has college recruiters returning to the Peach State year after year.
Unsurprisingly, many of the teams with head coach openings are coming off losing seasons, but as history has shown everybody, with the right coach comes success. In some instances, it takes a while and in others, the coaches found hidden gems or implemented and utilized an effective system that changed the tides. At the basis of high school football coaching is teaching the players discipline, accountability and recognition.
Recognizing what works and who fits where is a top priority in the early stages of the season. The game of football can't be taught if players don't have discipline and the more they want to learn and buy in, the further they and the program will go in the game of football. Being accountable for any and everything that takes place on the field is another important sign of growth. These three schools believe their offseason hires will instill and possess all of these necessary ingredients of success.
Keith Hatcher, ACE Charter School
With roots in Macon, Coach Keith Hatcher's decision to join the new and up-and-coming school's coaching staff was a no-brainer. The school took notice of Hatcher's success at Mount de Sales and he won the job over the 11 other candidates that were considered. His vision for the program and his experience as a college football coach was another factor that ACE Charter took note of as to why he would be such a valuable hire.
"It's a fairly new school and I've got roots here in Macon," said Hatcher. "As I saw the school open several years ago, I thought it could be a very special place and they've grown more rapidly than anyone anticipated. I was just excited about being a part of that and building a football program."
As a graduate assistant, he began his coaching journey at Valdosta State before joining Georgia Southern's staff and his latest college job at Murray State. During this time, he coached special teams and the secondary and also worked within football operations and recruiting. The experience and knowledge for the game were there.
Hatcher explained the message he likes to give to his players anywhere he goes and he believes the most valuable thing to give his players is something that will stick with them.
"Do the right thing and become better men off the field so they'll be better football players on the field," said Hatcher. "So we focus on doing non-football-related things at a high level that will contribute to them being better men."
Eric Robinson, South Paulding High School
Following the departure of the previous head coach at South Paulding, Eric Robinson fit perfectly into the interim role. He went 7-1 following his midseason takeover and led them to the playoffs before they ultimately lost to Cambridge. Building off his first-year success and the relationships he developed at the school was the biggest reason the school knew it was in their best interest to make Robinson head coach and remove the interim status.
"This was a culture that I started building already and I really fell in love with the kids since I got here two years ago. My love for the kids kept me around," said Robinson.
The chemistry he's built within the school and its players are something he highlights as he knows how challenging the battle of life could be.
"What we talk about is being a family and battling adversity," said Robinson. "Those are the two biggest things that we kind of talk about wherever I go. You have to battle adversity through life, and that's the big thing about football, it teaches them a lot of life lessons. And obviously, that takes it beyond football."
Bobby May, Kell High School
Coach May made the tough decision of leaving a massively successful Westlake program and is confident in the direction of the Kell football program is taking over. May trusts everything the school has to offer and is prepared to lead the Longhorns.
"I think this is a great community. They have a history of success and they value athletics," said May. "They have resources and personnel to be successful so I think it's a place where we can build something really special."
May led Westlake to two region titles and a 27-10 record over three seasons. In his final season at Westlake, his squad went 10-3 before losing in the quarterfinals of the state playoffs. He also led Suncoast, a Florida high school to its best record in 13 seasons. Kell has been a successful program itself in recent years, but has been ousted in the first round of the state playoffs in each of the last two seasons.
May speaks on how the game of football emphasizes discipline and how it goes beyond the game of football.
"Doing the little things right matters again ultimately, we're not just necessarily here to win football games, we're there to mold men into great and better humans," said May. "The discipline part plays in that aspect whether they win a game or not it's still going to help their future."
No one knows what the future holds, but these programs seem to be in good hands as these coaches have the support from the community, plenty of previous success and the will to make each and every player they coach a better version of themselves.
Below are the 41 openings with former coaches with new coach if hired.
*List does not include 2021 interim coaches such as Robinson or Valdosta's Shelton Felton if they were announced as permanent.
ACE Charter: Sam Zanders (Keith Hatcher)
Adairsville: Eric Bishop
B.E.S.T. Academy: Joshua Moore
Bacon County: Keith Gosse
Berkmar: Willie Gary
*Brookstone: Blair Harrison
Colquitt County: Justin Rogers
Cook: Jamie Rodgers (Byron Slack)
East Paulding: Billy Shackelford
Gainesville: Heath Webb (Josh Niblett)
Greene County: Larry Milligan (Terrance Banks)
Heritage (Conyers): Eddie Snell
Houston County: Ryan Crawford (Jeremy Edwards)
Jasper County: Aaron Pitts
Kell: Brett Sloan (Bobby May)
Lanier: David Willingham
Locust Grove: Mark Miller
Lumpkin County: Caleb Sorrell (Heath Webb)
Meadowcreek: Terrance Banks
*Mount de Sales: Keith Hatcher
McIntosh: Lee Belknap
Midtown: Kevin Clark
Mundy's Mill: Dwayne Davis
Murray County: Chad Brewer
North Hall: David Bishop
Ola: Ryan Angel
Pace Academy: Chris Slade
Paulding County: Van Spence (Umbrah Brown)
Ridgeland: Kip Klein (Craig Pritchett)
Seckinger: New school
*Stratford Academy: Mark Farriba
Sumter County: Ross Couch
Taylor County: Robert Yevak (Brandon Byram)
Temple: Scott Ward (Cory Nix)
Thomas County Central: Ashley Henderson (Justin Rogers)
Tucker: James Thomson
Washington County: Joel Ingram
Wayne County: Ken Cribb
Westlake: Bobby May (Rico Zachary)
White County: Tim Cokely
Woodland (Cartersville): Tony Plott