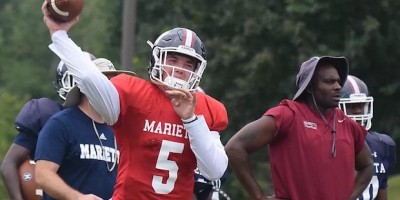 Courtesy of Jeff Sentell/SEC Country
For 26 years, The Corky Kell Classic has gathered the best high school football programs in the state of Georgia for an annual event that allows the teams to show off their top prospects and give their players a chance to see other top competition. This year, Marietta High School returns with numerous highly rated recruits, many of whom have committed to Division 1 programs. The Blue Devils went 8-5 last year and made it all the way to the quarterfinals and will be a top contender in the 2018 season. The 27th Corky Kell Classic will give everyone the chance to see the main weapon leading the Marietta offense: quarterback Harrison Bailey. His Blue Devils take on defending Class AAAAA champion Rome at Barron Stadium on Aug. 16.
Bailey, a 2020 pro-style quarterback, is keeping the history of talented Cobb County quarterbacks alive. Bailey was a standout from the beginning, starting for the Blue Devils his freshman year and completing 208 of 363 pass attempts for 2,812 yards. The Blue Devils encountered a shakeup in their 2017 season after Bailey went down with an injury and missed the last seven weeks of the regular season, leaving the offense to rely on second-string Rashaun Bass and wide receiver Ramel Keyton. Bailey returned for the first round of the playoffs and led his team to the quarterfinals, where he was 24-of-39 passing for 338 yards and five touchdowns. His big performance, however, was not enough to defeat eventual champion North Gwinnett. Bailey ended his sophomore season 126-of-203 for 1,824 yards.
Bailey's star was on the rise well before his high school career started, as he was already garnering recruiting looks by seventh grade. By the time Bailey was 15, he had offers from Tennessee, Alabama, Florida and North Carolina. His list of offers now includes Michigan, Florida, Auburn, LSU and Ole Miss. According to 247Sports, Bailey is the second-ranked pro-style quarterback in the country for the Class of 2020, top quarterback in Georgia and No. 67 player overall in the nation.
"He's always on," Marietta head coach Richard Morgan said. "He never has an off day, and he's always ready to go. If I called him on a Sunday and told him we had a game, he'd be ready to go. He's just that type of kid. We are so happy to have him back healthy for this season, and that is all that matters. We have the best quarterback in the country."
Bailey led Marietta in the Corky Kell 7-on-7 and the Cam Newton 7-on-7 tournament, winning both titles in the same week. The Blue Devils took home the Corky Kell championship plaque after a 37-36 win over North Gwinnett, and they defeated Newton's alma mater, Westlake, 24-15 in the championship of the Cam Newton tourney. Bailey has a strong connection with Keyton, a 4-star Tennessee commit, and the duo should put up big numbers this fall.
"The one thing we have worked on is our team chemistry," Bailey said after the Corky Kell 7-on-7. "It is so crucial that we figure out how to work together as one unit and make those big plays. I think we made some big plays today and were able to really work on our fundamentals. I'm looking forward to this season and I hope we can find that team chemistry even more."