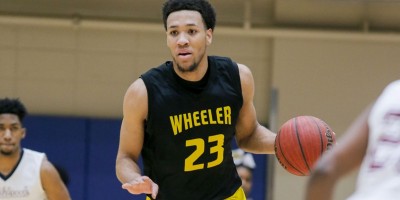 Montgomery is one of 3 uncommitted players in tonight's boys game. Credit: AJC
E.J. Montgomery, 6-10 from Wheeler, is one of just three uncommitted boys players participating in the McDonald's All-American game tonight at Philips Arena at 7 p.m. (ESPN). Score Atlanta spoke with Wheeler head coach Larry Thompson, who just finished up his first season at the school, about what it was like to coach the athletic southpaw big man, who played his first two years of high school at Montverde Academy in Florida before coming to Wheeler.
SCORE ATLANTA: What was it like coaching him this season?
LARRY THOMPSON: It's truly an honor to coach a kid, a talent like E.J. Montgomery. He's one of those kids who does a number of things. I think the biggest thing I take away is how coachable that kid was this year, going into his senior year, having left Montverde. … He had three different coaches in four years, so it's one of those things where going in, the kid probably didn't know what to expect, but it turned out to be pretty good and it also turned out that I developed a great, great relationship with the kid over the last six and a half, seven months.
SA: Could you describe his game right now?
LT: He's a hybrid stretch 4. He can do a lot of things. He can hit a jump shot, he can put it on the floor, he can dribble-drive it, pick and pop, pick and fade, do a handoff, he can do a number of things from that hybrid stretch 4 position. I think that will be the easiest transition for him in college because a lot of teams now play with their 4s high and ball reversals, especially coming down in transition, probably one of the most unselfish kids that I've seen in a while that had that kind of hype. E.J.'s game, once he adds a few pounds, his game translates very, very well to the college level because he can do a lot of things, with how the game has changed, that stretch 4s do. He runs the floor well, rebounds the ball well, scores it well. He's got to get a little better movement in ball screens when he's guarding smaller guys, but what 18-year-old that's just about to leave high school doesn't need a little more help and learn how to guard ball screens when you've got to guard smaller guys?
SA: What is he working on right now?
LT: His body, his strength. It's something he's working on every day with the strength and conditioning guy that we have here. He's working at it. You can see a little change, a little definition here, a little definition there. But it's something that's on the agenda, to-do list, and we're helping him work at it. And just fine-tuning his offensive game. Catch-and-shoots, just being more fluid with shooting a jump shot and being more decisive when he's picking and rolling, getting him to use his right hand a little more, because everyone knows he's a lefty. But I think the biggest thing he's trying to hone in on is trying to gain a few more pounds, get a little bit stronger because of the grind. No matter where he goes it's going to be tough. He's going to need to gain some strength, get his shoulders a little bit wider. Because the game is played a little bit different, it's played from fast to slow, but when the timing is slow in a half-court set, he's got to be able to move people with his body. And right now, even though he's effective, he can be a lot more effective once he changes his body a little bit.
SA: What stood out to you about his development this season?
LT: The whole entire crew, not just E.J., they found a new level of what it takes to be successful and how hard you have to practice every day. That's one thing that I emphasize and make sure these guys understand that. When you're trying to get to that level, you've gotta bring that toughness, you've gotta bring that energy, you've gotta bring that effort every single day. And E.J. became a guy that not only competed in practice but began to like practice. Guys would get after it every single day. And once he started to portray that every single day, his teammates, because he's one of the most talented players in the state, began to follow. And our practices became very spirited, very competitive, guys would get after it. When things like those happen, I think that's when we started to turn the corner. I'm a hard-nosed, tough kind of coach, and I want guys to really get after it defensively. Once he turned his level up in practice and guys followed, I think that's when we started to [go on some streaks]. We didn't have a summer together, I got the job in July, so it was learn on the fly.
SA: Wheeler played an incredibly tough schedule early on and probably didn't win as many as you would have liked. What did he learn during that time period?
LT: I think his patience grew tremendously. What I mean by that is, E.J. saw double and triple teams nightly. And compared to the AAU world, where you've got a star here and another star there, you had quote-unquote, regular high school kids. And he had to learn how to maneuver through double teams as well as help his guys make plays that they're probably not accustomed to making. The growth in his game was not just in his numbers, it was more in him becoming a leader. I think by far that's the biggest impact, outside of his [26 points and 13 rebounds a game]. I think his role, his leadership capabilities, and that skill, was pushed to the limit, because he really had to become more vocal. I think that's where he made great strides at. I don't think E.J.'s a natural leader, I think he had to learn to become a leader over the course of the year, and do it consistently. I think that's the thing he grew most at.
SA: What should we expect in the McDonald's game tonight?
LT: He's a guy who can rebound and start a break. He can push it for one, two, four dribbles if needed, get the ball to the other end of the floor. I can see him doing that a time or two in the game where he can get himself involved instead of waiting on a post touch, where he'll get a board and take a few bounces and go by a guy and the lane will open up for one of his patented left-hand dunks, I wouldn't be surprised. He's a skilled kid. He was a guard growing up and then he had a hell of a growth spurt and his guard skills did not fade. We have a saying in practice sometimes when he would grab a board and push it up. He and his teammates would yell out 'BGN,' and it stands for "Big Guard Nation." It won't be very hard for him to become acclimated to the game. He'll get going with a score or a great pass. That's one of his better traits, he's an unselfish passer.