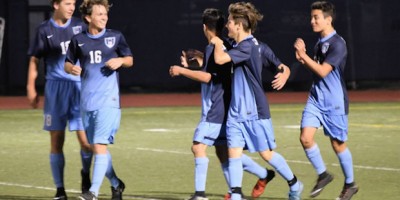 Courtesy of Cambridge HS
This Friday and Saturday, the state's 14 soccer classifications will hold their state finals at McEachern's Cantrell Stadium and Mercer's Five Star Stadium. Below is a look at each championship matchup.
At McEACHERN
Friday May 11
5:00 pm – 3A Girls – Lovett vs. Westminster
7:30 pm – 3A Boys – Calhoun vs. Westminster
Saturday May 12
12:00 pm – 6A Girls – Alpharetta vs. Glynn Academy
2:30 pm – 6A Boys – Cambridge vs. Chattahochee
5:00 pm – 7A Girls – Parkview vs. Milton
7:30 pm – 7A Boys – South Forsyth vs. Lambert
Three defending champions, including Westminster's girls and boys teams, will make the journey to McEachern for chances to repeat their titles. Westminster's girls program is trying for four titles in a row and five of the last six.
The state's highest classification will close out the weekend, and the Milton and Parkview girls meet first for the championship. The programs have nine titles between them; Parkview has eight of them but has not won a title since 2013. Milton won the 2012 Class AAAAAA title, the highest class at the time. Parkview has earned this title berth in every sense of the word after weathering penalty kicks in its last two games. Against Hillgrove in the quarterfinals, Parkview took a 3-2 PK victory to break a 1-1 tie after two overtimes. In the semis against Lassiter, Parkview won 7-6 in penalties after a 2-2 tie. Milton's 1-0 victory over Walton propelled it into the championship game after going to PKs against Roswell in the quarters. Milton took the victory 3-2 to break a 1-1 deadlock. On the boys side, Lambert is chasing its second title, the first since 2012 in Class AAAA. South Forsyth goes for its first after defeating Peachtree Ridge 2-1 in overtime and being taken to PKs against Hillgrove in the quarterfinals. South Forsyth took the victory 3-1 in PKs after a 1-1 tie. Lambert is coming off a 5-0 victory over Campbell in the semis. Lambert has only allowed one goal in the tournament, to Mill Creek in a 2-1 first-round victory. Since then, the Longhorns have moved past Brookwood (2-0) and East Coweta (3-0) before the semifinal match against Campbell.
Westminster's girls team will face a familiar foe in its title defense as it takes the field against Lovett for the AAA title. The Lady Wildcats took the April 17 match 2-1 against their finals opponent. Westminster's run through the bracket included two shutouts as the team outscored opponents 32-2. Lovett weathered penalty kicks (5-4) in its semifinal victory over Pike County after a scoreless tie. On the boys side of Class AAA, we are treated to a rematch of the 2013 Class AA title game, in which Westminster's Harrison Butker gave the Wildcats a 1-0 lead on a header late in the game for the win. Westminster is trying for its 13th state championship. Calhoun is trying for its first after moving past Windsor Forest 2-1 in the semis.
In Class AAAAAA, both Glynn Academy and Alpharetta are chasing their first-ever girls soccer titles. Glynn Academy moved past Pope in the semifinals (1-0), and following its first-round victory over Northside-Warner Robins (9-0), the team has weathered three close games. Alpharetta edged Johns Creek 1-0 in the semifinals. On the boys side, defending champion Chattahoochee is trying for its third state championship (2011, 2017) as it faces Cambridge, which is looking for its first trophy. Chattahoochee is coming off a 2-1 victory over Alpharetta in the semis. Cambridge earned its championship berth with a 3-0 victory over Gainesville.
At MERCER UNIVERSITY
Friday May 11
12:00 pm – 2A Girls – Oglethope County vs. St. Vincent's
2:30 pm – 2A Boys – Putnam County vs. Benedictine
5:00 pm – 5A Girls – McIntosh vs. Whitewater
7:30 pm – 5A Boys – Johnson-Gainesville vs. McIntosh
Saturday May 12
12:00 pm – 1A Girls – Athens Academy vs. First Presbyterian
2:30 pm – 1A Boys – Atlanta International vs. Paideia
5:00 pm – 4A Girls – St. Pius vs. Marist
7:30 pm – 4A Boys – NW Whitfield vs. Chestatee
Six defending state champions will make the trek to Mercer to try for a repeat, or in some cases a three-peat, championship. Experience is key, and throughout the eight games in Macon, it will be displayed by every team on the field.
The McIntosh Lady Chiefs have been the front-runner for most, if not all, of the season in Class AAAAA following their 2-0 victory over Buford in last year's title game. On Friday, McIntosh will be vying for its 12th girls soccer championship, third in a row and sixth of the last eight. Whitewater is in the hunt for its second state title, the first coming in 2007. On the boys side, McIntosh is coming off a thrilling 5-4 penalty-kick victory over Decatur in the semifinals. The Chiefs, who have won six titles, are trying for back-to-back titles for the second time in history and the first time since the 2013-14 seasons. Johnson-Gainesville, which is trying for its first-ever boys soccer title, advanced past Starr's Mill 4-1 in the semifinals to earn the championship berth.
In Class AA girls, Oglethorpe County will be seeking its first-ever title as it takes on defending champion St. Vincent's on Friday. Oglethorpe's run through the bracket featured a semifinal defeat of last year's state runner-up, East Laurens. The 3-2 victory allows Oglethorpe a chance to avenge the 10-0 loss to St. Vincent's in the second round of last year's tournament. St. Vincent's is riding momentum from its 6-1 victory over Lamar County in the semifinals. The Saints have only allowed the one goal to Lamar County in the four-game stretch through the bracket. On the boys side, Benedictine kept its title defense alive with a 2-0 victory over Thomasville in the semifinals, which set up the championship game against Putnam County. The Cadets will be going for their second-ever state boys soccer title, and Putnam County is vying for its first. The War Eagles outlasted Model 3-2 in the semifinals to earn the championship berth.
Championship pedigrees abound in this match with 22 state soccer titles between the pair, as St. Pius X will take the field against Marist for a rematch of last year's title game. St. Pius is in the hunt for its 12th girls state soccer championship, sixth in a row, and 10th in the last 11 years across the AAAA (2015-17) and AAA (2009-11, 2013-14) classifications. On the other bench, Marist will try for its 10th state title. Marist is riding momentum following victories over Jefferson (7-1), LaGrange (3-0), Northside-Columbus (3-0) and Spalding (4-1). On the boys side, both Chestatee and Northwest Whitfield will be trying for their first-ever boys soccer titles. Last season, neither team made it past the second round. This season, Chestatee has only allowed three goals through its four playoff games, defeating Jefferson (2-0), Cartersville (3-2), Woodward Academy (2-1) and Upson-Lee (2-0). Northwest Whitfield weathered penalty kicks against North Oconee in the second round, winning 4-3 in PKs after finishing both overtimes tied 6-6. A 4-2 victory over Druid Hills in the quarters set up the 2-1 victory over Marist in the semis.
First Presbyterian will try for its third girls state soccer championship as it takes the field against Athens Academy, which is vying for its first. FPD has not allowed a single goal through its four games thus far, outscoring opponents 21-0. Athens Academy has outscored playoff opponents 15-1. For the boys, either Paideia (3) or Atlanta International (1) took Class A soccer titles from 2013-16. Paideia will be trying for a fourth title; Atlanta International goes for its second. Paideia is coming off a 1-0 victory over defending champion Whitefield Academy. Atlanta International hasn't allowed a goal during its four-game playoff run.