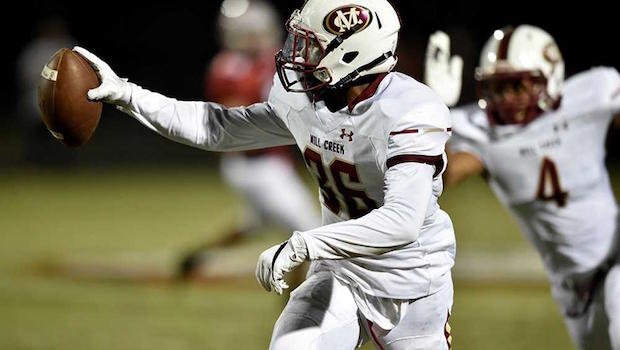 Jonathan Gipson of Mill Creek. Credit: Brant Sanderlin/AJC
Despite a stunningly slow start to a game in which it trailed for three-and-a-half quarters, Mill Creek put together an impressive comeback against McEachern and won 23-19 on a go-ahead touchdown pass by quarterback Brady Longenecker to Cole Wroble. Longenecker managed to keep his composure in his first-ever start and lead the Mill Creek Hawks to victory over an Indians team that caught fire early.
McEachern made a bold statement about its offensive versatility by using three different quarterbacks in its first three possessions, and each quarterback contributed to a dominant showing by the Indians in the first half. Malik Evans was the first to strike, following a 27-yard run by Paris Brown with a 43-yard touchdown run of his own. Evans failed to complete the two-point conversion, but Jalen Thornton recovered Myles Henderson's pooch kick for McEachern to put the ball in Isaiah Lee's hands. Lee found Ali Scott on the first play of the drive for a 34-yard reception, putting McEachern up 13-0 in just over a minute of game time.
"That was a debacle," Mill Creek head coach Shannon Jarvis said of his team's start.  "McEachern came out and was up [13-0] before we ran a single offensive play."
Mill Creek didn't fare much better once it finally had its offense on the field, ending the first quarter with 9 total yards on a paltry three offensive plays (McEachern had 206 total yards on 21 snaps). Key defensive stops and a spectacular 97-yard punt return by Jon Gipson prevented the game from completely getting away from the Hawks, who remained within striking distance even after another rushing touchdown by Evans in the second quarter.
That 41-yard run that put McEachern up 19-7 (Evans again failed on the attempted two-point conversion, mirroring the events of the opening drive) would be the last time the Indians scored all night. After accruing 332 yards in the first half of the game and holding Mill Creek to 62 yards, the Indians were held to 62 yards in the second half and gave up 220 yards on defense.
"Nothing changed at all," Longenecker said of the shift in momentum from the first half. "We just kept our game plan. I guess our guys just got a little nervous, but we turned it around in the second half. We picked it up. Nothing changed at all."
The momentum certainly changed, though. Longenecker led his team on an impressive 80-yard, 15-play drive to open the second half that cut McEachern's lead to five, and closed the gap further with a 39-yard Matt Campbell field goal after a three-and-out by the Indians. Mill Creek completed its comeback when Longenecker found Cole Wroble on a 7-yd touchdown pass to put the Hawks ahead 23-19, their first lead of the game. Carlos Wilson (the other member of McEachern's trio of quarterbacks) began the Indians' final drive of the game with a 25-yard run but Mill Creek's defense held strong and the Hawks came away with the victory.
Jarvis was thrilled with his team's effort in their first game of the season.
"I couldn't be more proud of the coaching staff, the players making plays. We came into this game trying to figure out who our playmakers were, and when you start seeing kids rise offensively and defensively, that's why you coach and play high school football…Brady grew up tonight. He's a new quarterback, it was his first varsity start. Every series, he got a little more confident, a little more vocal. You never know until you get out here how kids are going to react. And to see these kids grow up tonight, I'm so proud of them."
Like a seasoned vet, Longenecker was quick to share the spotlight with his teammates.
"It feels amazing. There's nothing like it. When you have a student section like ours, there's nothing like it. My O-line blocked their hearts out. And I give all the credit to the defense too."