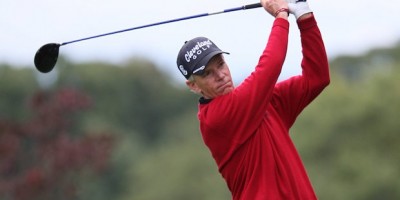 Photo of Larry Mize by Keith Allison via Wikimedia Commons (full credit below article)
Four years after Horton Smith won the inaugural Masters Tournament in 1934, then known as the Augusta National Invitational, the GHSA started keeping records of its golf championships. Newnan took the top prize in the all-classification high school event in 1938, and from then on, high school golf in Georgia began to grow with the Masters.
The word of Bobby Jones' tournament in Augusta spread like wildfire following Gene Sarazen's "Shot heard 'Round the World," which propelled him to victory in the second year of the event. Sarazen's holed 4-wood from 230 yards on the 15th hole was witnessed by a handful of patrons, and there's little doubt that if you hadn't heard about the tournament before, you heard about it then.
That is especially true for high school golfers across the state, who dreamed of grandeur on the fairways and slick greens of the Augusta National even in the tournament's formative years.
That remains true today. When the tournament begins Thursday morning, three former Georgia high school golfers will be in the 87-man field.
Larry Mize, an Augusta native who was inducted into the Georgia Golf Hall of Fame in 1991, is back and is paired with another Georgia high school golf legend for the first two rounds. Mize (Augusta Prep), Macon native Russell Henley (Stratford Academy) and Shubhankar Sharma will tee off at 12:32 p.m. on Thursday and 9:25 a.m. on Friday.
Henley, who starred as the best player in the nation at the University of Georgia, was a standout at Macon's Stratford Academy. In 2010, Henley won the Haskins Award for most outstanding collegiate golfer and tied for low amateur with Scott Langley in the 2010 U.S. Open at Pebble Beach. He has three professional victories, including the Sony Open in 2013, the Honda Classic in 2014 and the Shell Houston Open (now just the Houston Open) last season. In his victory in the 2014 Honda Classic, Henley defeated Rory McIlroy, Russell Knox and Ryan Palmer in a playoff.
Another UGA star and Georgia high school golf prodigy will begin his trek for his first-ever major championship as left-hander Brian Harman is set to tee off at 9:25 a.m. on Thursday and 12:10 p.m. on Friday. The Savannah native, who starred at Savannah Christian, will play with 1998 Masters champion Mark O'Meara and British amateur Harry Ellis. Harman won the U.S. Junior Amateur in 2003.
Since turning pro, Harman, who has won twice on tour, became famous for being just the third player in PGA Tour history to have two holes in one in the same round in the 2015 Barclays Tournament at Plainfield Country Club. The second of the two was the only one that was televised.
"My entire family still lives in Savannah, so I make it up there quite a bit," Harman said in a St. Joseph's-Candler "Major Player" story in 2015. "I have a lot of fun memories of playing golf in Savannah, especially in high school. We had some great times."
From 1998-2008 Savannah Christian was a force to be reckoned with as it captured eight boys state golf titles across Classes A, AA and AAA. Harman graduated in 2004.
GEORGIA HIGH SCHOOL GOLF GROWS WITH THE MASTERS
In 1937, the year Byron Nelson won his first Masters, a Georgia golf legend was born in Gainesville and started playing golf at age 12.
Tommy Aaron, who was inducted into the Georgia Golf Hall of Fame in 1989, describes himself as a self-taught golfer. His father did not play the game often, and when the family moved to Gainesville, no one golfed. Aaron honed his skills on a dusty, poorly conditioned 9-hole course that's now at the bottom of Lake Lanier. As a multi-sport athlete, Aaron also played football and basketball in high school.
At Gainesville, Aaron helped lead the Red Elephants to the 1955 Class A golf title soon after his quarterfinal appearance in the 1954 U.S. Junior Championship. His individual amateur career was highlighted by a finals appearance in the 1958 U.S. Amateur at Olympic Club in San Francisco. His performance led to his selection to the 1959 Walker Cup team (amateur Ryder Cup) with Jack Nicklaus, Deane Beman, Billy Joe Patton and Charlie Coe.
He earned a scholarship to the University of Florida and won SEC individual titles in 1957-58 before turning pro in 1961. From 1967 to 1970, Aaron finished in the top 10 at the Masters, but his finishes ultimately were overshadowed by a scorecard error. In 1968, Aaron incorrectly marked the tournament leader's scorecard, and the ensuing penalty cost Roberto De Vicenzo a green jacket.
Aaron, who hadn't won an event since the 1972 Greater Greensboro open, entered the 1973 Masters determined to shake recognition for his error.
Following the first round, Aaron, at 4-under-par, held a one-stroke lead over Jack Nicklaus and Japan's Jumbo Ozaki. Aaron faltered in the second round, shooting a 1-over 73 to fall back to a tie for the lead with Gay Brewer, Bob Dickson and J.C. Snead. Chi Chi Rodriguez was at 2-under, and Bob Goalby, Grier Jones, Peter Oosterhuis and Ozaki were chasing at 1-under.
Heavy rain on Saturday morning limited play, and following the third round, which was finished on Sunday morning via split tees, Aaron was holding on to a tie for sixth at 1-under following his round of 74 (+2). Aaron, Brewer, Rodriguez and Johnny Miller were tied behind Goalby, Snead and Jim Jamieson (-2). Oosterhuis was leading at 5-under following an impressive 68 on a softened course.
Entering the final round, Aaron mounted a charge and fired a 4-under Sunday 68 to become the first Georgia high school golfer to go on to win the Masters. Claude Harmon, a legendary golf instructor and patriarch of the Harmon family, was born in Savannah and won the 1948 Masters Tournament, but he spent his formative years around Orlando.
Aaron made his final appearance at the Masters in 2005. In 2000, he set the record as the oldest player to make the cut (63) with rounds of 72-74. Gainesville would go one to have one of the best boys golf programs in the state's history. The Red Elephants have won seven GHSA Championships, 37 region championships and 21 Hall County titles with eight individual state champion golfers.
AN AUGUSTA BOY TAKES THE JACKET
Lawrence Hogan Mize, or Larry as he was called, was 15 years old when Aaron won the 1973 Masters, and the roars from the course probably could be heard from the Mize's family home just down Washington Road from the National. Mize grew up on the same street as Augusta National, and there was not much doubt that golf was in his future. The Augusta native learned the game using cut-down clubs given to him by his father, Charles.
"It`s always been Larry`s love," the elder Mize told the Chicago Tribune in an April 14, 1987 article, two days after his son's victory. "We were fortunate that everywhere we moved I had a country club membership with my job and Larry could spend time on the golf course. I never encouraged him to try for the PGA Tour. That had to come from him. After he was about 16-to-17 years old, I knew golf would be his career."
Mize grew into a star golfer at Augusta Prep and even worked the scoreboard on the third hole during the tournament as a teenager. His growth around the game earned him a spot on the Georgia Tech golf team following high school. In Atlanta, he further honed his skills at Bobby Jones' alma mater before turning professional in 1980. Mize was successful throughout his career, finishing in the top 125 on the money list each year from 1982-2001, a testament to his consistency.
Mize's first victory came in his third year on tour at the Danny Thomas Memphis Classic (St. Jude Classic today) in 1983, and entering the 1987 Masters, he was nursing an 0-1 playoff record after falling to Greg Norman on the sixth extra hole in the 1986 Kemper Open at Congressional Country Club.
He would have his chance at revenge.
Entering the 1987 Masters, the aura of Jack's back-nine 30 in 1986 was still thick in the air. The word around the world was that nothing could top the excitement of 1986. And, for most of the world, they were right. But for the 60,000-strong army town surrounding the National, its native son was the sole focus.
"The Masters is our season," long-time Augusta resident Michael Cohen told the Chicago Tribune over breakfast at the Hickory House restaurant just down Washington from Augusta National. "I know Larry`s family and a little bit about him, and that makes this year extra special."
Mize fired a 70 in the opening round, placing him solo-second behind John Cook's 3-under 69. A six-player bunch — Bernhard Langer, Corey Pavin, Calvin Peete, Payne Stewart, Curtis Strange and Tom Watson — tied at 1-under. Aaron, the 1973 champ, shot an even-par 72 to tie for ninth.
Strange took the 36-hole lead at 3 under par following a second-round 70. Mize paced himself to an even-par 72 to remain at 2-under and a tie for second with Cook, Pavin and Roger Maltbie. In the third round, Mize again shot even and fell back as the field charged ahead. His 2-under total tied him for fifth entering the final round.
The final round saw Mize take a two-shot lead over Greg Norman following a birdie on the par-5 13th hole before dropping a shot each on holes 14 and 15. A birdie on the formidable 18th hole put him, as the third wheel, in a playoff with Spain's Seve Ballesteros and Norman.
"The excitement of course will be Ballesteros and Norman," said Peter Alliss in the television broadcast, with a lengthened pause before adding, "…joined by Larry Mize at 3-under par for a sudden-death playoff."
Mize's tee shot on the first playoff hole careened down the sloping fairway on No. 10 and finished on the left side with a perfect lie and view of the green.
"That was a very composed swing," Alliss said following Mize's drive. "It's scampering down, way down, that's the perfect spot."
Norman fired first, placing his ball on the back fringe just past the flag. Ballesteros' approach rolled through the green on the right side and finished just off the back of the fringe. Mize, whose drive finished 25 yards ahead of his competitors, placed his approach just feet below the pin, crucial on the slippery greens at Augusta.
Ballesteros failed to convert his par attempt, and for the second year in a row, he saw the Masters slide from his grasp. Norman and Mize would make par and head to No. 11 and the opening hole of Amen Corner.
Both players hit the fairway on No. 11, and Mize struck his approach shot first.
"Oh, nice shot," Mize said in disgust as he watched his ball slide off the club face and bound to the right-hand side of the green, forcing a 140-plus-foot downhill chip as Norman was eyeing a birdie putt from the right edge of the green.
"Not impossible to get down in two," Alliss said of Mize's chip. "But, my word, he's left himself a very tricky chip and that was a real nervy one. This really is a testy one. What to do? What to do?"
Mize did what he had to and struck the ball perfectly, allowing a touch of backspin to grab the rough in the first few bounces before the ball found the surface of the green and bounded toward the cup, striking the flagstick and dropping in.
"And they say the meek should inherit the earth," Alliss uttered, after a slight chuckle. "Well, well, well. Bob Tway did it to Greg Norman. Greg Norman must be feeling rather sick in the tummy. When he hit it, I thought he might have nipped it a bit thin and caught it a bit sharp and it was going to gallop on, but that's destiny, isn't it? That's fate."
Norman, who had to wait for the cheers from the crowd to die down, failed to convert his putt, and the Augusta native earned his place in golf history. From working the scoreboard to winning the tournament, Mize summed up his victory afterward.
"This is a special place," Mize said in Butler Cabin following his victory. "I was born and raised here. The crowds were great. I've got to thank the good Lord for everything. I just hit a good shot on 11 and with a little bit of luck I guess it was my turn to win."
Almost immediately, people in the streets of Augusta joined in celebration. A Georgia boy had won again.
"They said 1986 would be hard to top," Cohen said. "But I think they did it as far as Augusta is concerned."
Photo of Larry Mize By Keith Allison (Flickr: Larry Mize) [CC BY-SA 2.0 (https://creativecommons.org/licenses/by-sa/2.0)], via Wikimedia Commons