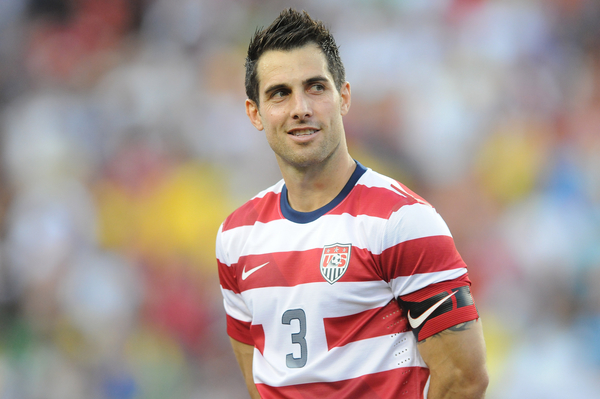 ISIPhotos.com
ATLANTA, March 2, 2015 – MLS Atlanta today announced the appointment of former U.S. Men's National Team player Carlos Bocanegra astechnical director of Major League Soccer's 22nd team. He will join club President Darren Eales in April following his move from Los Angeles to Atlanta.
In his role as technical director, Bocanegra, together with Eales, will oversee day-to-day non-coaching soccer operations of the first team, including development and implementation of a worldwide scouting network and oversight of player wellness and rehabilitation. In addition, he will oversee youth academy programs and serve as a liaison with MLS league officials on player regulations and other league rules.
Former captain of the United States Men's National Team for six seasons, two-time Major League Soccer defender of the year and 2010 World Cup team captain, Bocanegra retired from play in 2014 after an esteemed 15-year career in professional soccer.
A California native, Bocanegra attended collegiate soccer powerhouse UCLA and was drafted by the Chicago Fire as the fourth overall pick in the 2000 MLS Superdraft. Starting in his first year as a professional, Bocanegra helped lead Chicago to the 2000 MLS Cup final and two Lamar Hunt U.S. Open Cup championships in 2000 and 2003. He won the MLS Rookie of the Year Award in 2000 and quickly became one of the top MLS defenders, winning back to back MLS Defender of the Year Awards in 2002 and 2003.
In 2004, he signed with English Premier League club Fulham where he played four seasons during which he became one of the few U.S. players to captain both club and country simultaneously. Following his time with Fulham, Bocanegra moved to France's Ligue 1 where he played for Rennes and Saint-Etienne until he joined Rangers of the Scottish Premier League until 2013. In July 2013, he officially returned to MLS to play for Chivas, where he finished his career holding the all-time record for most international goals scored by a U.S. defender.
Bocanegra was selected to the 2006 and 2010 FIFA World Cup teams where he appeared in six matches. He is tied among U.S. players for career World Cup qualifying appearances with thirty-one.
"I feel very fortunate to have played the game of soccer professionally for so many years and am excited to be part of something special here in Atlanta," said Bocanegra. "I've always wanted to stay involved with soccer at the top level, and to have that opportunity with MLS Atlanta is a great way to start this next chapter.  I'm a competitor and I look forward to bringing that drive and passion into everything I do here in Atlanta."
A fan favorite, Bocanegra is known for his explosive playing style, commanding presence, composure and strong leadership on and off the field. He served as captain for the U.S. team 64 times during his international career on the backline, and he played under elite coaches including Bruce Arena, Bob Bradley and Jurgen Klinsmann.
"We're very pleased to have Carlos join us as technical director," said Eales. "With over 100 caps for his country, and experience playing both in MLS and top European Leagues, he will bring a special skill set and presence to our club. He has an excellent reputation as a mature, confident leader and we have no doubt that he will thrive in the front office as much as he did on the pitch."
More About MLS  Atlanta
Major League Soccer Commissioner Don Garber awarded the city of Atlanta the 22nd MLS team on April 16, 2014.  The team will begin play in the new Atlanta stadium set for completion in 2017. The stadium will configure to MLS and FIFA requirements and will feature a draping system allowing for a more intimate, highly-charged soccer atmosphere.
The team, owned by Atlanta Falcons Owner Arthur Blank, already has 19,000 seats reserved in the new stadium through their Founders Club season ticket program.
Learn more at www.mlsatlanta2017.com