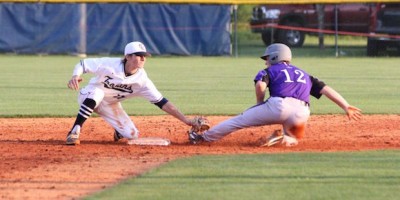 Gordon Lee got a sweep over Clinch County. Credit: Walker Co. Messenger
Class A-Public baseball held its second-round doubleheaders Monday night, and five of the eight series resulted in sweeps. Top-eight seeds Bowdon, Charlton County and ECI will need wins in Game 3s today to move on to the quarterfinals. Marist, McIntosh and Westminster won in lacrosse on both the boys and girls sides and move on to the quarterfinals. Bowdon takes on Johnson County, Charlton County meets Taylor County and ECI hosts Commerce for the right to advance.
Both the boys and girls soccer semifinals will take place tonight to determine the title-game participants for this Friday and Saturday at McEachern and Mercer. Score Atlanta will once again have all the finals as they come in, so follow along on our score app, scoreboard at ScoreAtl.com and on Twitter and Facebook!
Monday Scores
Baseball
Baconton Charter 12, Jenkins County 3
Baconton Charter 5, Jenkins County 4
Bowdon 10, Johnson County 6
Charlton County 6, Taylor County 1
Commerce 2, Emanuel County Institute 0
Emanuel County Institute 7, Commerce 4
Gordon Lee 10, Clinch County 0
Gordon Lee 9, Clinch County 0
Irwin County 11, Trion 2
Irwin County 14, Trion 4
Johnson County 5, Bowdon 4
Schley County 15, Pelham 0
Schley County 6, Pelham 5
Taylor County 4, Charlton County 2
Telfair County 10, Lanier County 0
Telfair County 4, Lanier County 3
Boys Lacrosse
Allatoona 10, Mill Creek 7
Marist 24, Benedictine 9
McIntosh 7, St. Pius X 6
North Gwinnett 8, Cambridge 5
Roswell 7, North Paulding 5
Starr's Mill 18, Decatur 0
Westminster 13, Wesleyan 11
Woodward Academy 19, First Presbyterian 2
Girls Lacrosse
Alpharetta 11, Northview 10
Marist 15, Union Grove 5
McIntosh 14, Decatur 4
Mill Creek 11, West Forsyth 9
Pope 11, Brookwood 5
St. Pius X 9, Whitewater 8
Starr's Mill 20, Woodward Academy 1
Westminster 20, Pinecrest Academy 19