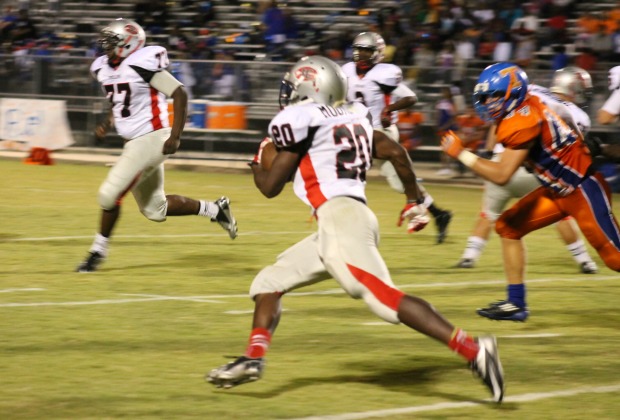 Irwin County Football
Class A has been torn in half with its private-public divide, but the ability of teams to play each other in the regular season regardless of Public or private standings makes the classification unique. Today, we look at the Publics and which ones face the toughest roads in 2013.
5. Irwin County – The Indians rotate road and home games throughout the entire season, similar to the Atlanta Falcons' slate last year. Irwin County, ranked No. 3 preseason, faces notable games against Fitzgerald (No. 4 in AA) and Wilkinson County (No. 4, A-Public). The Indians also face Wilcox County (No. 2) and Charlton County (No. 9) in Region 2 play.
4. Charlton County – Another brand of Indians, these from Folkston, also hail from Region 2 and also face a rough agenda this season. The four-time state champs play Class 5A's No. 10 team, Ware County, as well as Class AA No. 4 Fitzgerald prior to region play. The Indians also have games against Irwin and Wilcox in region play. Of the four ranked teams on their schedule, the Indians play three of them on the road.
3. Wilcox County – The No. 2 Patriots open with road games at No. 4 Wilkinson County and 2012 playoff squad Monroe-Albany, which ironically has the toughest schedule in Class AAAA. Wilcox then hosts No. 10 Dooly County in Game 3. In region play, the 2009 state champs get No. 10 Charlton County and Irwin.
2. Wilkinson County – The No. 4 ranked team in Class A-public plays five ranked teams this season, including Wilcox County (No. 2), Landmark Christian (No. 5, A-Private), Irwin County (No. 3) and First Presbyterian (No. 7, A-Private) in non-region action. In Region 7 action, the Warriors face none other than No. 1 Lincoln County.
1. Clinch County – The Panthers play in arguably the toughest Class A region (2) so it makes sense that they also face the hardest "row to hoe" in the public classification. Clinch County faces Brooks County (No. 2 in AA), ELCA (No. 1 in A-Private) and Seminole County (No. 5 in A-Public) in non-region games while also having to play Irwin County (No. 3), Wilcox County (No. 2) and Charlton County (No. 9) in Region 2 action.