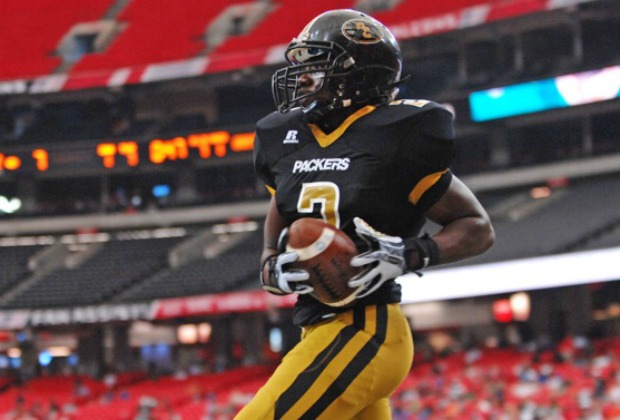 Sonny Kennedy
Colquitt County wanted this one badly. The Packers had not had much success in the Georgia Dome lately and felt they owed Grayson for a 2011 semifinals loss. Coach Rush Propst made sure his team was ready for this one and it was, winning 21-6 in the third game of the 2013 Metro PCS Corky Kell Classic.
"We put a lot of work into this game," said Propst. "We knew that we'd lost here five straight times in the Dome. It was important to us to get started off right."
"We're going to enjoy this one. For our kids and our community, this one was important."
After looking sluggish last year in a narrow loss to North Gwinnett, Colquitt County came out on fire today. The Packers grabbed a 14-0 lead in the first period, as Michael Sutton returned an interception 28 yards for a score in the game's first minute, then the offense drove 80 yards in nine plays before scoring on a six-yard pass from Daniel Mobley to Kiel Pollard.
It was a rude wake-up call for a young Grayson squad, which returned just one starter off last year's team. The inexperience Rams turned the ball over four times and committed seven penalties in a sloppy game for both sides.
"We pretty much gave the game away with turnovers, (incorrect) alignments and all the little mistakes we made" said Grayson coach Mickey Conn. "We made a lot of mistakes, which is expected with a first-year team."
Colquitt County, meanwhile, were called for seven penatlies totaling 90 yards and also had four turnovers. But the Packers were sparked by Sutton, a senior defensive back, who had a third-quarter interception that led to another Packers touchdown in addition to his pick-6. Quarterback Daniel Mobley was 14-of-27 for 173 yards and a touchdown, while running back Sihiem King added 23 carries for 117 yards and a two-yard touchdown run in the third quarter.
Grayson did not get on the board until the Packers had taken a 21-0 lead.
Defensive lineman Jamiyus Pittman, an Ole Miss commitment, led a physical Packers defense with 2.5 tackles-for-loss. Pittman said after the game he had never seen his teammates quite like this before.
"This was the most intense I've ever seen our football team," said Pittman. "I could tell everybody wanted it. … I feel pretty good about the rest of the season."
The Packers will have little time to think about this win. Propst's team is on the road next week to Hoover (Ala.) where it will face one of the top high school programs in the nation, one that Propst himself helped build. But the former reality television star wants his team to enjoy today's win.
"Obviously, we've got a big game next week, a nationally-televised game with Hoover," said Propst. "But we're going to enjoy this one. I told our kids, this is the game we have to win. The one next week against Hoover is more important to me, but to our kids and our community, this one was more important."
While each of Propst's Colquitt teams have made the semifinals since 2009, he thinks this one is different.
"What I like about this group, I've had some talented kids now, don't get me wrong, but this one's got something special to them," he said. "This is the 100th-year edition of this team, my 25th year as a head coach. This could be a special year, I really believe that."
Score Atlanta ranked the Packers' schedule as the toughest in Class AAAAAA this year, and there are plenty of opportunities for Propst's latest edition to prove just how special it is.