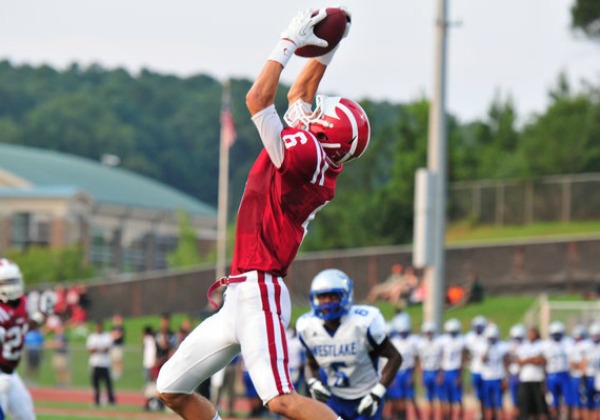 Hillgrove Hawks Football
Coffee (2-0) at Burke County (1-0)
2012 Result: Burke County 33, Coffee 21
AJC Super 11 quarterback Donquell Green ran for four touchdowns and passed for another all in the first half in Burke County's 55-0 win last week over Hephzibah. Coffee has been equally dominant and come off a 38-13 win over Ware County. Size will go in the favor of Coffee as 6-foot-6, 280 pound UCF commit Wyatt Miller mans the offensive line. Jalen Wilkerson is a 6-foot-4, 227 pound junior tight end that is already a 4-star and one of the top Class of 2015 prospects in the state.
Calhoun (2-0) at Carrollton (2-0)
2012 Result: Calhoun 46, Carrollton 35
Calhoun's defense has not allowed a point this season and the Yellow Jackets have topped Ridgeland 37-0 and Dalton 17-2. Carrollton appears to be a serious state title contender in Class AAAA and defensive tackle Dontavius Russell, a University of Georgia commit, and tight end Cole Cook a N.C. State will give Calhoun matchup problems. The Trojans rolled over Chapel Hill 63-0 last week. The Yellow Jackets can become just the fourth school in GHSA history to win 50 consecutive regular-season games if they can find a way to stop Carrollton.
Parkview (0-2) at Grayson (0-2)
2012 Result: Parkview 22-7
A week after Grayson topped Miami Central 35-3 on ESPN last season, Parkview snapped its 17-game winning streak with a 22-7 upset. This year, neither team has seen the win column and the offensive production of both teams has been horrible as they rely heavily on their talented defenses. Leading the Rams defense is junior Justin Young, who is a 6-foot-4, 255-pound defensive tackle and Daniel Fennell a 3-star linebacker who holds an offer from Miami. Vandy-commit and cornerback Bryce Lewis and linebacker John Patterson lead Parkview's defense.
Marietta (2-0) at Hillgrove (2-0)
2012 Result: Marietta 27, Hillgrove 13
Both teams come off bye weeks undefeated. Marietta outscored Pope 63-13 and returned three interceptions for touchdowns and Hillgrove topped Walton in a 47-35 shootout. Each team boasts size and speed on defense and high-profile linebackers pledged to play college football the Tar Hell State. Marietta's Tyrell Tomlin is committed to UNC and Hillgrove's Bradley Chubb is pledged to N.C. State.
Lassiter (1-1) at Kell (2-0)
2012 Result: Lassiter 42, Kell 13
Lassiter has been the hub of high-powered offenses in Cobb County in recent years, and will be matched up with the explosive Kell offense. The Longhorns have wide receiver Julian Burris leading the attack this season, and the senior is leading Cobb County in receiving and averaging an incredible 28.4 yards per reception. Burris also stars on in the physical Kell secondary. Lassiter will have Arkansas commit Chris Murphy in the boundary to try and slow down Burris.
North Hall (2-0) at Jefferson (2-0)
2012 Result: Jefferson 27, North Hall 21
These two undefeated schools have been incredibly sharp in the early season. Jefferson is yet to allow a single point and topped Commerce 40-0 in the season opener and Jackson County 49-0 last week. North Hall cruised past a solid Chestatee squad 33-15 in its opener and dominated Johnson, Gainesville last Friday 63-6. The defending Class AA state champion Dragons will have their work cut out for them slowing down North Hall's high-powered attack.
Lovett (2-0) at Marist (1-1)
2012 Result: Lovett 24, Marist 16
Class AA Lovett and Class AAAA Marist did not enter into eachother's territory until last season when the two private schools squared off. Both school's set up schedules that rank as some of the most difficult slates in Georgia this year and come into the game battle-tested. Lovett's Grant Haley is a lockdown cornerback committed to Vanderbilt. The size of Marist is an advantage and the War Eagles' 6-foot-6, 275-pound tackle Kendall Baker will be key in determining who wins in the trenches.
North Gwinnett (2-0) at Norcross (1-1)
2012 Result: Norcross 31, North Gwinnett 21
North Gwinnett is the No. 1 team in Class AAAAAA and although it ran through Camden County 34-14 and Grayson 35-0, many have been waiting for its tussle with Region 7 opponent Norcross to see how good the Bulldogs really are. The key will be buying time for quarterback Hayden Sphire as he distributes the football to the most talented receiving corps in the state. North Gwinnett offensive tackle Mitch Hyatt is the No. 1 Class of 2015 recruit in the state and will be matched against the No. 1 Class of 2014 recruit in the state, Norcross defensive end Lorenzo Carter. It does not get much better than this.
Peach County (1-1) at Warner Robins (1-0)
2012 Result: Peach County 29, Warner Robins 24
Last year, Peach County used home field advantage to outlast the Demons 29-24. Offensive tackle Chavis Dickey stands 6-foot-4, 297 pounds and leads another talented Peach County offensive line. Warner Robins may have the advantage in offensive firepower this year, and the Demons come off two-consecutive 9-win seasons and returned seven returning starters from the 2012 offense.
Baldwin (1-1) at Washington County (2-0)
2012 Result: Washington County 22, Baldwin 14
Class AAAA Baldwin will rely on the powerful running of junior tailback Kentavious Thomas. Thomas is a 4-star back and is ranked as a top 20 Georgia recruit for the Class of 2015. Last week, Baldwin pulled out an impressive 35-21 win over Peach County. Washington County is a Class AAA powerhouse and dominated Class AAAA Grovetown 56-7 in its opener and the defending Class-A Public state champions ECI 49-13 last week.