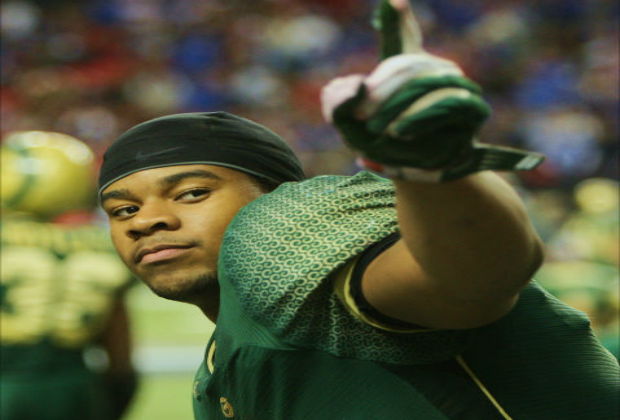 Rob Saye
The recruiting world was turned on its head late Thursday afternoon when Clemson.Scout.com announced that Grayson's Robert Nkemdiche would join current teammates David Kamara and Wayne Gallman at Clemson. He would later confirm via text message to several outlets that he had pledged to Clemson, but he is still at the camp and did not verbally comment. Nkemdiche is considered the No. 1 prospect in the country by nearly every recruiting service and had narrowed his choices down to six over the past few months. He first showed up on the radar as a sophomore when his older brother, Denzel, was a starting linebacker/defensive back for the Rams, as the sophomore Robert towered over his older brother. During his sophomore season, Nkemdiche recorded 18 sacks, only to follow that up with 18 more sacks and 59 tackles as a junior. The 6-foot-5, 265-pound standout also churned up 17 touchdowns and 528 yards on 107 carries as a running back as Grayson went 15-0 en route to the 2011 GHSA Class AAAAA title.
Many will try and compare Nkemdiche to Jadeveon Clowney, the last No. 1 overall recruit in the country that played defensive end. The South Carolina Gamecock registered 162 tackles, 29.5 sacks and 11 forced fumbles his senior season at South Pointe High School in Rock Hill, S.C. He also tallied 43 pressures and five defensive touchdowns. It should be noted that Southe Point is only a Class AAA school in South Carolina, and Clowney did not face the competition that Nkemdiche will when Grayson moves to Class AAAAAA this season.
Gallman, a running back, first pledged to Clemson back in April when Nkemdiche had the Tigers on his list of finalists. Wednesday saw the cornerback Kamara commit to Dabo Sweeney, just one day before Nkemdiche would do the same at a three-day camp the three were attending. On a side note, Sweeney and Grayson coach Mickey Conn were teammates at Alabama.
Many will wonder if Nkemdiche will ever suit up for Clemson or if he will de-commit, much like Derrick Henry did earlier this week from Georgia to explore all of his options. Nkemdiche has made it known in previous interviews that he values family and close friends. Several of Nkemdiche's friends have gone to Twitter to try and dispel talk that he will flip later in the recruiting game.
Nkemdiche's recruitment wrapped up a serious 24 hours of recruiting in the state of Georgia. Alpharetta QB Josh Dobbs kickstarted the buzz by committing to Arizona State Wednesday night. The Raider QB picked the Sun Devils over offers from Arkansas, Boston College, Illinois, Maryland, South Florida, Syracuse, TCU and Wake Forest. One of Dobbs' favorite targets from last season, Carlos Burse, pulled the trigger on a commitment to Vanderbilt. The 6-foot-3 four-star receiver also held offers from Florida, Mississippi State, NC State, South Carolina, Tennessee and Virginia Tech.
Earlier in the week, McEachern offensive tackle Jajuan Dulaney pulled the trigger on a commitment to Maryland. Dulaney picked the Terps over Cincinnati and East Carolina. Camden County's JP Vonashek, who can be seen along with Nkemdiche and Dulaney at the 2012 Corky Kell Classic on Aug. 25, pledged to South Carolina late last week. Vonashek skipped the opportunity to join his current teammates Brice Ramsey and J.J. Green at the next level. Both Ramsey and Green are headed to Georgia.