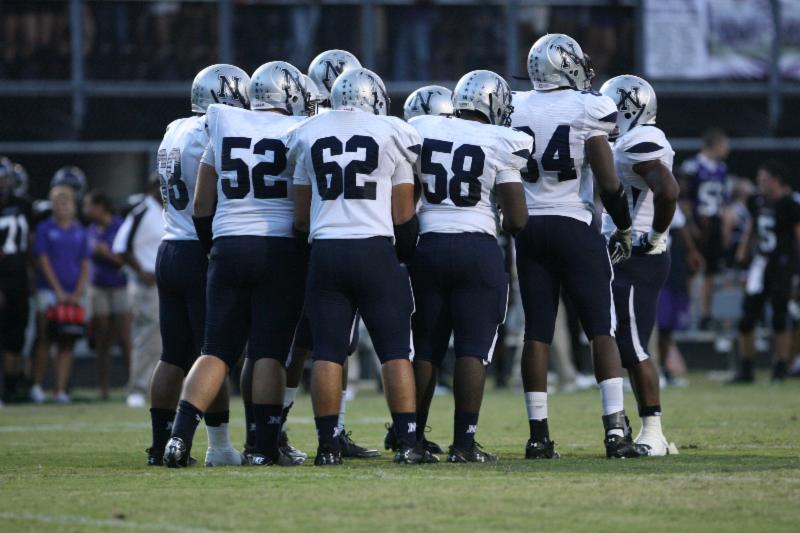 Norcross HS
Stephen Black reviews some of the interesting storylines from the weekend in Georgia high school football…
-Norcross got off to s slow start, but it looks like coach Keith Maloof has his team playing the way everyone thought it would before the season. The Blue Devils got off to a disappointing 1-2 start after being ranked No. 1 in the southeast by CSS prior to the season. But Norcross has now won four straight, including impressive victories over Mill Creek and Collins Hill.
QB A.J. Bush, who transferred in during the offseason, seems to be grasping the offense better now than earlier in the season. In Friday's 28-0 destruction of previously-unbeaten Collins Hill, Bush accounted for all four of the Blue Devils' scores. Josh Boyd and Myles Autry provide Norcross with two other weapons on an offense that seems to get better by the week. The defense, meanwhile, held Collins Hill to 120 yards of total offense and hasn't allowed more than 13 points since a Week 3 loss to North Gwinnett.
Norcross has three games left and only the Oct. 25 tilt against No. 10 Peachtree Ridge looks like a threat. The Blue Devils are a lock for the playoffs and are playing as well as anyone in Class 6A.
-We had Valdosta on upset alert Friday, and, boy, were we right. Lowndes rebounded from a shocking defeat by Newton and a blowout loss to Colquitt County in time to shock the Wildcats in the Winnersville Classic, the Vikings' biggest game of the year. Concerns over the Vikings' offense remain, however, as they were held to just 94 yards. But Nick Hart's first-quarter field goal was enough for the Vikings, who survived futile three field-goal attempts and 207 yards of offense by Valdosta.
At 2-1 in Region 1 play, Lowndes looks like it will make the playoffs yet again and any concerns over coach Randy McPherson's program have vanished. The Vikings, however, have three tough games left, against Coffee (Friday), Tift County and Camden County.
-Washington County staked its claim in Class AAA Friday night with a dominant 40-0 win over Jefferson County, a Region 3 rival and ranked team. Melvin Hill leads a formidable Golden Hawks' offense. But the Hawks' defense and special teams can also cause opponents' problems. WaCo had an interception and a blocked kick returned for a score and also recovered an onside kick and faked a punt.
Coach Joel Ingram's bunch was considered a darkhorse in Class AAA prior to the season, but wins the past two weeks over Class AA No. 1 Lovett (in overtime) and Friday's blowout of a good Jefferson County team served notice that WaCo is probably the best team in Class AAA besides top-ranked Buford.
-Clinch County's upset of previously unbeaten and top-ranked Irwin County was the upset of the weekend. We had this game on upset alert Friday, as the Panthers came into the game overlooked, having lost three games during the season. However, all three of those losses came against quality competition (Brooks County, ELCA and Seminole County).
Clinch County's win threw Region 2-A out of whack, as Charlton (3-0) and Clinch (2-0) are tied for the lead while Irwin fell back to the pack at 1-0. Irwin still has tough games left against Lanier Co., Turner Co., Wilcox Co. and Charlton Co.
-While Clinch's upset may have been the upset of the weekend, Tucker's dramatic victory over Stephenson may have been Game of the Year so far.
Neither team scored in the first quarter, then each team scored touchdowns in the second and third quarters to enter the final frame tied at 14. The teams traded scores in the final quarter, which included 32 total points. Tucker scored, then Stephenson scored. Repeat multiple times, and that was the game in a nutshell. The lead changed hands twice in the final 21 seconds.
Not only was the talent on the field a sight to behold, so was the heated competition and quality of play. It was truly the Game of the Year in Georgia.
It was just the second time these two DeKalb power programs had met, and it looks like this will be one of the state's top rivalries for years to come.
Tucker now leads Region 6 at 5-0, with Stephenson, M.L. King and Mays tied at 4-1. The next closest teams are 2-3 in the region, so it looks like those four are playoff-bound.