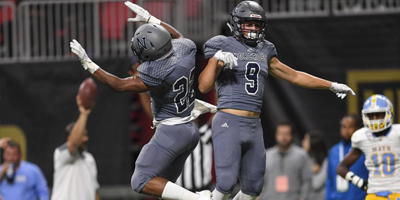 Dale Zanine - Gwinnett Daily Post
Norcross 42, Mays 26
A strong start and finish propelled Norcross to a 42-26 victory over Mays in the final game of the 2018 Corky Kell Classic. The Blue Devils' offense was rolling early, building a 14-0 lead in the first quarter on two drives totaling 127 yards and 17 plays and capped off by rushing touchdowns from Kam Jackson and Lance Jackson. Mays rebounded well on its next possession as quarterback Jahquez Evans led the Raiders down the field with 22 and 18-yard passes to Jaquari Wiggles and Terrence Morton, respectively, completing another pass to Wiggles — this time for 10 yards — on the first snap of the second quarter for a Mays touchdown.
Louis Williams, who completed his first nine pass attempts for Norcross and went 11-of-13 in the first half for 131 yards, answered on the following possession with another disciplined Norcross drive and a 17-yard touchdown pass to Isaiah Wilson. After a series of defensive stands from both teams, Lance Jackson scored for the second time on a 3-yard run that extended the Blue Devils' lead to 28-6 with 0:20 left to play in the half. Fortunately for Mays, 20 seconds was all the time Evans needed to find Morton in traffic on a 42-yard pass and Jaylon Dunson with a 20-yarder in the endzone, cutting Norcross' lead to 28-14 after a completion to Justin Brinson for the two-point conversion.
Evans threw for 122 yards and completed 7-of-9 pass attempts in the first half to keep the Raiders in a game that seemed to be heading for a blowout, despite being sacked twice by Jaylin Carter and once by Tyler Moore. He saw more of the same on Mays' first drive of the third quarter, with Moore and Tyren Long adding the Blue Devils' fourth and fifth sacks of the night. Evans wasn't allowed much rest as the Raiders' defense forced a three-and-out by Norcross on the following possession, but the USF commit found Wiggles again on a 15-yarder that cut Norcross' lead to 28-20.
Williams gave Norcross its first points of the half with a 4-yard pass to Ryan Slaton. The 13-play, 67-yard drive featured impressive plays in the air and on the ground by Williams, along with a combined seven carries from Lance Jackson — who finished with 68 yards on 15 carries — and Kam Jackson (76 yards on 21 carries). The rested Blue Devils' defense stifled Mays on the following possession, with Long sacking Evans again and a blocked punt recovered by Emannuel King at the Mays 26 yard line. After a missed field goal by Norcross, the Raiders had another opportunity to make it a one-possession game. Evans connected with Tyree Nelson for an 80-yard touchdown reception with six minutes to go, but an unsuccessful two-point conversion left Mays trailing 35-26. An encroachment penalty on the Raiders foiled a defensive stand that would have put the ball back in Evans' hands with 3:10 left on the clock, and Williams' 37-yarder to Wilson sealed the Norcross win.