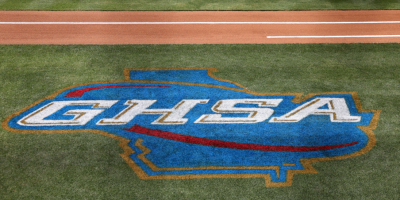 North Cobb Christian had to weather a decisive Game 3 at AdventHealth Stadium in Rome Monday after the teams split Saturday's double-header and a five-run effort in the bottom of the fifth inning put the 2A championship game out of reach. The Eagles scored 11 runs on eight hits to outclass Mount Paran 11-1 and secure the program's first state championship.
After going scoreless through three innings, Mount Paran took the lead on a home run from Carson Hodges. In the bottom of the inning, North Cobb Christian scored on a fielding error which plated senior Cooper Williams. Junior Jackson Uggla hit a double to left field to score senior Nicholas Stinson and senior Gustavo Melgar, giving North Cobb Christian a 3-1 lead.
In the bottom of the fifth inning, Williams singled to right field to score Brock Parker. Asher Sabom singled to left center which scored Williams and Go. Stinson doubled down the right field line to score Melgar and Junior Michael Mullinax. Stinson scored on a error and then Parker singled to the right side to score Uggla.
North Cobb Christian and Mount Paran split the first two games of the championship series. North Cobb Christian won the first game 4-2 and Mount Paran earned a 6-0 victory in the second game to force the Monday final.
The nightcap game remained scoreless until the bottom of the fourth inning when Paran scored on a Luke Dotson hit-by-pitch with the bases loaded, scoring junior Garrett Droege. The Eagles pushed the lead in the bottom of the fifth inning with a single from sophomore Will Hennessey, which scored Droege and junior Sean Westmoreland.
Mount Paran secured the victory in the bottom of the sixth inning when Kyle Crisp grounded out to second base and scored Andrew Jones. Droege reached base on an error after a bunt which scored Tate McKee. Hodges brought the score to its final tally with a sacrifice bunt to score Braden Gabel.
In North Cobb Christian's 4-2 victory in the first game, both teams were scoreless until North Cobb Christian took a 4-0 lead in the bottom of the third inning to take control. Williams singled to score senior Kade Gwaltney. Mullinax flied out to right field to score junior Brock Parker. Late in the inning, Stinson singled to right field and North Cobb Christian took advantage of fielding mistakes from Mount Paran which allowed Williams and senior Mattheson Go to score. Mount Paran got on the board in the top of the fourth inning when sophomore Hodges doubled to center field to score junior Sean Westmoreland. In the top of the fifth inning, Braden Gabel flied out to score Luke Dotson for Mount Paran.
Mount Paran is trying for the team's second title after winning in 2021 while North Cobb Christian wants its first state championship.