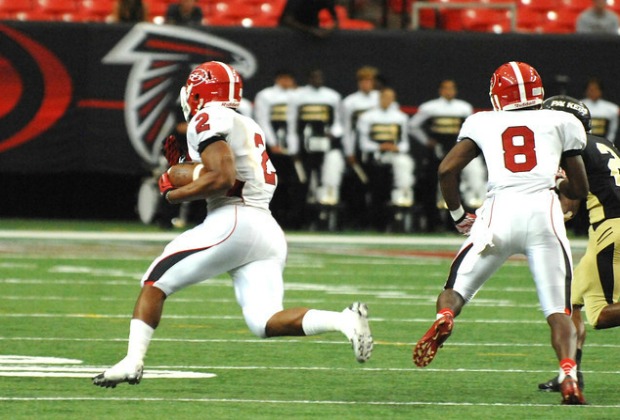 Sonny Kennedy
I have now seen North Gwinnett in person twice this year and I must say that, despite the fact that the Bulldogs will likely not overtake Norcross for the No. 1 seed out of Region 7-AAAAAA, between the two teams, I think North Gwinnett can go further in the playoffs. While Alvin Kamara is a star at running back for Norcross and the Blue Devils' quarterback is better than any they've had in a while, I like North Gwinnett's potential more. The offense seems to be clicking along with Michael Haynes and Cam Lewis in the backfield and the talent at wide receiver and on the offensive line. Even though Collins Hill drove up and down the field in the first half on them Friday, the coaches made the proper adjustments and dominated in the second half. Dante Sawyer has the ability to turn into a beast for stretches in a game, and he turned the game in a three-play stretch in the Bulldogs' win on Friday. Even though he has proven it year after year, watch out for Bob Sphire and his Bulldogs come November and December.
Speaking of Collins Hill, if Brett Sheehan is out for an extended period of time, the Eagles could drop all the way down to the No. 4 spot in the region after playing for home-field advantage in the playoffs on Friday. Sheehan was crunched by North Gwinnett defenders time and time again Friday night in the second half and spent most of the fourth quarter on the bench with his ankle being iced. Collins Hill faces Duluth this weekend, a team with playmakers such as Myles Campbell and Thaddeus Bell, and then wraps up the year with Mill Creek, a team looking to steal the No. 3 seed away from the Eagles. If Sheehan cannot go, the onus will be on the running game and Tyler Henderson to step up.
The Colquitt County quarterback situation continues to be murky as Packers quarterbacks threw five interceptions in Colquitt County's 38-36 loss to Valdosta Friday. Daniel Mobley led the Packers to 22 points late in the game but his two first-half interceptions, along with Cole Segraves' two first-half interceptions put Colquitt County in a huge 31-14 hole at intermission. Segraves had things clicking late in the first half, going 9-for-11 for 122 yards but an interception early in the second half ended his night as Mobley took all of the snaps down the stretch.
Dougherty has not won since Sept. 9, 2011, but Michael Whatley nearly changed that Friday according to the Albany Herald. Whatley threw for 329 yards and five scores, but Westover rallied to prevail 41-32.